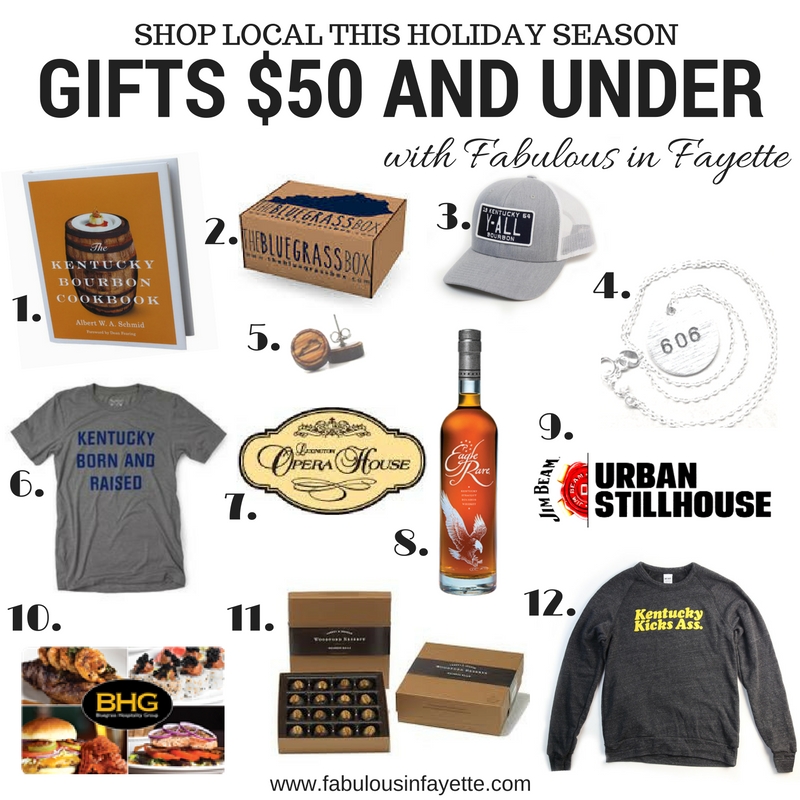 Today, I've brought to you even more awesome Kentucky gifts for that Kentuckian and/or bourbon lover in your life. Not only have I included t-shirts and sweatshirts, but I've included gifts that you can experience with someone, such as tickets to the Lexington Opera House. As always, all the gifts featured are local.
1.  Kentucky Bourbon Cookbook: Although Kentucky is known for its bourbon (95% of the world's bourbon is made here), it's also known for its cuisine. Within this cookbook, you will learn how to make classic cocktails, such as the Mint Julep. You'll also learn how to make bourbon inspired desserts, as well as savory dishes like the Steak with Bourbon Ginger Sauce. Inside you will find recipes for each course. The author uses the four distinct seasons of the Bluegrass State to guide the readers through each of the dishes.
2. One Month Subscription to The Bluegrass Box: I'm sure everyone is familiar with subscription boxes, but this one is unique, because the products within each box are made right here in the Bluegrass State. Boxes are shipped out every three months, and each box include about four items. The theme for fall's box was Appalachia (check it out: here). ***If you become a subscriber, you can also receive 10% off by using my code: FABINFAYETTE
3. Y'ALL License Plate Gasoline Cap: These caps are vintage inspired, and it's best that if you want one, that you get it now, since their hats sell out really quick!
4. Area Code Necklace: These necklaces are so cute, and I've seen them all over the local night markets here. Since we are in Kentucky, you can get the area codes' 606, 859, 270, or 502. Obviously, I'd choose the 859, so I can represent Lexington!
5. Bourbon Barrel Earrings: These are handmade and made from reclaimed bourbon barrels (sorry, sold out!)
6. Kentucky Born and Raised t-shirt: Shop Local KY has such creative t-shirts! Other favorites: Kentucky Attitude With Drake Feelings, I Love Kentucky More Than Kayne Loves Kayne, I'd Rather Be in Kentucky, and Kentucky Was My First Love (or even this Bless Your Heart sweatshirt).
7. Lexington Opera House: The Lexington Opera House is a theatre located at 401 West Short Street in downtown Lexington, Kentucky. Built in 1886, the Opera House replaced the former theatre, located on the corner of Main and Broadway, after fire destroyed it in January 1886. There are several fun events coming up in 2017 that you can buy tickets for; such as; Pippin, Romeo + Juilet, Rodgers + Hammerstein's Cinderella, The Little Mermaid, and much more!
8. Eagle Rare Bourbon: Eagle Rare is a bourbon distilled by Buffalo Trace, and aged for no less than 10 years. The nose is complex, with aromas of toffee, hints of orange peel, herbs, honey, leather and oak. The taste is bold, dry and delicate with notes of candied almonds and very rich cocoa. The finish is dry and lingering.
9. Jim Beam Urban Stillhouse: You can take a look at a small working distillery and even have a build-your-own-bottle experience that can be filled with bourbon available exclusively at the Jim Beam Urban Stillhouse, which you can see here and here. (You can visit the actual Jim Beam Distillery in Clermont at 526 Happy Hollow Road).
10. Gift card to the BHG (Bluegrass Hospitality Group) restaurants: If you buy a gift card for the BHG restaurants, you will be able to use it at any of their restaurants, which include Malone's, Drake's, Harry's, Aqua Sushi, or OBC Kitchen. Malone's is one of my favorite restaurants, and they are in the top ten for steakhouses in North America. Harry's makes a killer Philly Cheesesteak. OBC Kitchen is known for their variety of bourbon, their bacon in a glass, and their chicken and waffles (Check out the event at OBC  where I met Master Distiller Brent Elliott: here)
11. Woodford Reserve Bourbon Balls: These bourbon balls are made with Woodford Reserve by Ruth Hunt Candies and are probably some of the most delicious that you'll ever eat. They come in Original, Mint Julep, Bourbon Caramel, Dark Caramel with Sea Salt, Bourbon Butter Crunch.
12. Kentucky Kicks Ass sweatshirt: What better sweatshirt than to show off Kentucky's unofficial motto: Kentucky Kicks Ass?!?
Shops featured in this gift guide: Kentucky Branded, The Bluegrass Box, Kentucky for Kentucky, Nikki Cummings Jewelry, Shop Local KY, Lexington Opera House, Buffalo Trace, Jim Beam Urban Stillhouse, Bluegrass Hospitality Group (Malone's, Drake's, Harry's, Aqua Sushi, or OBC Kitchen), and Ruth Hunt Candies.