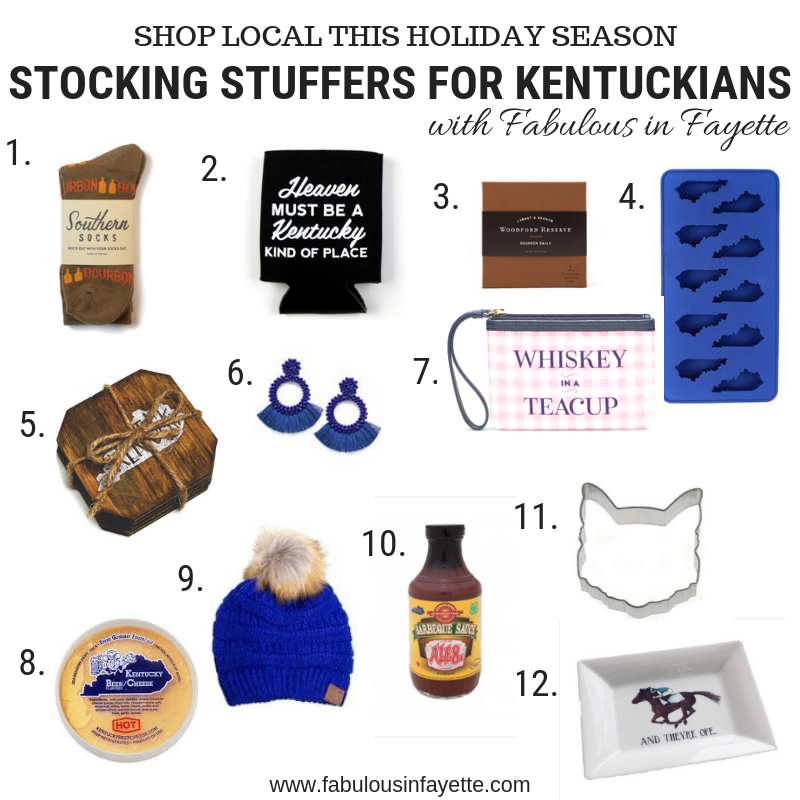 Christmas is quickly approaching, so I've put together another Kentucky themed gift guide. This time, I've included stocking stuffers for just about everyone in your life – from the foodie in your life, to the guy in your life, to your best friend! One of the best parts is that you can find all of these products in stores here in Lexington!
Stocking Stuffers That Are Perfect For Kentuckians
1. Bourbon Socks: Show off your love of bourbon with these cozy socks! You'll definitely make a statement!
2. Heaven Must Be a Kind of Heaven Koozie: Keep your drink cool!
3. Woodford Reserve Bourbon Balls: This delightful dessert first made its appearance in Kentucky in the early 1900s, and we've been loving them ever since! These bourbon balls are made by Ruth Hunt Candies which is located right in Mount Sterling. These chocolates are obviously made with Woodford Reserve Bourbon and dark chocolate and then topped with half of a pecan.
4. Kentucky Rocks! Ice Cube Trays: You can't get more Kentucky than Kentucky-shaped ice cubes. Enjoy these in your glass of pop or your glass of bourbon!
5. Embedded Wooden Coasters: This set comes with four coasters that have the state online with the word, Kentucky, inside.
6. Royal Bead Circle Tassel Earrings: These earrings are the perfect shade of UK Blue! These would be great to wear to any upcoming home game!
7. Whiskey In A Teacup Wristlet by Draper James: This wristlet is named after Reese Witherspoon's new book, Whiskey in a Teacup. The wristlet is paying homage to growing up in the South and the charm that it inspires. You can find this in person at Draper James at The Summit at Fritz Farm.
8. Beer Cheese: Enough said. We are living in the birthplace of beer cheese, so there are so many delicious brands to pick from. Some of my favorites: Big Russ Beer Cheese, Kentucky Beer Cheese, Moo Shine Beer Cheese, Red State Beer Cheese, Copper Kettle Beer Cheese, and the list goes on…
9. Ice Ice Baby Beanie: This pom pom beanie will help keep you warm during the winter months. Available in five colors: ivory, royal blue, gray, pink, and black.
10. Ale-8-One Barbeque Sauce: This is another Kentucky Proud product! This is obviously made with Ale-8-One, as well as honey and sorghum. It comes in a 16 oz. jar and pairs well with chicken, pork, or beef.
11. Wildcat Cookie Cutter: Perfect for the UK fan that likes to bake!
12. And They're Off Trinket Tray: Nothing says horse racing like the Bluegrass State. This cute little trinket tray is perfect for catching your jewelry.
Happy Holidays!