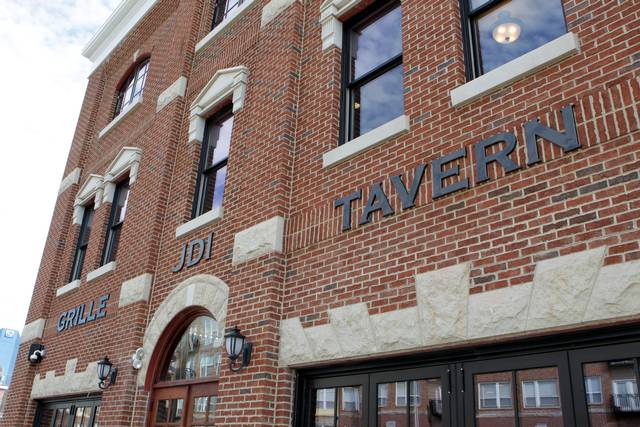 2017 has started out on a sad note.
The JDI Grille & Tavern closed for good on January 1, 2017.
The "original" JDI (also known as the Jefferson Davis Inn) was located at West High and Limestone Street where Jefferson Davis lived with the US Postmaster General, while attending Transylvania University in the 19th century in Lexington, Kentucky. It was a popular bar all throughout the 1970s, 80s, and 90s, but closed in 1996. That building is now home to the Bombay Bar and Grill. After being closed for nearly 20 years, the "new" JDI opened up in a brand new location on Cedar Street, off South Broadway between Bolivar and Maxwell Street, on March 1, 2013. I always thought even the new location was located in a historic building, because it had the ambiance that I love, but it was built from the ground up.
If you never had a chance to go there, this is what you were missing…
"Our state of the art facility features 3 stories, with each level offering an elegant, yet relaxed atmosphere with elements of our Lexington, Kentucky heritage evident everywhere you look. On the first level, you will enjoy our main bar, which opens up to our outdoor patio when the weather is nice via our double "Nana Wall" folding and sliding glass partitions. This level features a huge stacked stone fireplace. On the second level, another beautiful bar awaits you, as well as a warm inviting fireplace complete with leather couches and wing backed chairs. Finally, the third level is designed to host your private event, and boasts a full bar, fireplace, pool table, and a video projector and drop down screen. Make this the place to host your business meeting, banquet, family reunion, private party, or to entertain VIP clients in style! Of course, plenty of large screen TVs adorn the entire facility, so you'll be sure not to miss that all-important UK game!" —via
JDI was my husband and I's favorite restaurant in Lexington. We have many favorites depending on our mood and the type of food we want; breakfast, fast-casual, or fine-dining, but we deemed JDI "our spot." Everything was reasonably priced and everything was delicious. Not too mention that the portions were huge, which was definitely a good thing! I thought it was a great restaurant with such a cool atmosphere. I always looked forward to going there, and I'm genuinely sad that I won't ever get the chance to again.
I remember the first time that we went there to eat. A few weeks prior, I had made a list out on my phone of "Local Restaurants that I Must Try," and I had JDI on it. One weekend, we had went to a bourbon distillery with friends, and once we made it back to Lexington, we decided to go to JDI, since it was on my list. We were hooked ever since.
Their food was considered Southern gastrofare, and we loved it all! Our favorite appetizer was their beer cheese, and it just so happens to be the beer cheese that introduced us to this Kentucky classic! I never ate a bad meal there, and I've tried many things; Bourbon BBQ burger, chicken and waffles, chicken tenders, fish, and the artisan grilled cheese. Their sidewinder fries were my favorite fries, and they were always what I looked forward to the most. For dessert, we would get the funnel cake fries, since they were super fun and delicious. Sadly, the last time we went, we didn't order them. I just wish we had gotten them one last time.
Around the end of November, I knew there were talks about them selling the place, but there weren't any specifics on the matter, except an article that mentioned that they were dissolving family partnerships. When I read the article, I knew that I wanted to go there sometime soon, because I knew that it would inevitably close. Around the end of 2016, my husband and I were planning to go on January 2, since it was my husband's last day off of work, but we ended up on going on December 30. I'm extremely happy that we did, since they are no longer open.
The owners of the new JDI were patrons of the restaurant when it was open back in the 1970s to the 1990s. My husband and I joked (but were actually kind of serious) that if we were millionaires that we would have purchased the building and restaurant to keep it alive, since we loved it so much. The restaurant and building are currently for sale. The business is $500,000 including inventory, furnishings and equipment. The gross income was $1.65 million in 2015. The building itself is 6,192 square feet and is not included, and the price for the building isn't listed, but it's valued around 1.79 million.
We are both sad to see this place go. We are hoping that someone will come along and purchase it and keep it the same. However, I have a feeling that won't be the case. Who knows how long the space will sit empty? Will there ever be a JDI 3.0? Only time will tell. So, farewell to those delicious sidewinder fries and beer cheese. If only I could get my hands on the recipes.
RIP JDI Grille & Tavern 1970s-1996 and 2013-2017
Now, the hunt is on for "our" place, once again.