The third annual Lexington Burger Week has come to a close. Sad face. In 2015, over 36 restaurants participated and 21,000 burgers were sold. In 2016, over 36 restaurants participated in Lexington Burger Week and over 61,100 burgers were sold. Now, in 2017, there were over 46 one-of-a-kind burgers being offered at 40+ restaurants. The official count hasn't come in yet, but if the growth from 2015 to 2016 was almost 300%, I can only imagine what growth it had from 2016 to 2017.
For those that don't know, Lexington Burger Week happens around the second week in July, and they aren't just any burgers. Each restaurant will create a $5 burger that is one-of-a kind and not on their regular menu.
I've ate burgers during Burger Week in 2015, 2016, and 2017. If you live in the area, I would go ahead and mark it on your calendar for next year (because it will return) and like their page on facebook.
Sadly, I only tried three burgers this year. There were around ten that I wanted to try, but July is such a busy month for me, regarding food events, so I simply couldn't. There's always next year, am I right?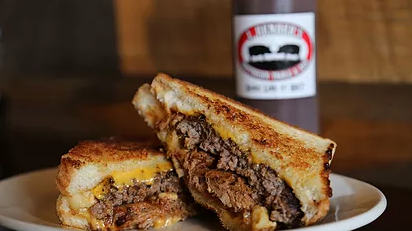 The first one I tried was the Oh No You Didn't from J. Render's Southern Table & Bar. It was a 4. oz. burger patty topped with pulled pork, sweet BBQ sauce, smoked mac & cheese then nestled between American cheese slices and grilled Texas Toast. It was absolutely delicious!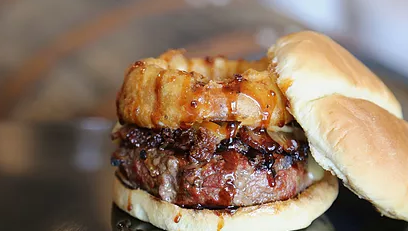 On the weekend, I tried the Triple Bacon LifeBrew Pub Burger and this one was my absolute favorite! It's a 1/2 pound burger stuffed with garlic & herb cured bacon, topped with smoked gouda, Lex Light bacon jam, strips of honey roasted jalapeno crispy bacon strips and onion ring drizzled with bourbon glaze.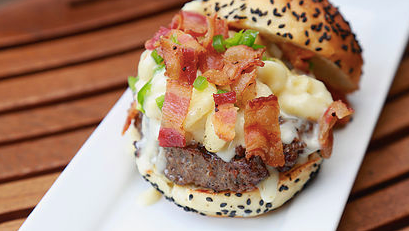 The third one I tried was the White Cheddar Mac & Cheeseburger from Cheapside Bar & Grill. It was fresh ground chuck, hand pattied topped with cavatappi pasta with all natural sharp white cheddar cheese sauce, crumbled bacon and fresh jalapeno on a toasted garlic roll. Macaroni and cheese on a burger, say what?!?
I know Lexington Burger Week is already over with, but take a look at the creativity from the chefs at the restaurants here in Lexington.
 Ones I wanted to try, but sadly I didn't get to were:
MVP from BurgerFi  (Two all natural angus patties topped with a white cheddar cheese, bbq sauce, garlic aioli, fresh jalapenos, chili, cheese sauce, and hand cut fries – yes, there are fries on the burger)
Nick's 157 Burger from Nick Ryan's ( 6 oz. grilled beef patty topped with fried pickles, onions straws and housemade beer cheese)
Jamal Smashburger from Campus Pub (1/3 lb. 100% angus patty cooked to perfection on a toasted egg-washed bun, topped with our homemade beer cheese and beer battered onion ring served with lettuce, tomato and mayo)
To Beef or Not to Beef? from Shakespeare & Co. – Hamburg location only (Beef and bacon patty, blackened candied bacon, salt and vinegar tomatoes, charred onion, smoked fresno aioli, country fried egg)
Beer Lover's Burger from The Original Brooklyn Pizza (1/4 lb. burger topped with house-made beer cheese, caramelized onions, thick-sliced Applewood bacon, spicy garlic pickles, Dusseldorf mustard on a Bavarian pretzel roll)
Bacon and Pimento Cheese Burger from the Cellar Bar & Grille (All natural 8 oz. burger topped with "Caviar of the South" a.k.a. homemade pimento cheese spread and hickory smoked bacon with fresh leaf lettuce and tomato on a sesame seed bun)
Peanut Butter & Jelly Bacon Burger from Harry's (Fresh, never frozen 8 oz. burger on warm butter toasted bun with peanut butter, strawberry-bacon jam and creamy brie cheese)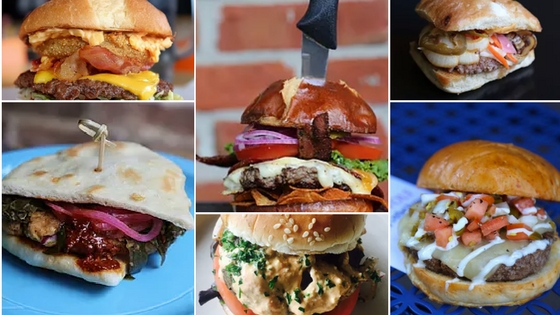 Burgers…
Papa Pimento from A&W Burgers Chicken & Floats (A fresh, never frozen, beef burger topped with house-made Spicy Papa sauce, pimento cheese, fried green tomato, hickory smoked bacon, American cheese, lettuce, and ripe red tomato on a caramelized bun)
The Swayze Burger from Al's Bar (Hand-pattied burger with Swiss and American cheese, fried bologna, lettuce, tomato and pickles topped with Grippos)
Hanoi Hambua from Alfalfa Restaurant (Beef and pork smash burger with caramel bbq sauce, lime chili marinated grilled onions, daikon carrot slaw, pickled jalapeños, lettuce and red chili mayo)
Hot Fez from Alfalfa Restaurant (vegan spiced chickpea burger on flatbread with spicy collard greens, pickled onions, cinnamon honey dates, harissa and cucumber)
Athenian Burger from Athenian Grill (House blend of ground leg of lamb and sirloin burger served on a sesame bun, spicy feta spread – htipiti, romaine lettuce, tomato and grilled onions)
Awesome Burger from Bad Wolf Burgers (Special burger blended with chorizo sausage topped with pepper jack cheese, homemade pico de gallo and crema con cilantro)

More Burgers…
Three Chili Compote Burger from Banners (6 oz. hand-pattied burger with three-chili relish, pickled red onion and queso and crema con cilantro)
The Porker from Brasabana (6 oz. griddled hamburger patty topped with mojo roasted pork, crispy sliced Iberico, Spanish chirizo and chipotle aioli topped with manchego cheese)
Sriracha Burger from Bru Burger (Burger topped with Serrano ham, sriracha aioli, habanero havarti cheese and onion straws)
The Garlic and Fresh Herb Burger from Charlie Brown's (8 oz. grain-fed angus beef, freshly pattied and covered with locally grown herbs and garlic topped with melted white cheddar cheese)
Boursin Burger from The Chop House (1/2 lb. ground beef patty topped with boursin cheese and thinly sliced, lightly battered, deep fried red onions served on a brioche bun)
Jacked Up Burger from Cocktails Bar & Grill (8 oz. blackened angus beef burger topped with jalapenos, banana peppers, pepper jack cheese, sriracha mayo, lettuce, tomato, onion and pickles)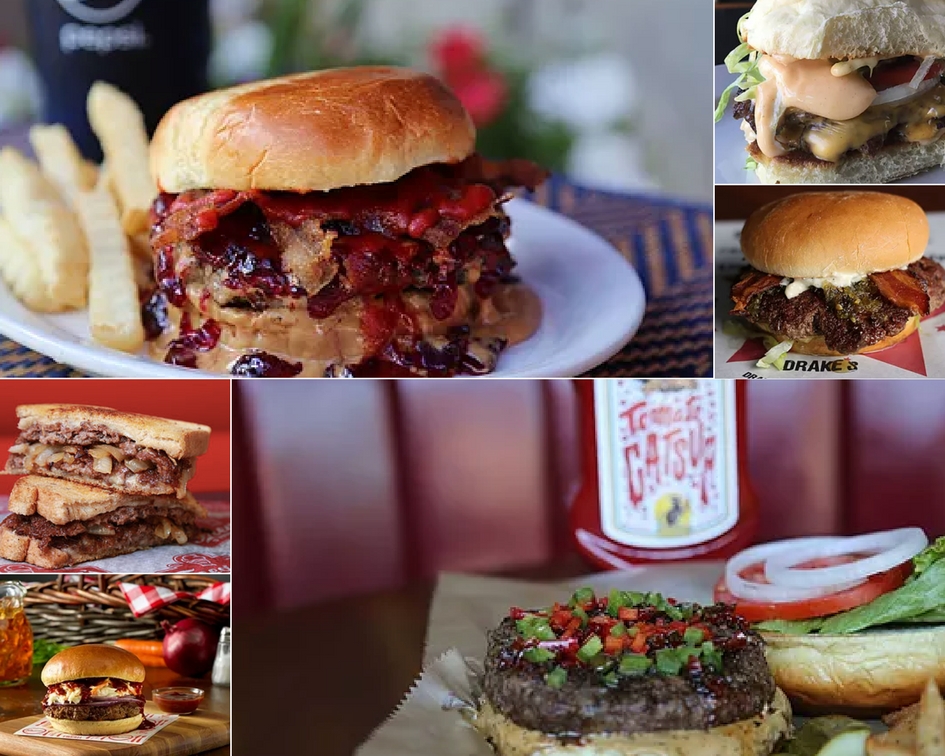 Even More Burgers…
WTF! (What the Flavors Burger) from Columbia Steakhouse – downtown location only (Rich, organic peanut butter, grape jelly, crispy bacon bits and sriracha on an 8 oz. ground chuck burger served on a toasted bun)
Midwestern Double Cheeseburger from County Club (Two crispy patties, American cheese, lettuce, tomato, onion, and smoked special sauce on a local toasted bun)
BLT Burger from Drake's (Fresh, never frozen 8 oz. burger on a butter toasted bun with hickory smoked bacon, iceberg slaw, jalapeno green tomato jam and parmesan garlic mayonnaise)
Double Patty Melt from Freddy's Frozen Custard & Steakburgers (Two premium beef patties nestled between toasted rye bread, two slices of swiss cheese and grilled onions)
Primetime BBQ Coleslaw from Frisch's (Burger topped with Frisch's Big Boy coleslaw and tangy Double B Low-N-Slow BBQ Sauce on a grilled brioche bun)
Peanut Butter Jelly Time from Hopcat (Our signature beef blend burger, topped with peanut butter, housemade jalapeno jam, lettuce, tomato and onion on a toasted brioche bun)
More Burgers???…
Potato Skin Burger at Kilbern's at The Campbell House (Burger patty topped with sharp cheddar cheese, potato skin, sour cream, green onions and Chef Ben's barbeque sauce)
Chimi Burger from Lexington Diner (1/3 lb. beef patty, chimichurri sauce, pickled onions, lettuce & tomato on a brioche bun)
Locals' "Ham" Burger from Locals' Craft Food & Drink (Brown sugar ham piled high on Locals' burger topped with melted swiss cheese and a bacon shallot relish)
Fried Avocado Burger from Louie's Wine Dive & Chevy Chase Kitchen (Fried avocado burger with pineapple bacon relish, white cheddar and sriracha cream)
The O' Face from Lynagh's Irish Pub (Open-face sirloin burger stacked on top of colcannon and toasted bread, topped with a Guinness mushroom gravy)
726 Main Burger from Magee's (Deep fried breaded burger with swiss cheese, horseradish ranch topped with lettuce, tomato and crispy onions served on a housemade Magee's bun)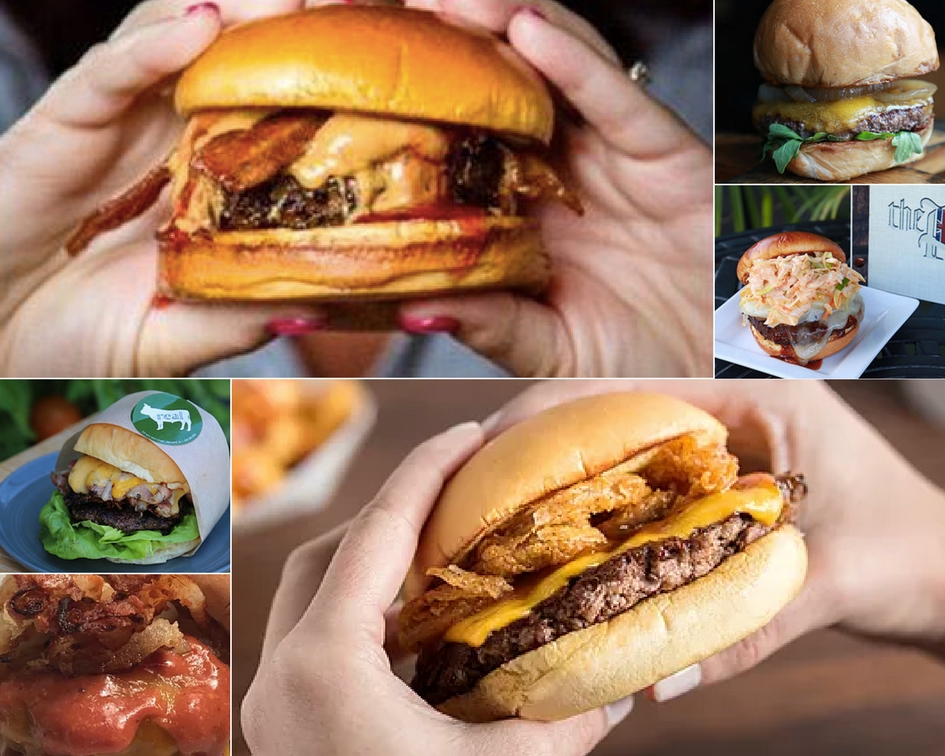 Whaaat?!?! More Burgers…
PB & J Burger from Napa Prime (Custom blend of angus brisket, short rib and ground chuck topped with local peanut butter, berry jam, Applewood bacon & fried jalapeños)
No. 3 Special from Pazzo's (Two 1/4 lb. black angus burger patties, bacon, cheddar, grilled onions, arugula and special sauce on a potato bun)
Queen's Summer Flame from The Pub (100% black angus patty topped with grilled pineapple, teriyaki, swiss cheese and sriracha coleslaw on a brioche bun)
The Beefy Ham-lette from Real Hamburger & Bar (Kentucky beef patty, potato pancake, Kentucky city ham, raclette cheese on Magee's Bun)
Big Smokey from The Sage Rabbit (Chef Foster's house ground burger with crispy fried sauteed onions, jack cheese, and homemade BBQ mayo on a buttered bun)
BBQ Shackmeister Burger from Shake Shack (100% all-natural Angus beef cheeseburger topped with crispy ShackMeister® Ale marinated shallots and Shack BBQ sauce. Our sauce takes inspiration from some of our favorite regional BBQ styles, from thick and rich tomato-based Kansas City style to tangy South Carolina mustard style)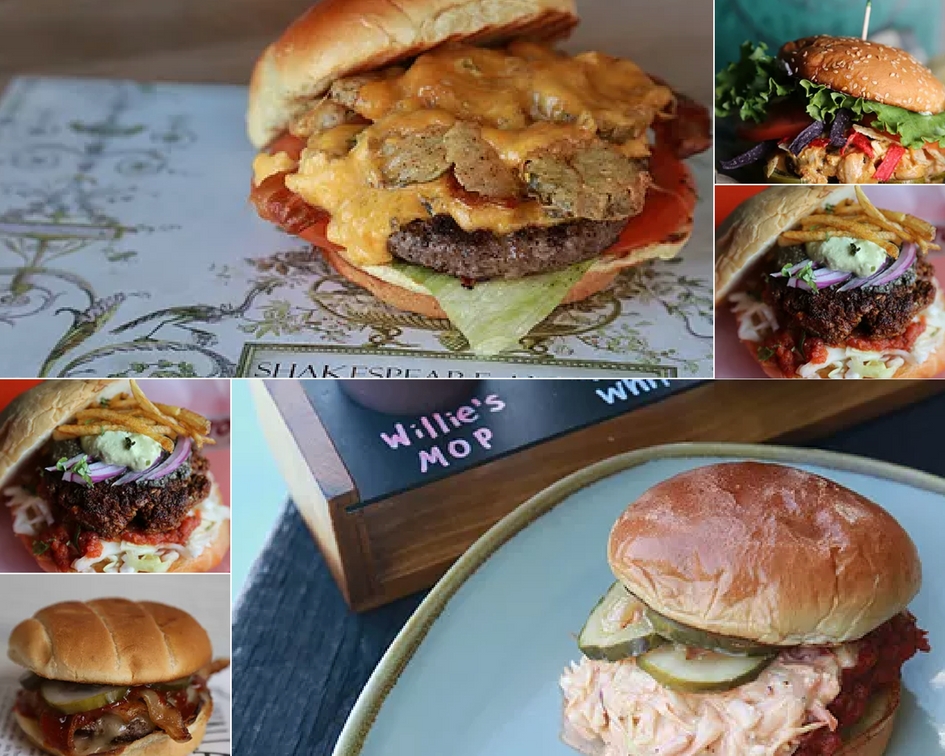 Whoa… Now, that's a whole lot of burgers!!
Char-Crossed Lovers from Shakespeare & Co. – downtown location only (Beef patty, jalapeno beer cheese, bacon, fried pickles, pickled tomato, lettuce, mayo and mustard mix_
Panchito Pistoles O' Round from Shamrock Bar & Grill (7 oz. hand-pattied burger smothered
in homemade chicken queso topped with fried tortilla strips dressed on a sesame seed bun with sour cream, jalapenos, lettuce and tomato)
Huit-a-burger from Smithtown Seafood (Chorizo-spiced Kentucky Proud beef and mushrooms topped with huitlacoche-queso fresco, avocado cream, lime cabbage, salsa fresca, crispy potatoes and cilantro on a Cuban bun)
El Cubanoburger from Stella's Kentucky Deli (Hickory smoked ham, local pulled pork, Kenny's Farmhouse Swiss cheese, pickles, dijon and blackstrap rum molasses on a smashed bun)
The Honeygood from Wallace Station (Kentucky Proud beef topped with candied bacon, pepper jack cheese, marinated cucumbers and house-made ketchup from our sister restaurant Honeywood)
Smokey Joe Burger from Willie's Locally Known (Beef patty topped with smoked sloppy joe, buffalo blue cheese slaw and housemade pickles)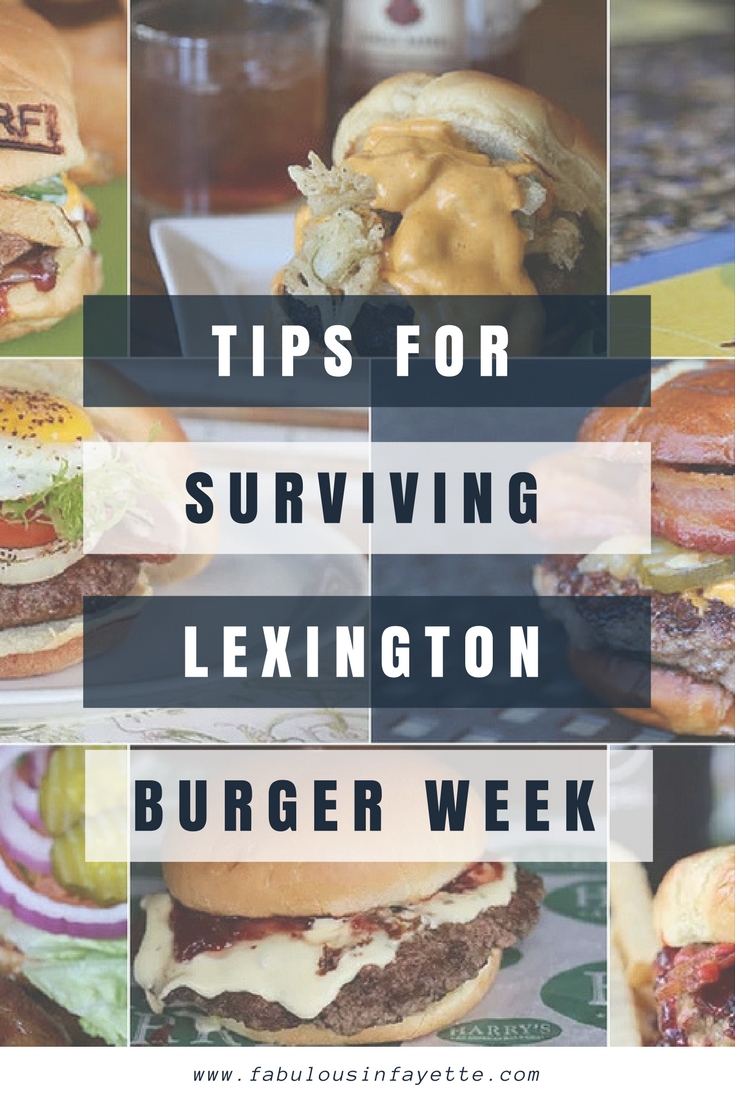 Lexington Burger Week is over, but here are tips for Surviving Lexington Burger Week 2018:
Look at the list of burgers beforehand and plan out which ones you want to try.
Pick up a Burger Week passport and be sure to get your passport stamped. If you collect three or more stamps and drop off your passport, you'll be entered for a chance to win an Ultimate Grill Out. If you collect ten or more stamps and drop off your passport, you'll be entered to win Free Burgers for a Year from Drake's and Harry's.
Be sure to tip your waiters and waitresses!
The restaurants will be slammed, so you might have to wait!
Make sure you order some sides (support your local businesses!)
Get to the restaurants early, because they will sell out. That's a promise! I've had waiters tell me that people were waiting outside their doors before the restaurant even opened!
If you go somewhere and they are sold out, be sure to ask them if they will have more later that night (I wanted a particular burger and they were sold out when I went, so I asked if they would have more. They told me what time to come back, so I left and came back a little over an hour before they told me, so I could snag a seat – of course, I ordered drinks and an appetizer, while I waited).
Just know that it would be impossible to try them all (and not to mention very very expensive!)
If you went to Burger Week, which was your favorite?
If not, which would you have liked to try?