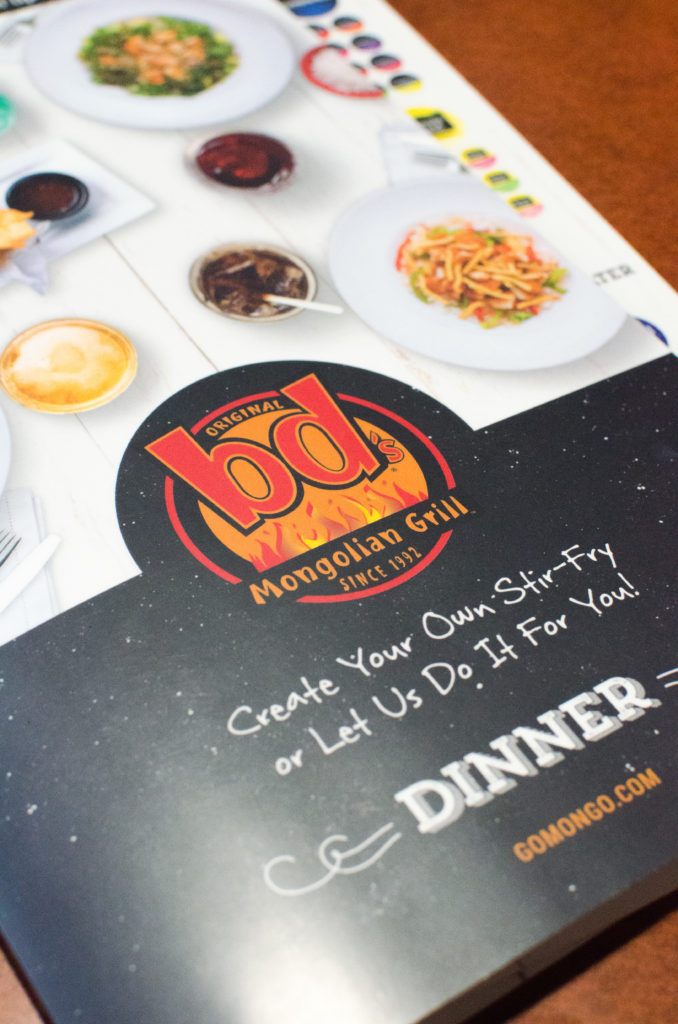 This post is in collaboration with bd's Mongolian Grill. All of these opinions are entirely my own. Thank you for supporting brands and businesses that support Fabulous in Fayette!
I'm so excited to partner with bd's and showcase a wonderful place to eat in Lexington that you may or may not know about! bd's Mongolian Grill has been creating an interactive dining experience since 1992, and has been located in Hamburg for almost 11 years. It is also the world's number one "Create Your Own Stir-Fry" restaurant concept. bd's is a perfect restaurant for everyone. It doesn't matter what your eating habits or dietary restrictions are, they have something for everyone. If you are vegetarian, gluten free, vegan, have food allergies, or are even just picky, there's something for you! At bd's, you are the chef! You are in control of what goes into your meal. There's a huge variety to choose from, including meats, seafood, fresh vegetables, sauces and spices. Making your own creation and giving it to one of the expert grillers creates a fun experience. You then can watch your food being cooked on a 500° 7-foot grill.
I'm a huge fan of when restaurants use local purveyors to supply ingredients. bd's has vegetables delivered daily and about 80% come from farmers right here in Kentucky! This is something super important to me, when choosing a place to eat!

I remember first eating at bd's about eight years ago, so I was super excited to come in and spread the word to all of my readers. Back then, I was super unadventurous when it came to food and was rather self-conscious eating in groups. Even though you could choose your own ingredients, I was so afraid that someone would make a comment about what I had chosen and ask why I didn't choose "x" instead (it had happened before!).
My husband and I went on a Saturday evening, and it was super busy, but it didn't take long at all to get a table. bd's has a pretty large indoor and outdoor patio area and bar area. We opted to sit inside, since it was rather chilly that day.
bd's doesn't just have "Create Your Own Stirfry," but they have regular menu items as well. They have everything from appetizers to entrees to even desserts! I was super surprised to find that out, because I had no idea!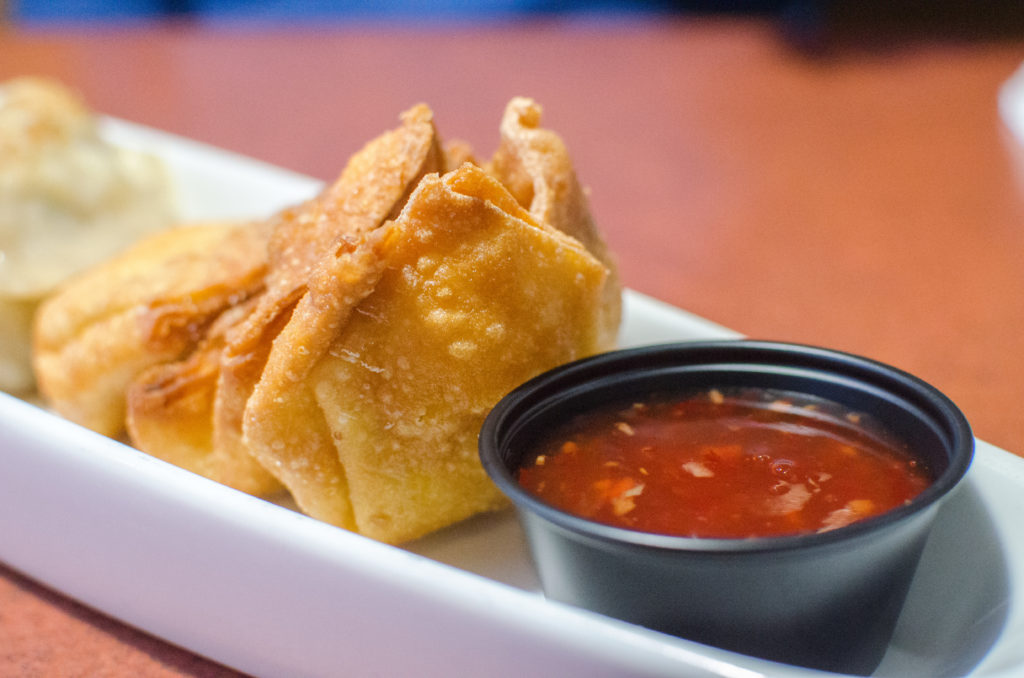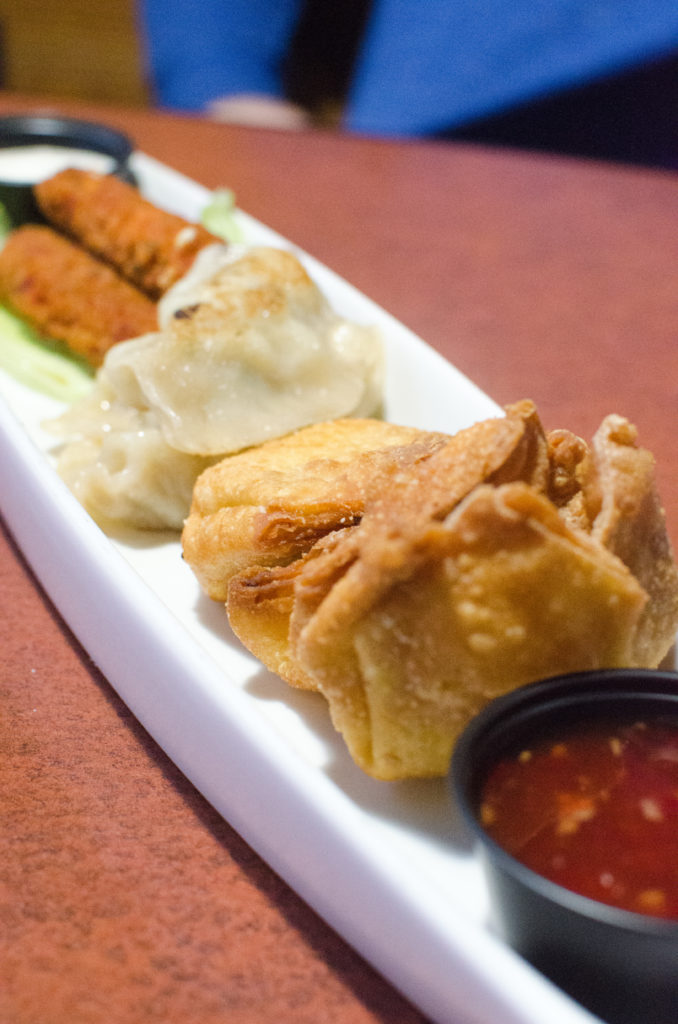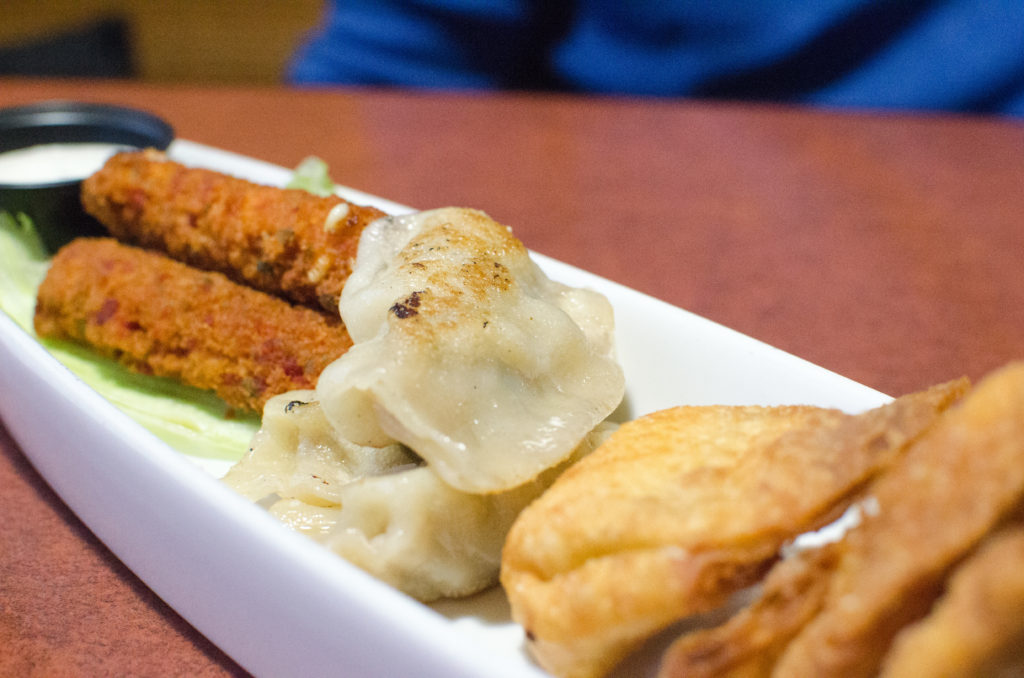 We started off with an appetizer. We couldn't decide between us which one we wanted, because so many looked delicious. We went with the "Pick Three" option. This would be a great option if you are dining with a group of people. We choose the Jalapeno Mozzarella Sticks (crispy and spicy on the outside, creamy and gooey on the inside. Served with homemade ranch dressing), potstickers (Asian-style potstickers filled with savory pork. served with ponzu sauce), and crab rangoons (seafood and cream cheese filling wrapped in a wonton shell and deep fried to perfection. Served with sweet chili sauce).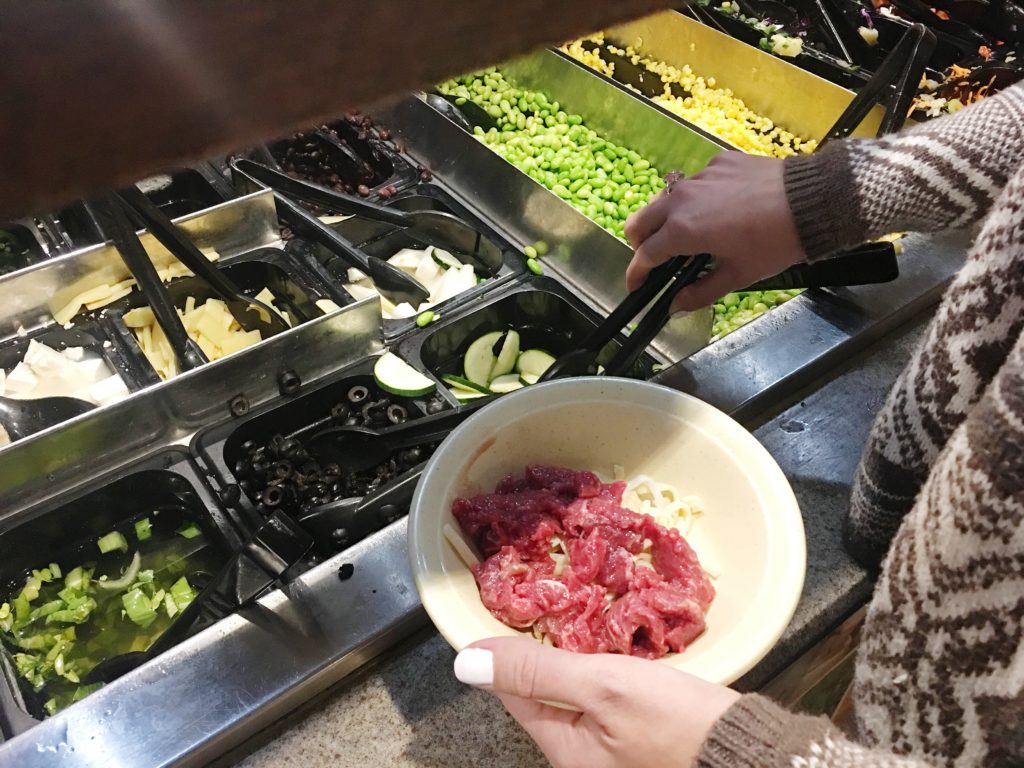 If stirfry isn't your thing, don't fret! bd's still has plenty of options; a soup and salad bar to chef's selects to Asian street tacos to made to order dishes to chef's special dinners!
Unlimited Soup and Salad Bar
bd's Famous Fried Rice Bowls (Chef's Selects)
Bánh Mì (Beef Sliders) (Chef's Selects)
Chicken Sriracha Salad (Chef's Selects)
Fish Tacos (Asian street tacos)
Sriracha Chicken Tacos (Asian street tacos)
Five-Spice Pork Tacos (Asian street tacos)
bd's Original Signature Stir-Fry (Made to Order)
Pad Thai (Made to Order)
Sweet & Sour Chicken (Made to Order)
Fire-Roasted Hoisin BBQ Ribs (Chef's Special Dinners)
Asian Sirloin Steak (Chef's Special Dinners)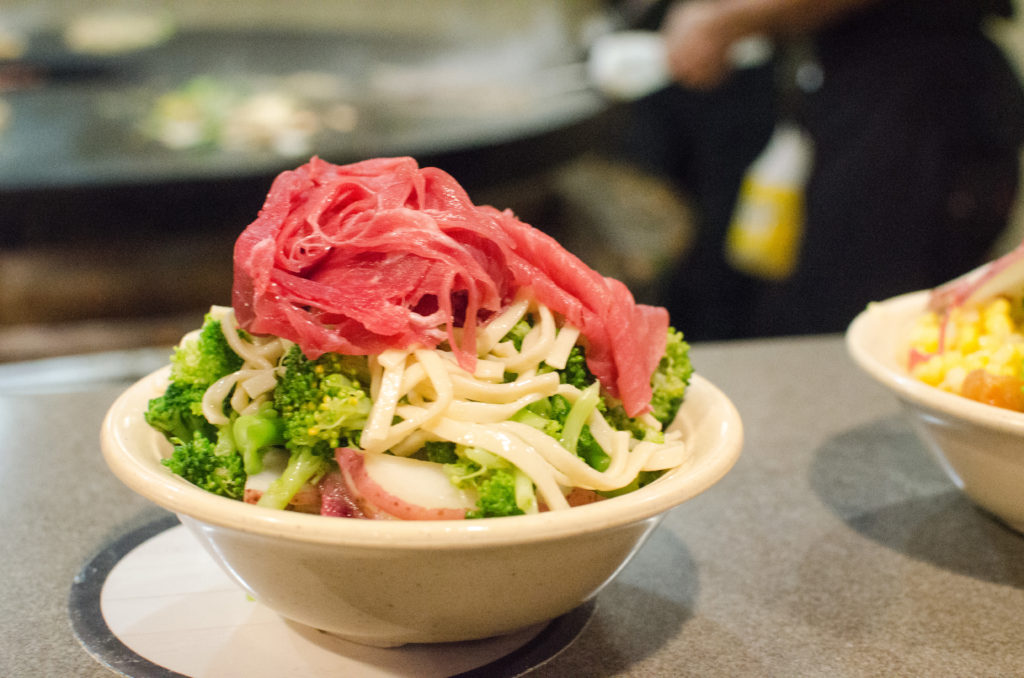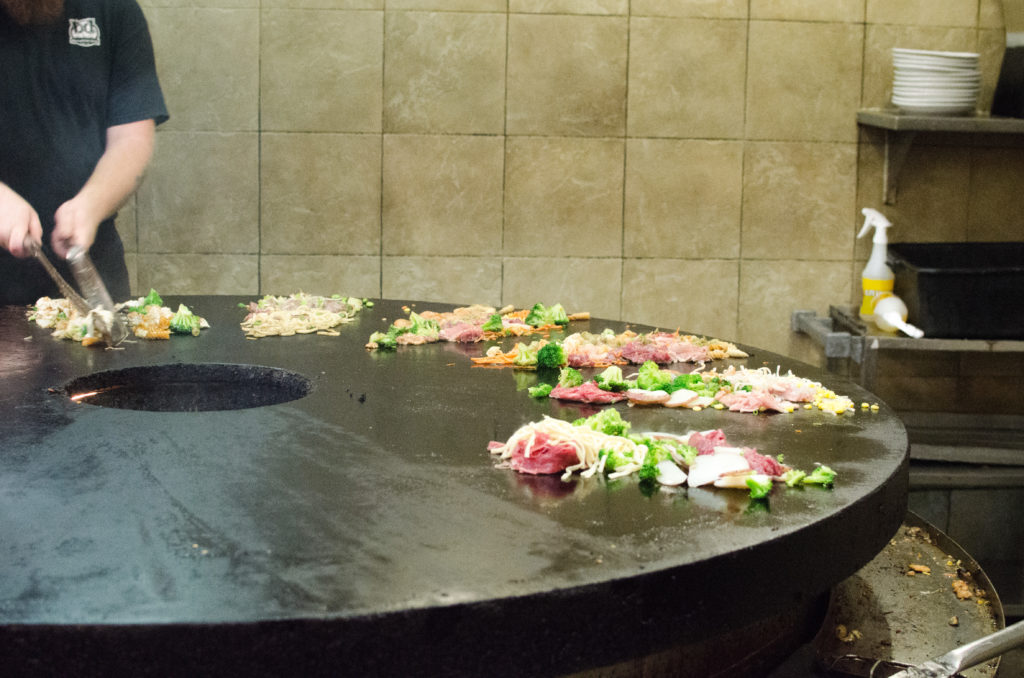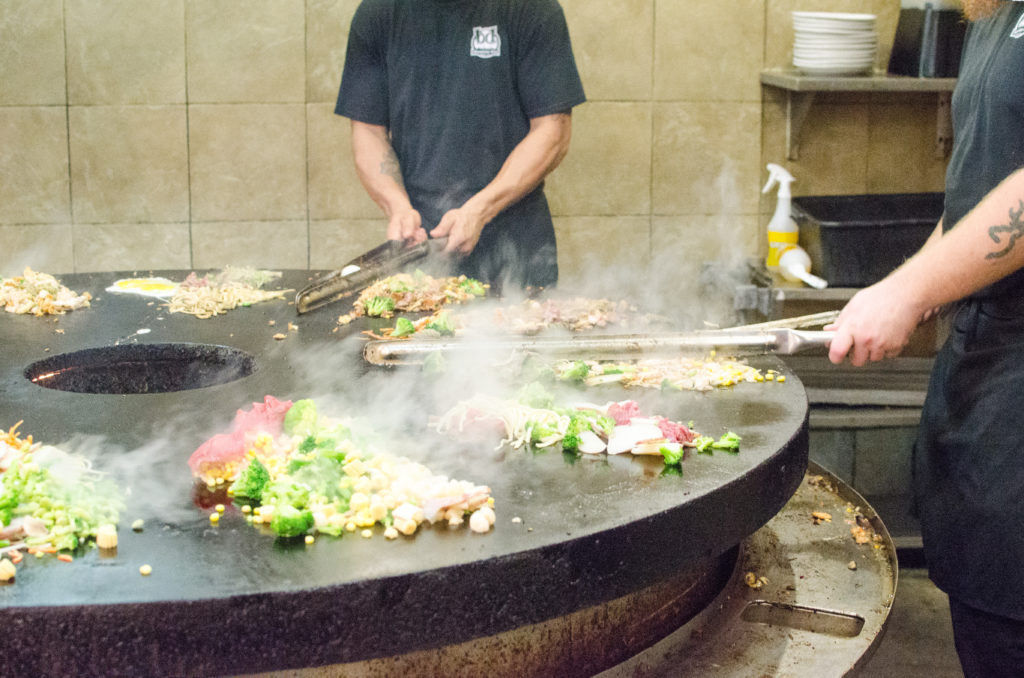 We loaded up our bowls, waited our turn, and watched it being cooked on the 500° grill.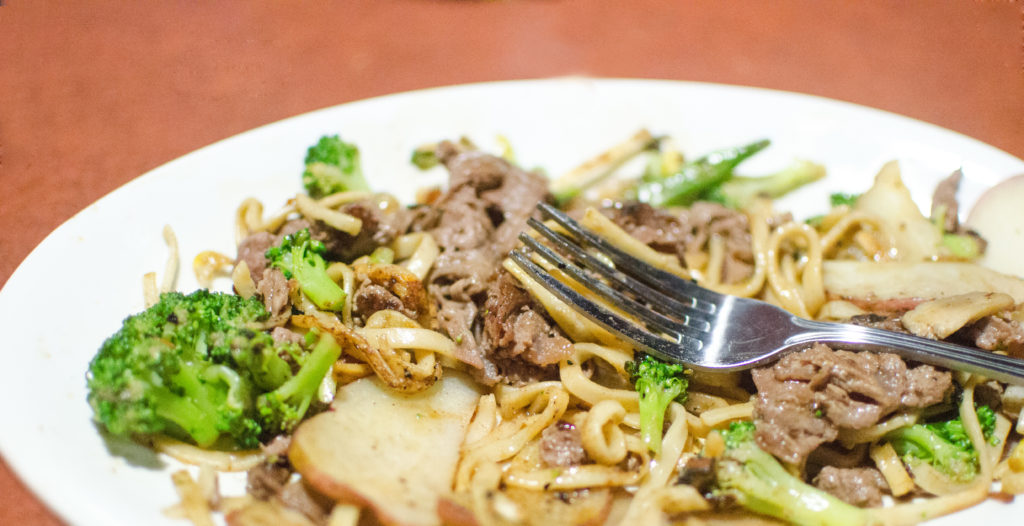 I chose a classic combination of canton noodles, broccoli, beef tips, ribeye steak, red skin potatoes, and teriyaki sauce. My husband chose a combination of Yakisoba noodles, sriracha marinated chicken and an assortment of vegetables, also topped with teriyaki sauce. I actually ended up stealing some of my husband's chicken, because it was so yummy!
I love how there are so many options regarding ingredients and sauces. You could go there a hundred times and never eat the same thing. The possibilities are endless!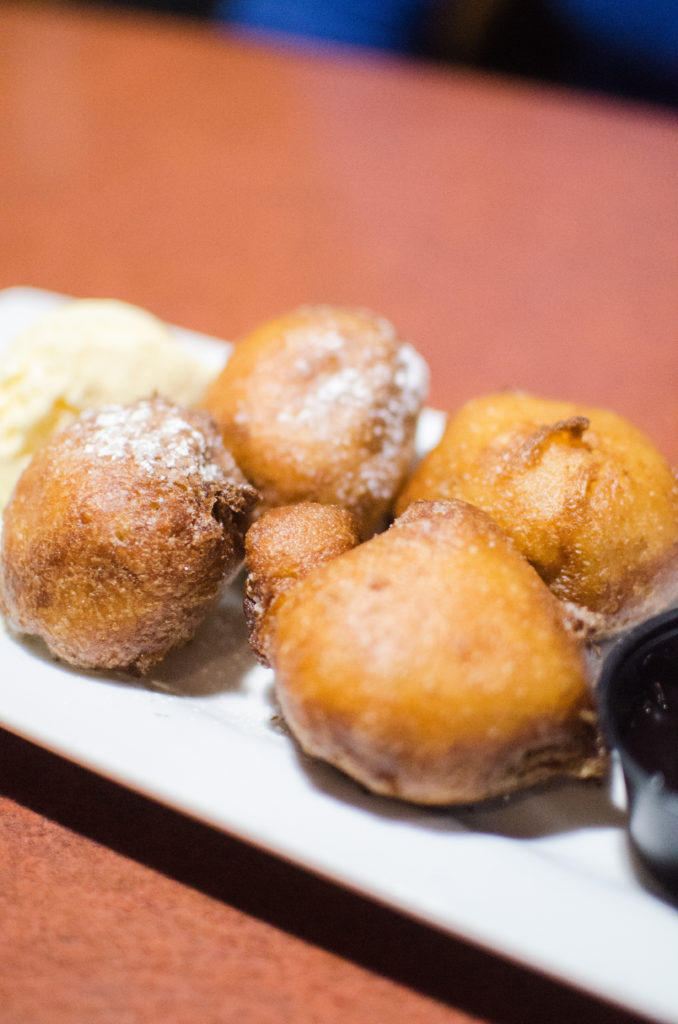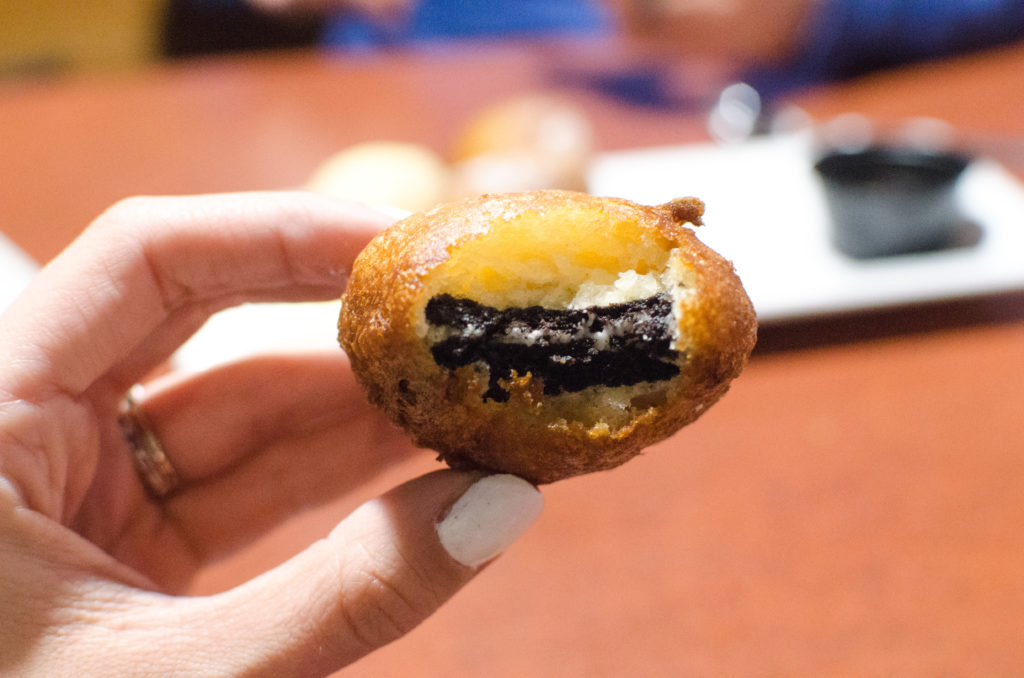 A meal wouldn't be complete without a dessert! We chose the Fried Oreos- A bd's Favorite (four Oreo cookies deep fried and served with a scoop of vanilla ice cream and HERSHEY'®S hot fudge)! They were absolutely amazing!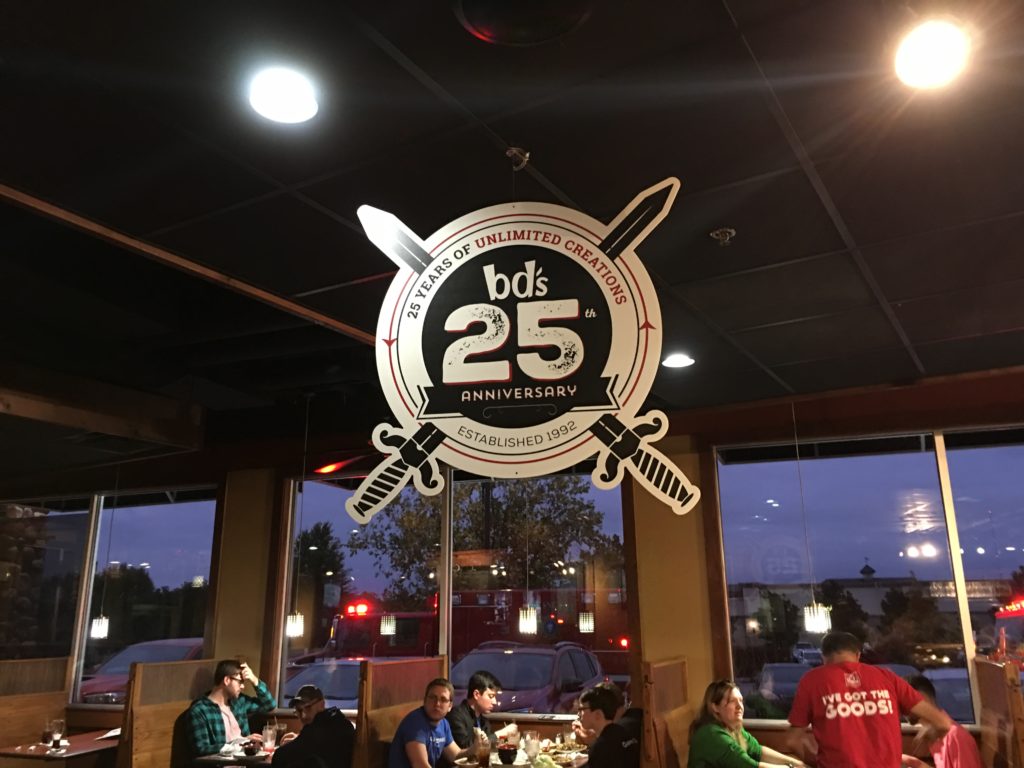 About bd's Mongolian Grill:
Since 1992, bd's Mongolian Grill has been delivering unique, interactive dining experiences that set us apart from the competition and has made us the world's number one Create Your Own Stir-Fry restaurant concept. Focusing on giving guests a plethora of options, we have created a growing band of loyal customers that believe passionately about their ability to take charge of their own dining experience. Our "Stir It Up, Your Way!" philosophy gives guests ownership in choosing their own ingredients from a great variety of choice meats & seafood, fresh vegetables, crisp salads, and flavor-packed sauces and spices that are Always Market Fresh. The food is then prepared by expert grillers on a 500° 7-foot grill.
bd's Mongolian Grill is the first U.S.-based restaurant to open a franchise in Mongolia. On May 12, 2005, the 4,800 square foot restaurant opened in Ulaanbaatar, Mongolia. The restaurant supports the Mongolian Youth Development Foundation (MYDF), a non-profit organization based in Ulaanbaatar that focuses it's efforts on helping children.
Locations:
bd's has 24 locations in 10 states (Michigan, Ohio, Illinois, Colorado, Wisconsin, Missouri, Florida, Kentucky, Kansas, and Pennsylvania) and one location in Mongolia. bd's in Lexington, Kentucky is located at 2309 Sir Barton Way, Lexington, Kentucky 40509.
Hours of Operations:
Monday-Thursday: 11:00am-10:00pm
Friday-Saturday: 11:00am-11:00pm
Sunday: 11:00am-10:00pm
Weekly Specials:
Happy Hour: $2 Domestic Pints all day
Student Night: Tuesdays. Students eat for $10.99 (w/ valid ID)
Kids Night: Wednesdays. Kids 10 and under eat for only $2.99
Have you ever tried a "stir-fry" restaurant?