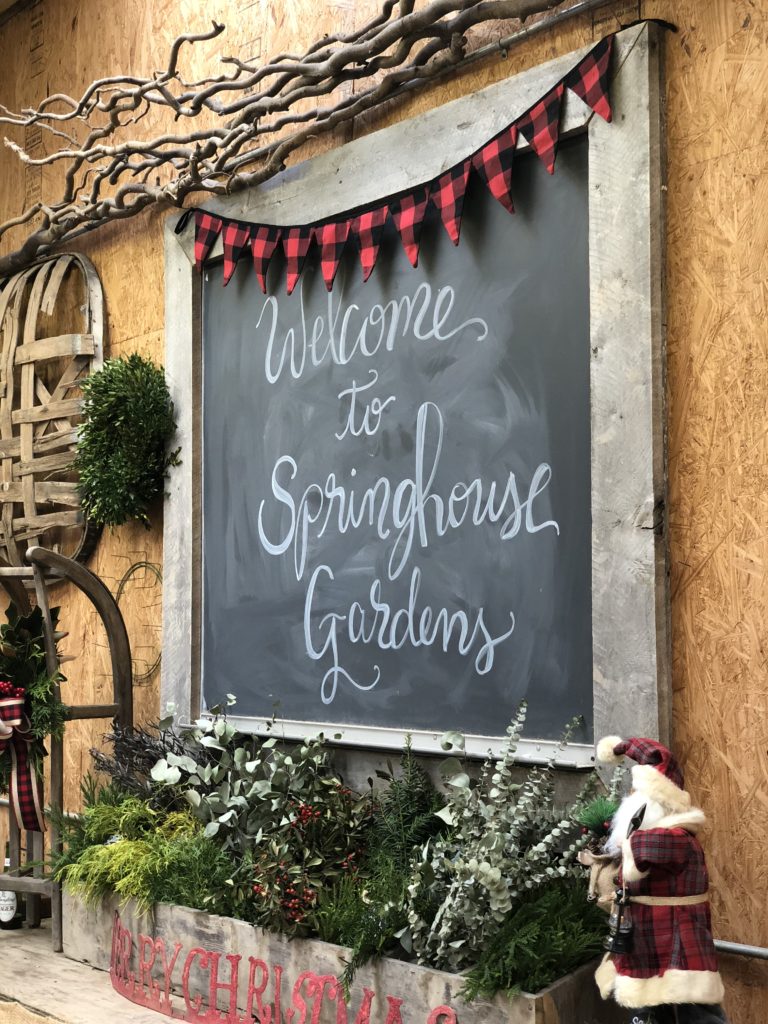 It's that time of year again, and I don't know about you, but I've been in the holiday spirit ever since November 1! Our TV has been on the Hallmark channel 24/7, except for the time where we watch our weekly shows; This Is Us and Brooklyn Nine-Nine. My DVR is smashed full at 14%, because I've DVR'd a gazillion Christmas movies, so I could be sure I would be able to watch my favorites over and over throughout the holiday season.
We just bought a house back in April of this year, so we knew we wanted to go all out with the Christmas decorations this year!
Over the weekend, The Barn at Springhouse hosted a bunch of us local bloggers for a Wreath Making Class. You may remember us getting together for the most epic blogger brunch during the summer, which was at the same location! The Barn at Springhouse is a historic tobacco barn located in Nicholasville, Kentucky (only a few minutes from Lexington!). If you are local to the area, there will many other opportunities to take part in a wreath making class yourself during the remainder of November and part of December!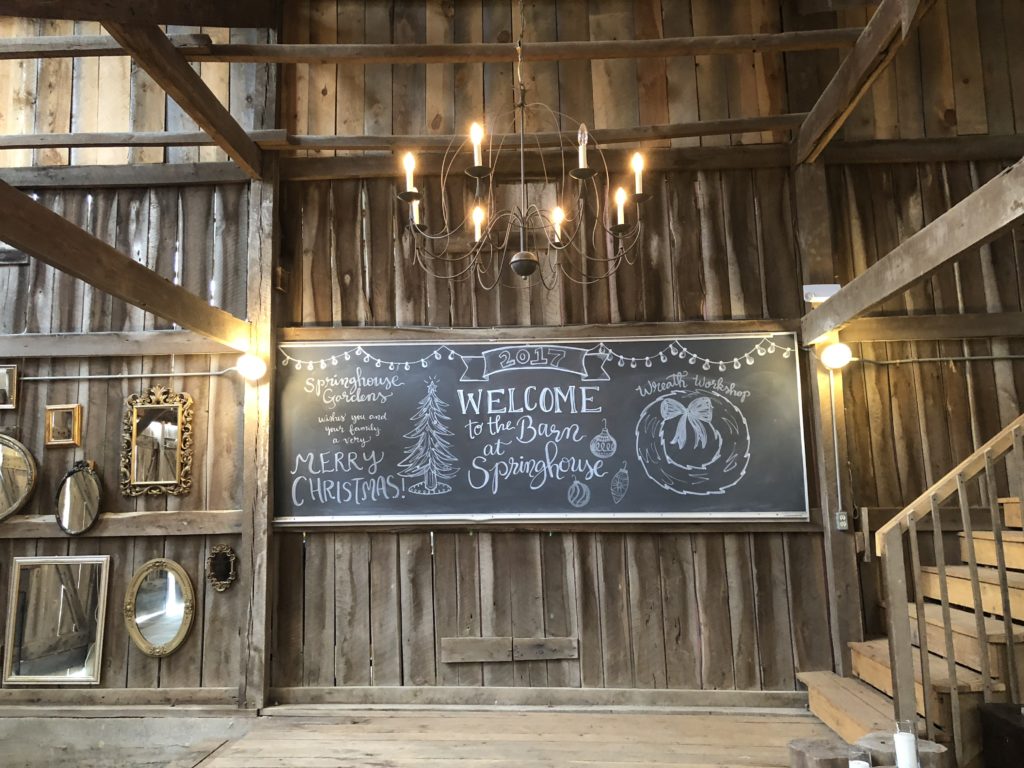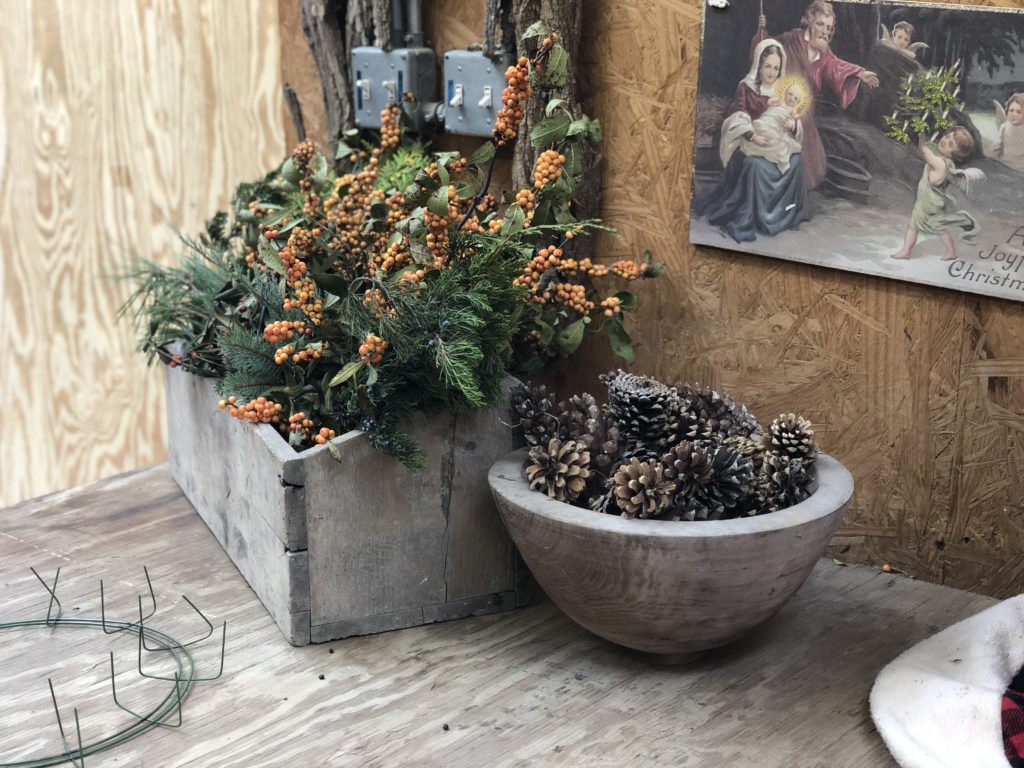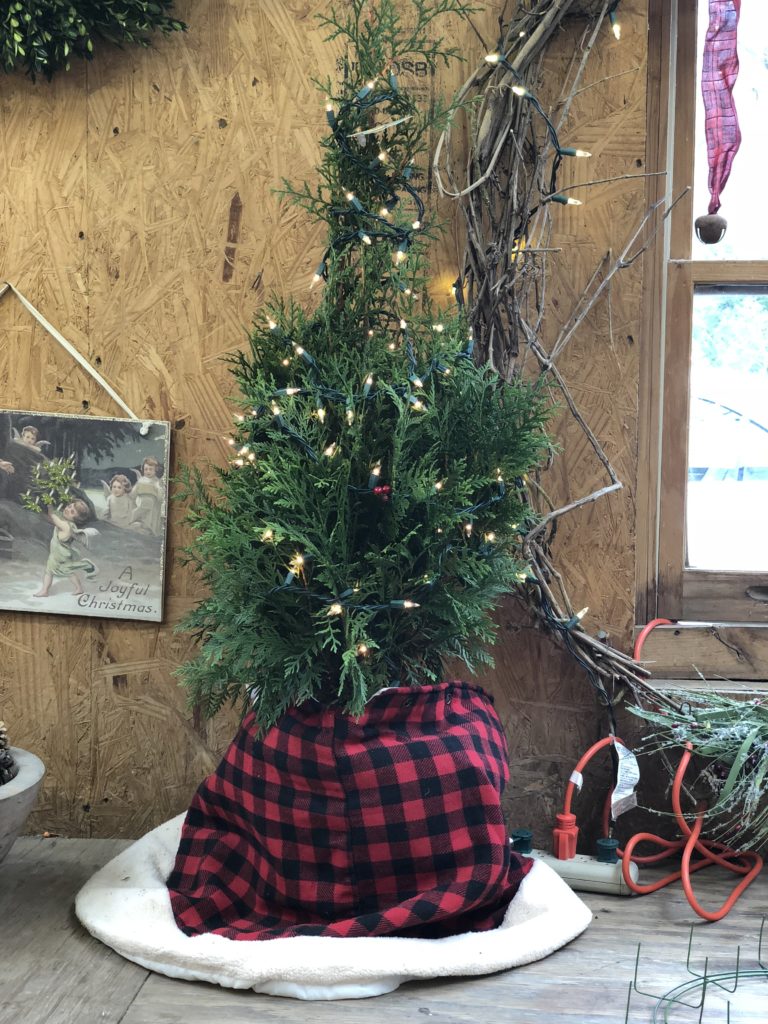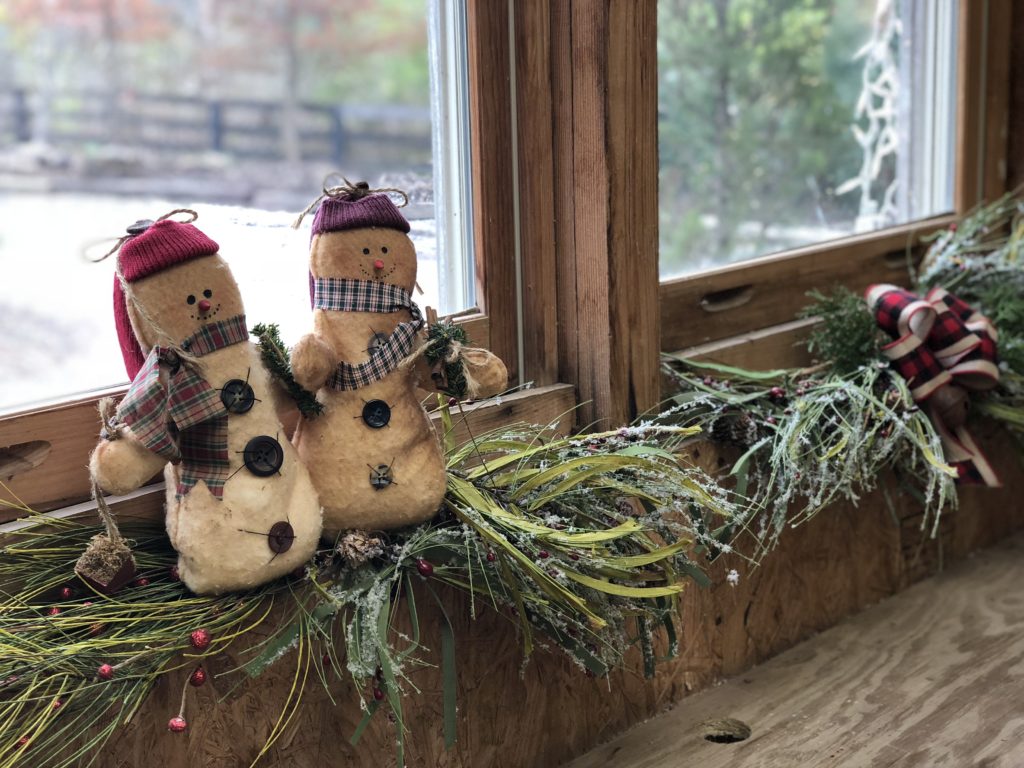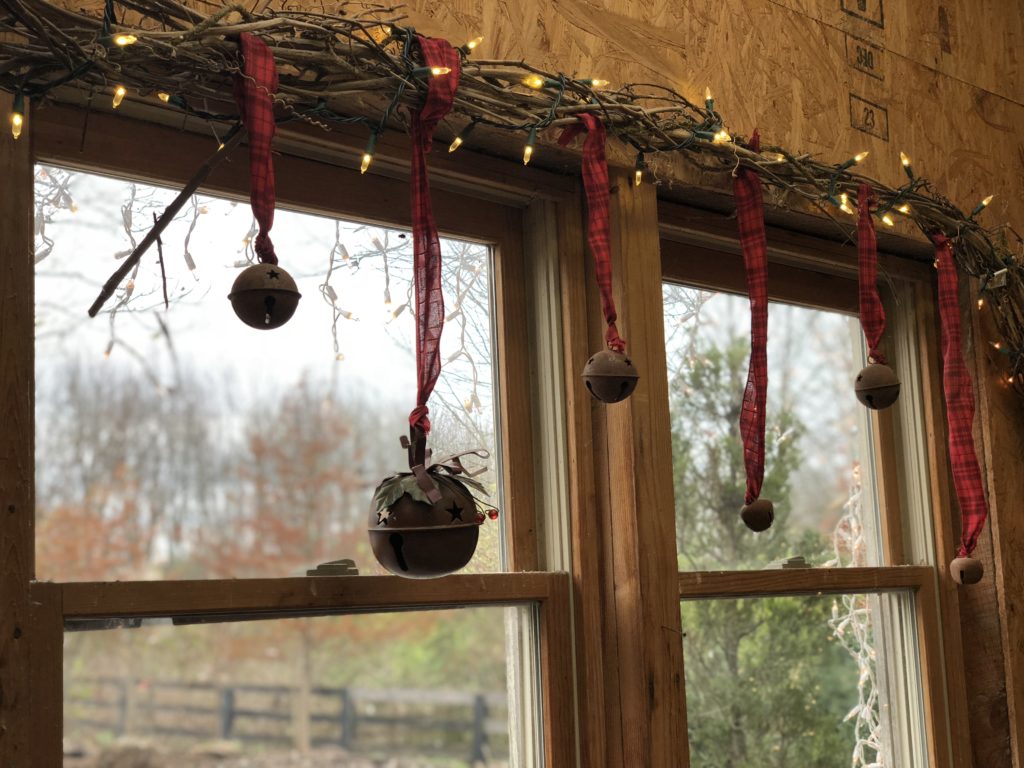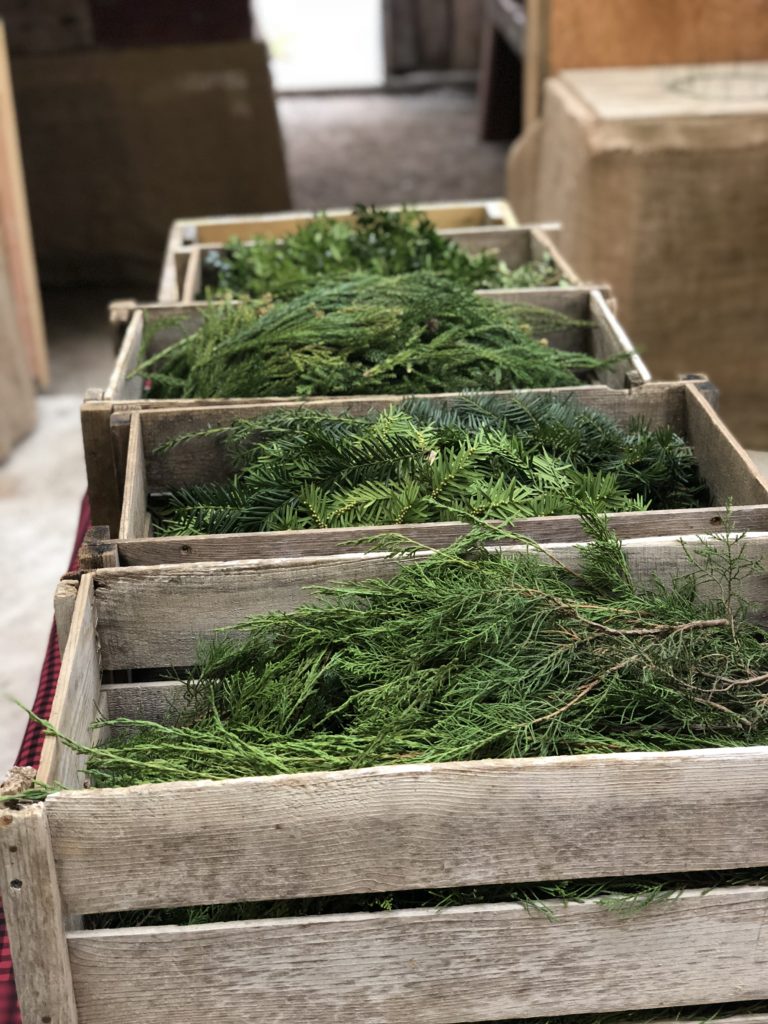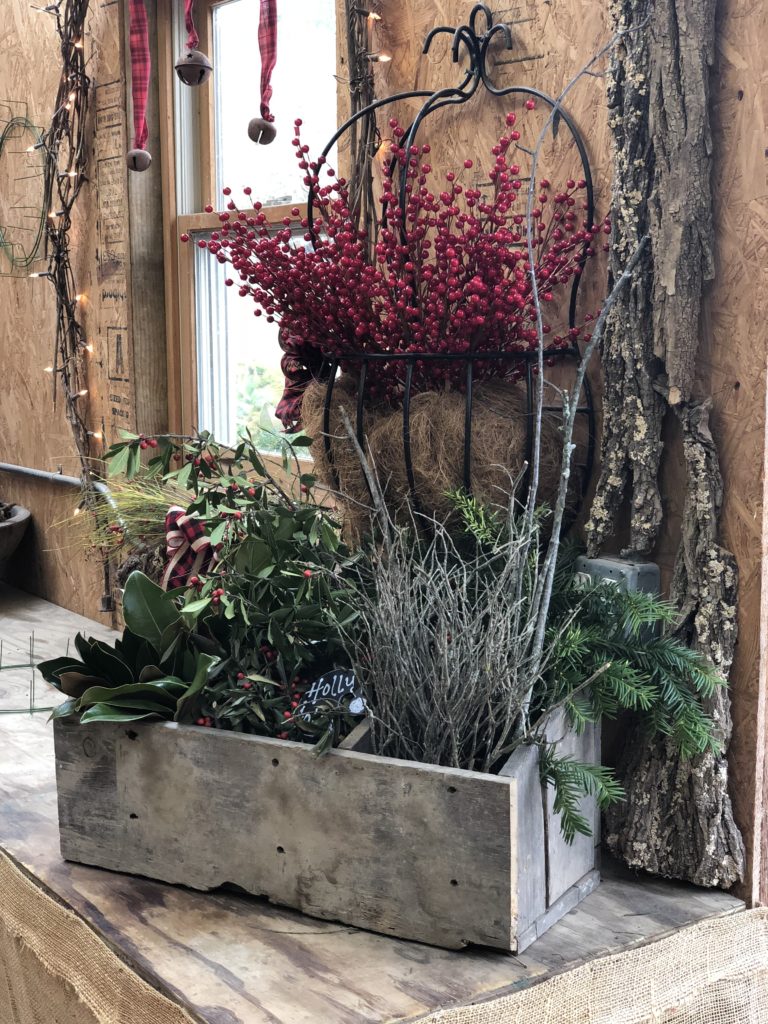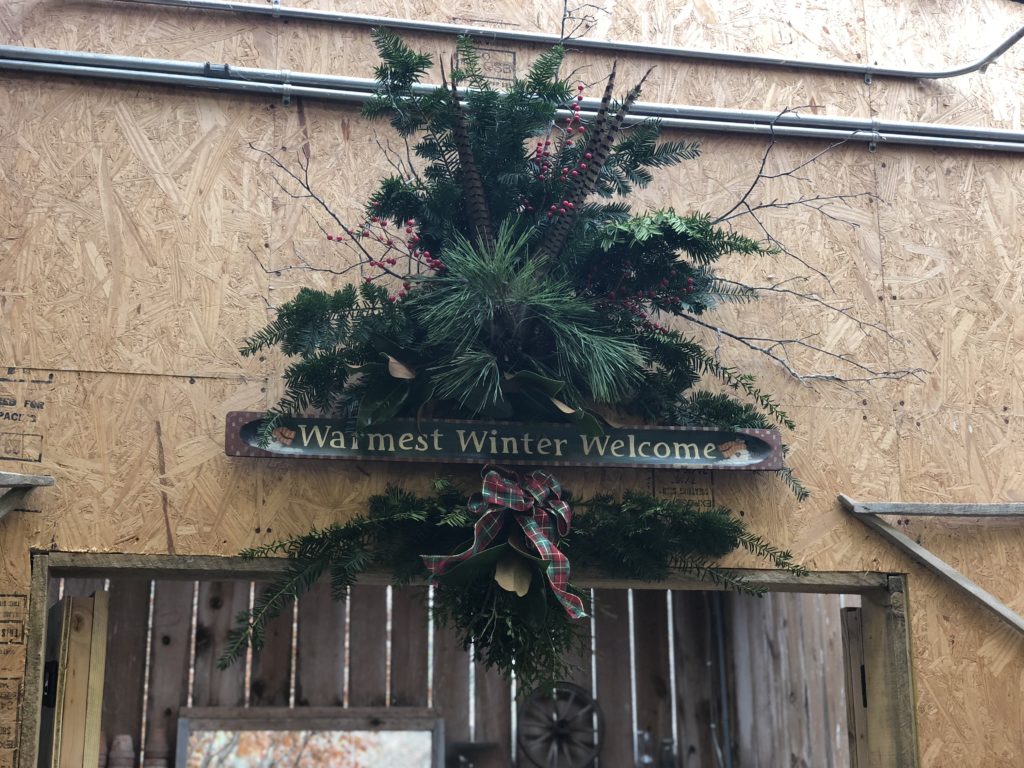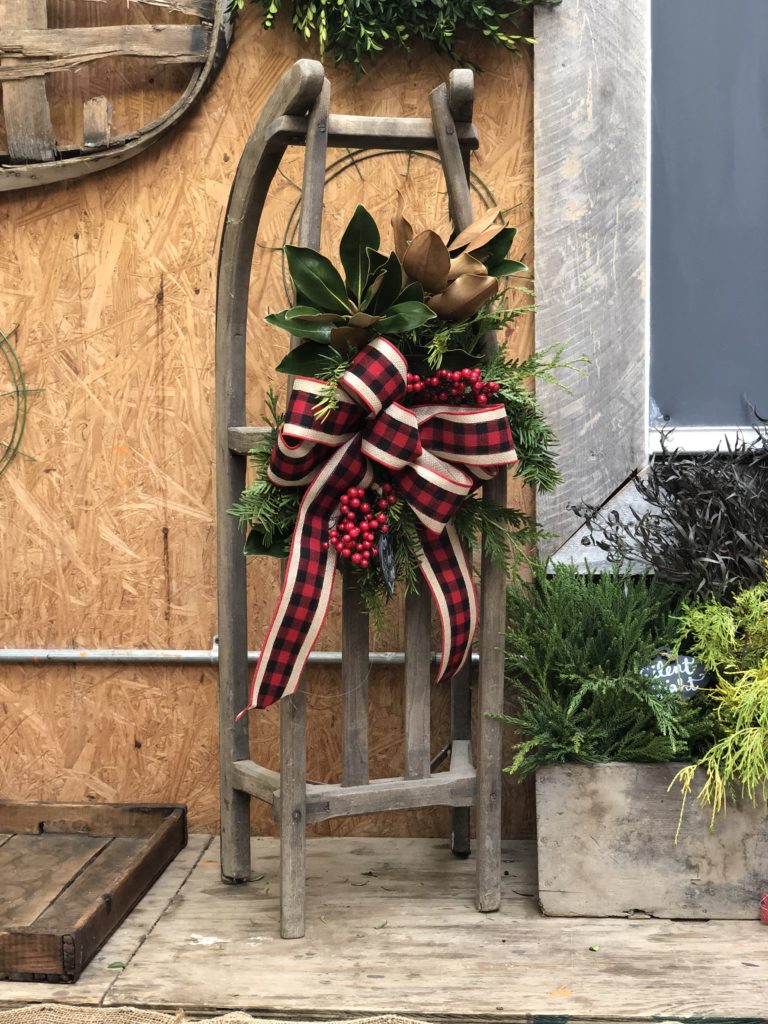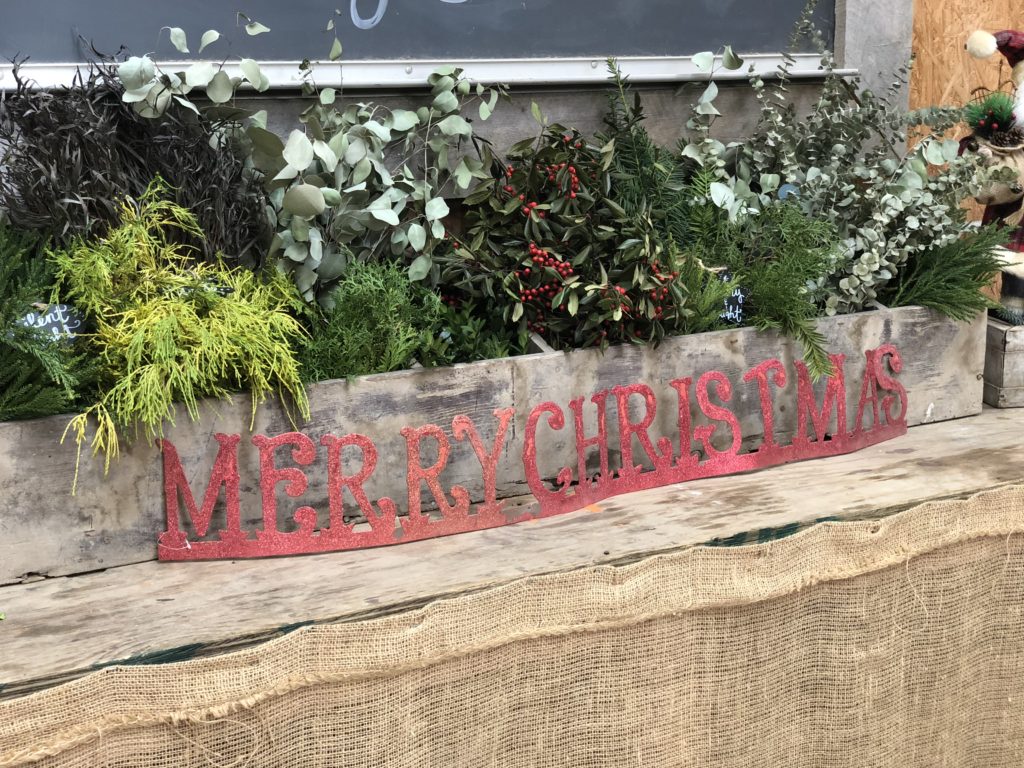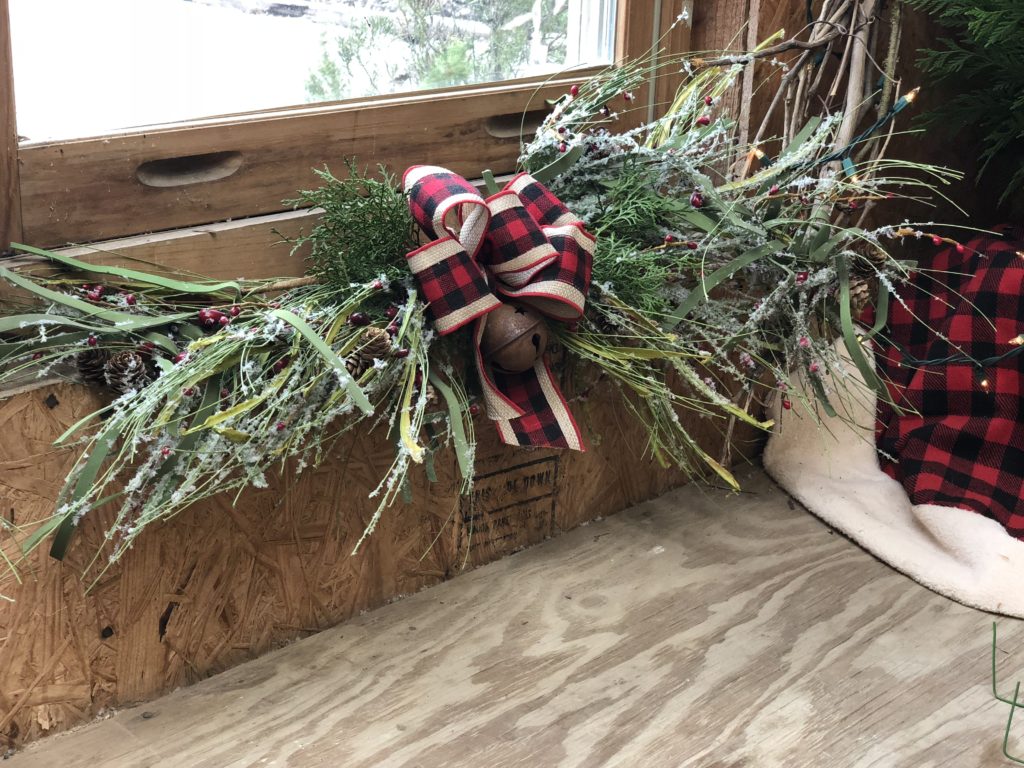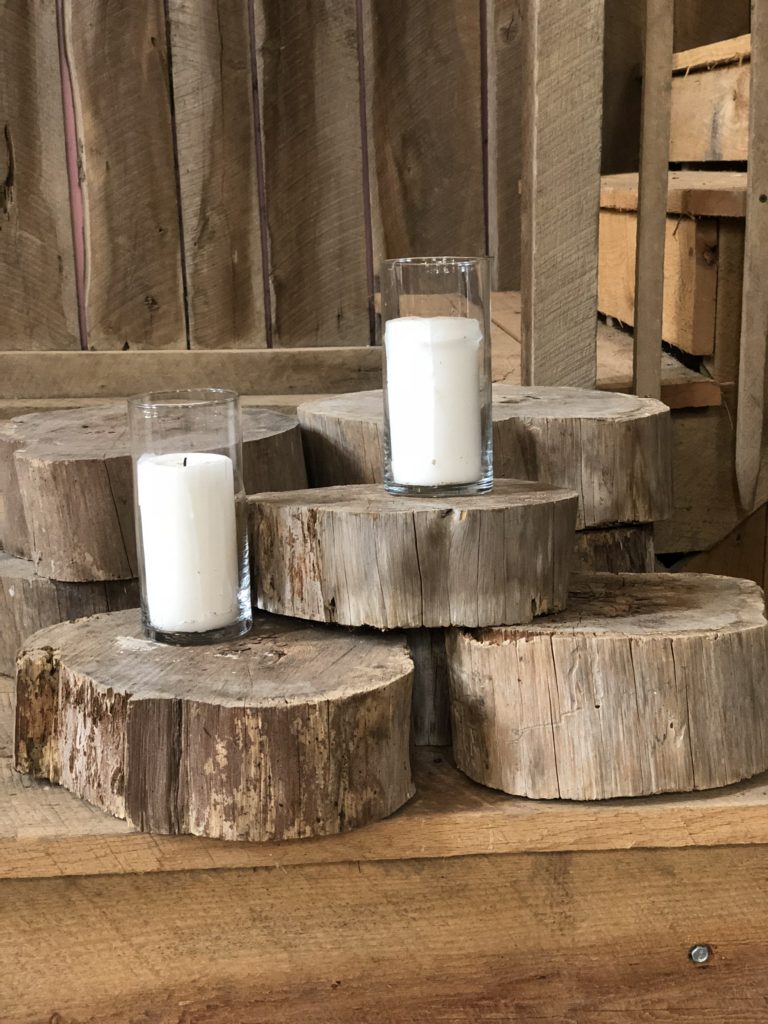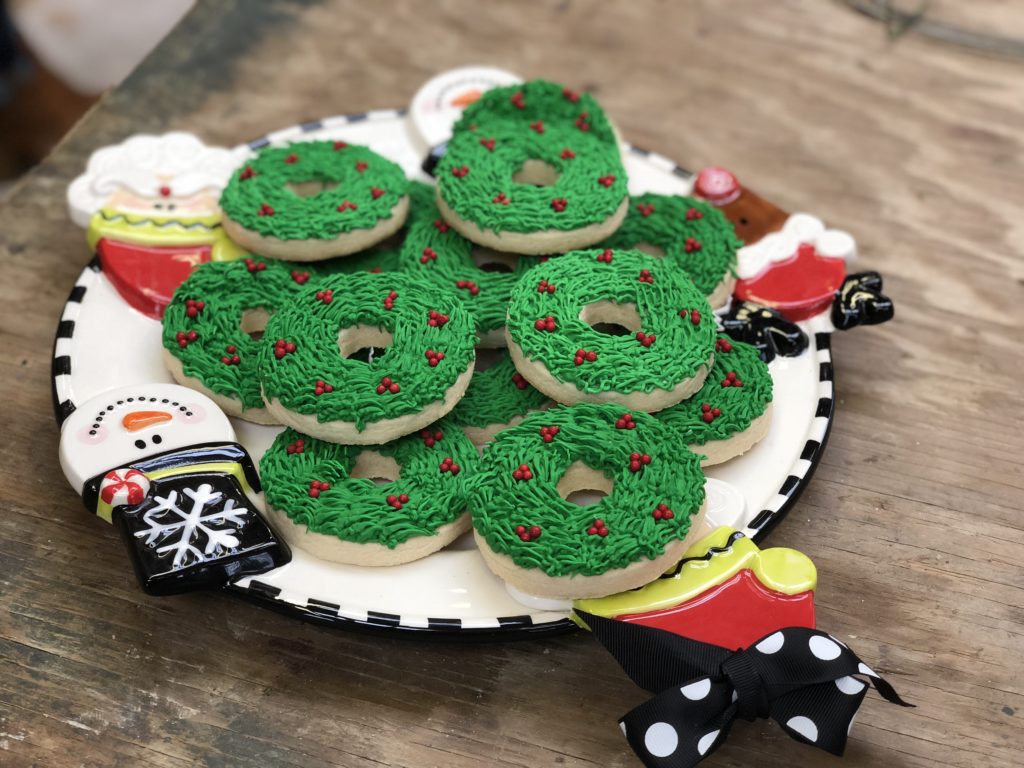 The Barn at Springhouse was all decked out for the holidays! There were Christmas lights, greenery, and decor everywhere!
The workshop area was all setup for us and included different stations for all the different plants that we could use to make our wreaths.
[Related: Most Epic Blogger Brunch at The Barn at Springhouse]
Look at these festive cookies! These were made by The Crumbled Cookie. There was also many amazing goodies, such as; peanut butter balls, bourbon balls, and white chocolate popcorn from Mrs. Rogers' Fabulous Favorites. Both are local to Lexington (shop local y'all!). Everything was so delicious!
There also was bourbon, cider, chili, and other delicious treats to enjoy while we there. The men in our lives were invited too! They mostly hung out, drank beer, watched the game, and took pictures of us when we came and got them!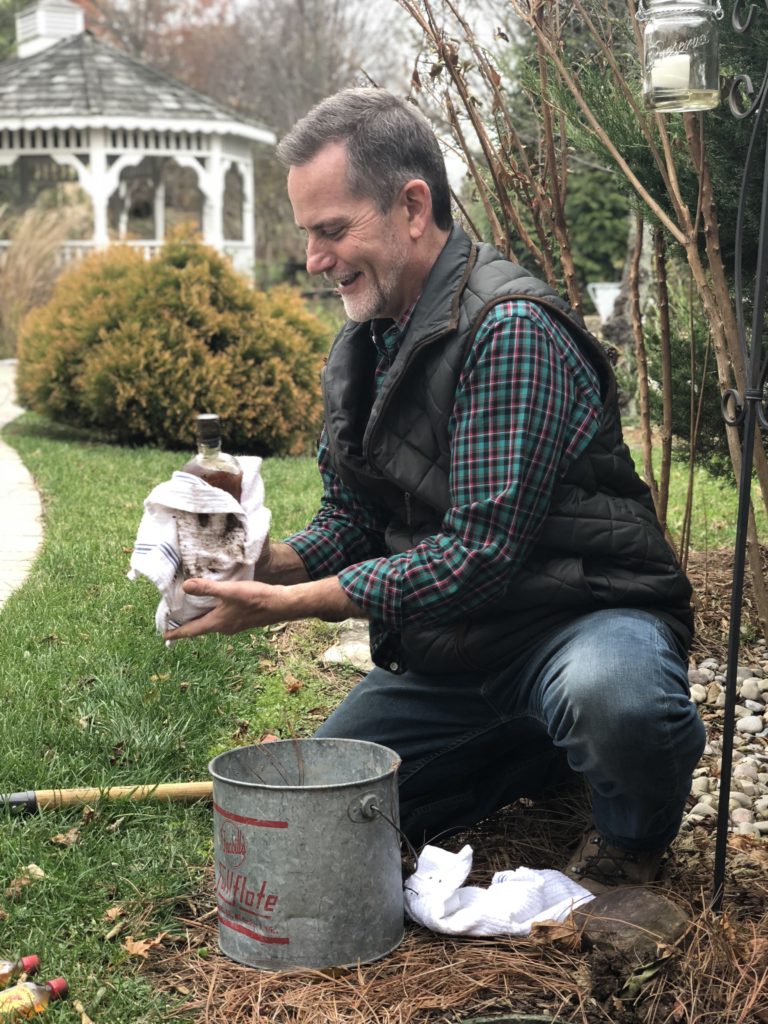 On this particular Saturday, it was supposed to rain. 80% percent chance to be exact!! This wasn't good, because we had planned on taking pictures outside and rain just makes for a dreary day. To ward off the rain, the day before, a bottle of bourbon was buried.
I'm sure some of you are wondering why did they bury a bottle of bourbon?
Well, according to the owner of Springhouse Gardens, Richard, It's folklore here in the South (and in Kentucky, we especially love our bourbon – 95% of the world's bourbon is made here) referring to weddings, that says that if you bury a bottle of bourbon at the site of your wedding (in this case – event), it won't rain. Many believers believe this must be done exactly one month beforehand and the bottle must be completely full. Most importantly, it must be buried upside down!
Well, since Springhouse started doing weddings, they have buried a bottle of bourbon each time, and it has never rained. For the event, we attended made number 20, and it didn't rain, even though it was supposed to! The record now is 20 for 20.
So, it does really work!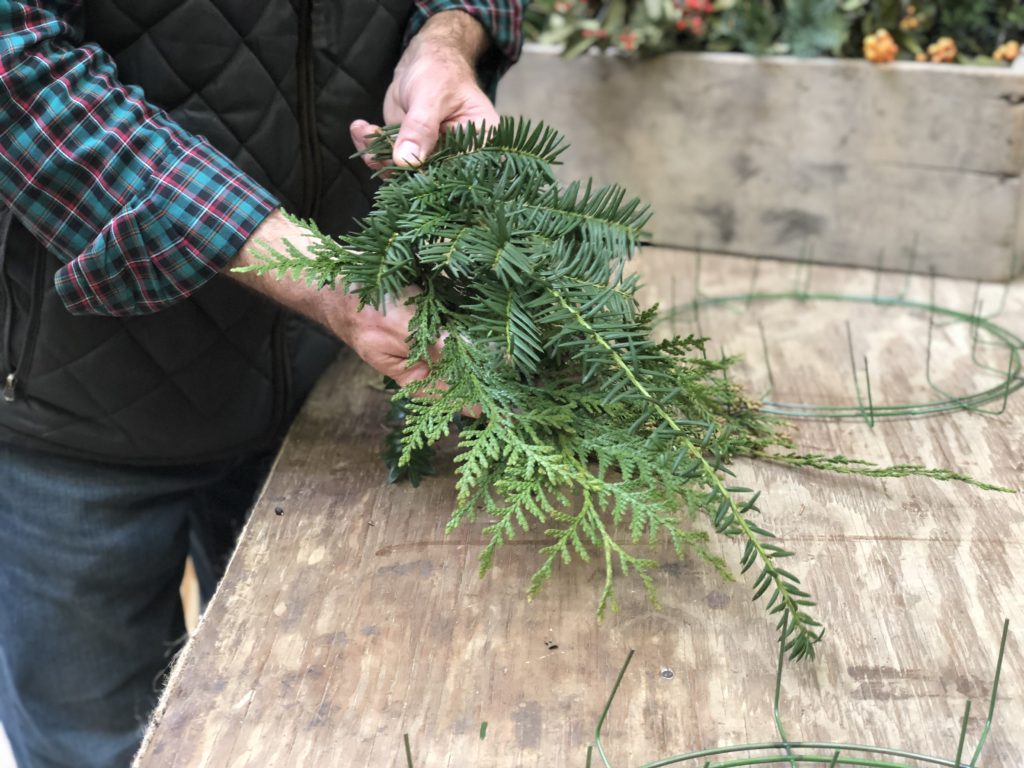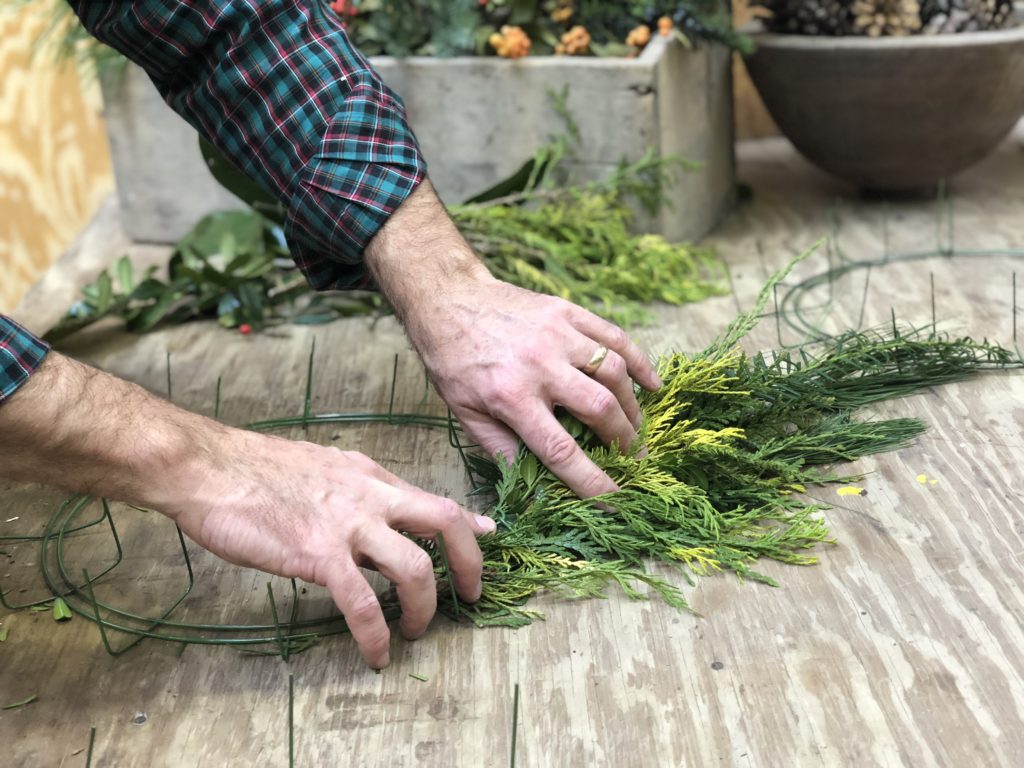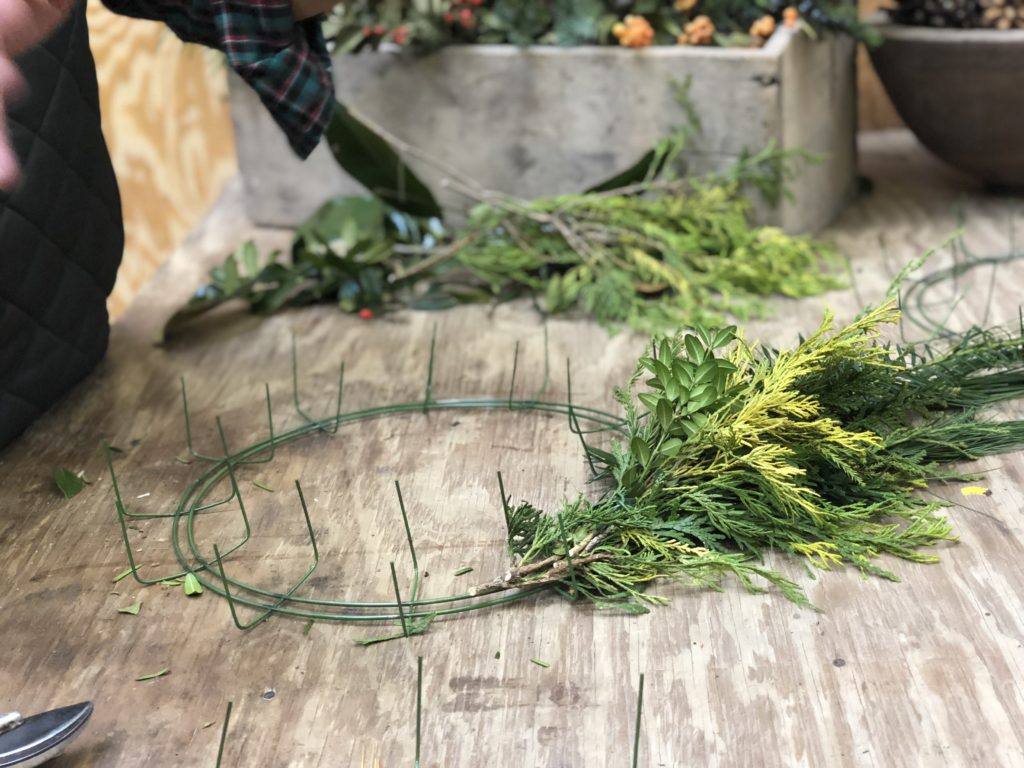 Richard is super knowledgeable and walks you through step by step on what you need to do to construct your wreath. You won't be left on your own, and if you have any questions. he'll be happy to answer them and help!
First, he demonstrated what to do before we were left on our own. He also showed us which each of the plants were that we could choose from! Richard also talked about how to care for your wreath, along with the dos and don'ts to make it long-lasting!
Plus, all of the greenery that you see, and use, was cut fresh right from Springhouse Gardens earlier that day!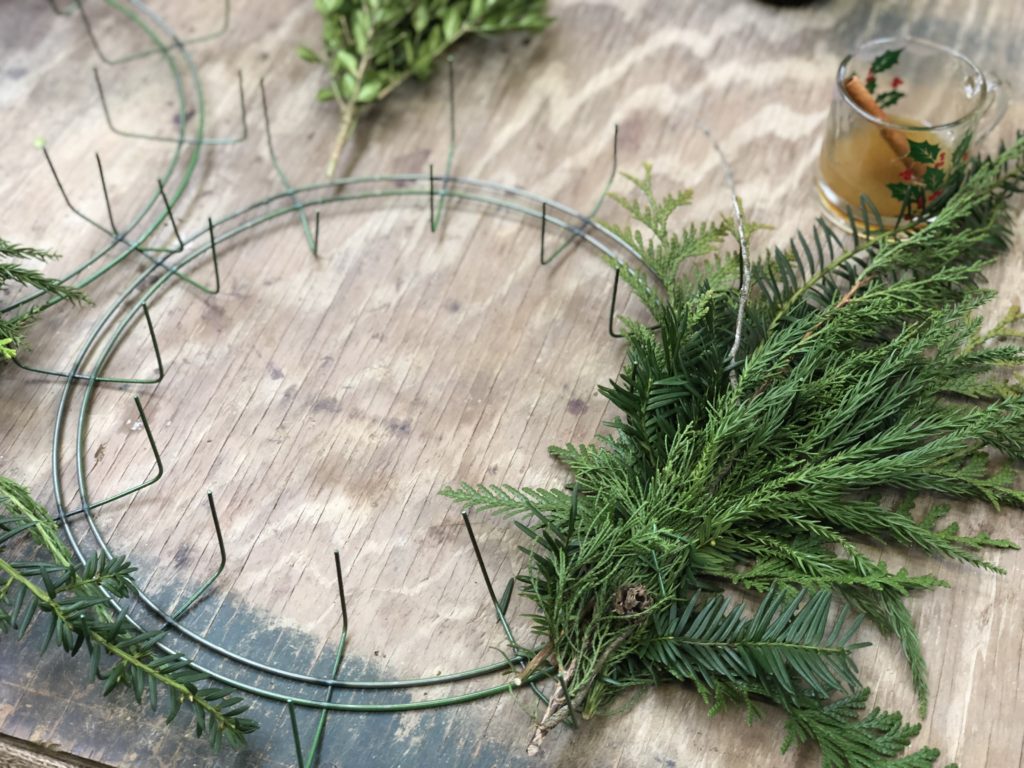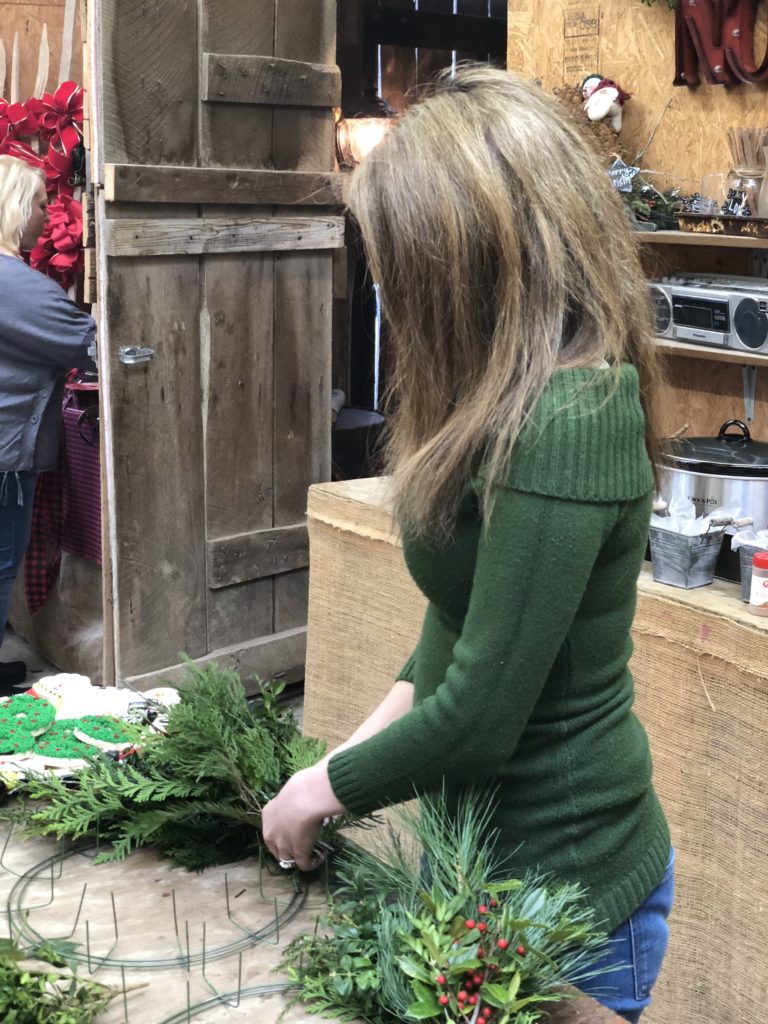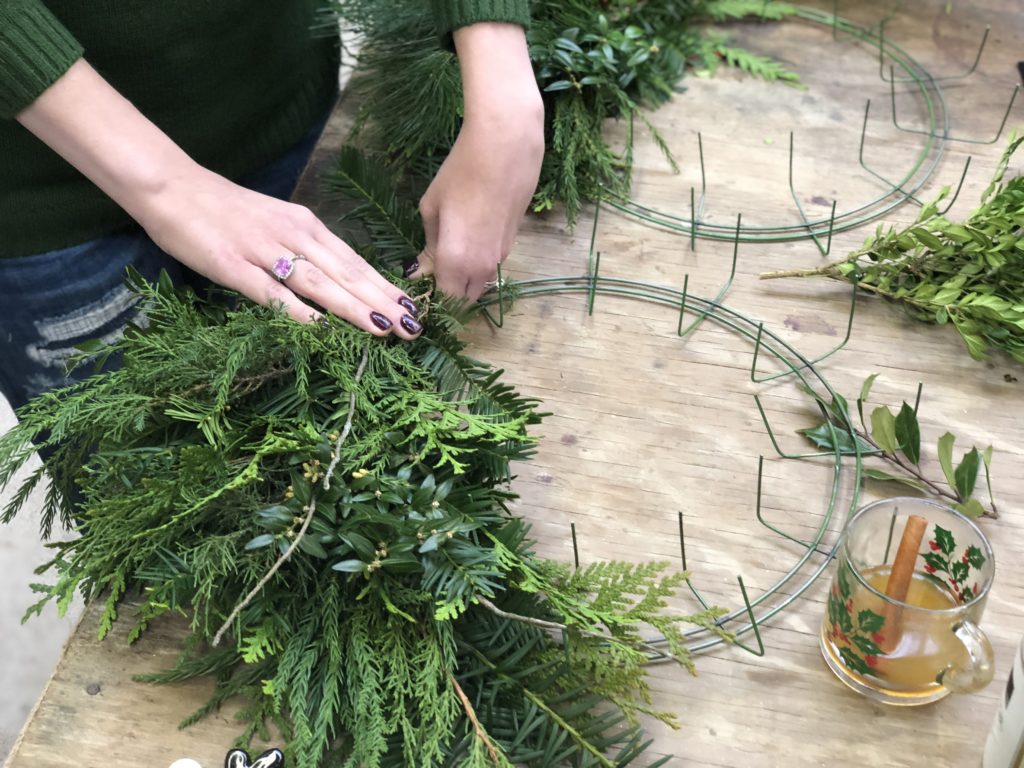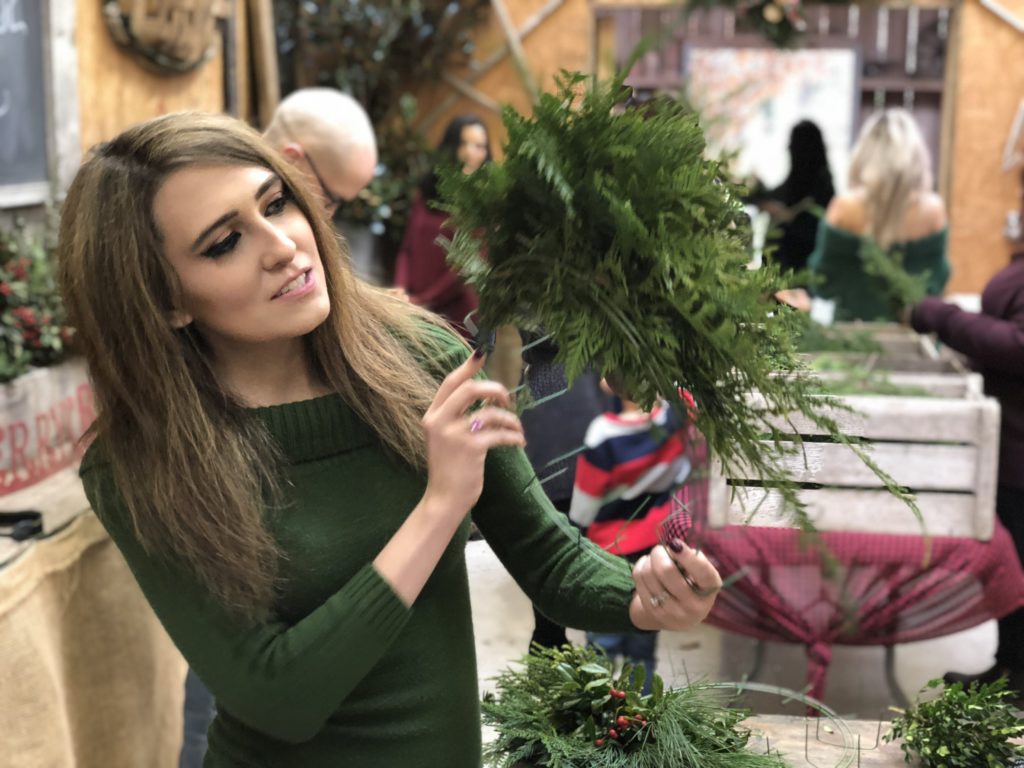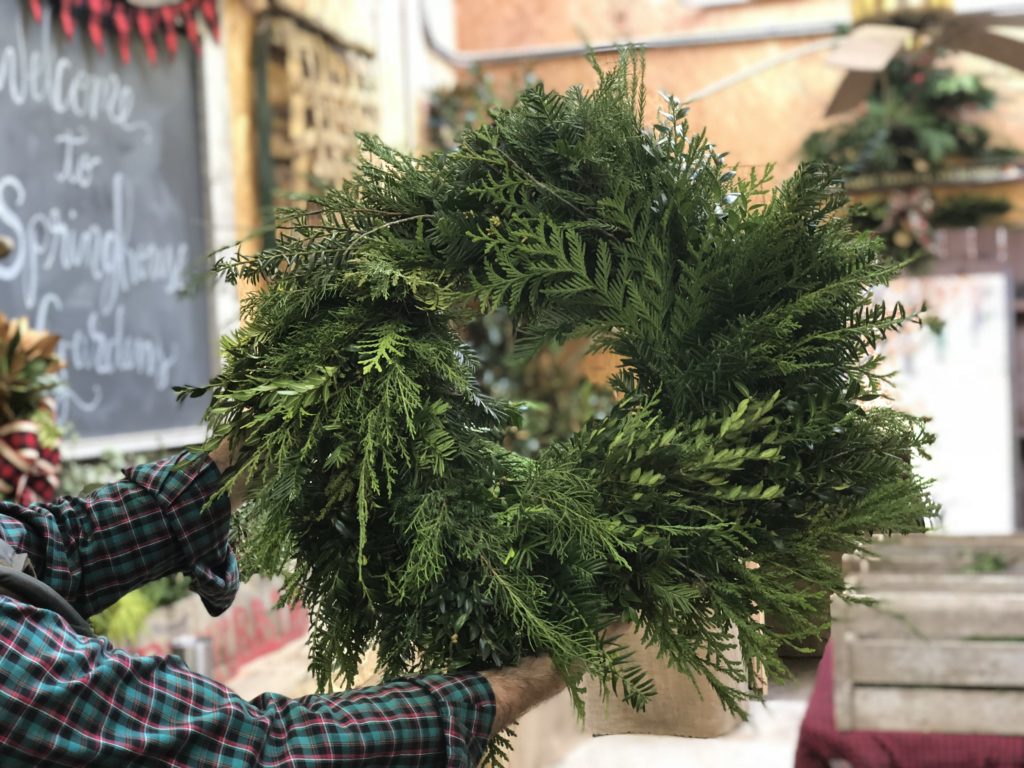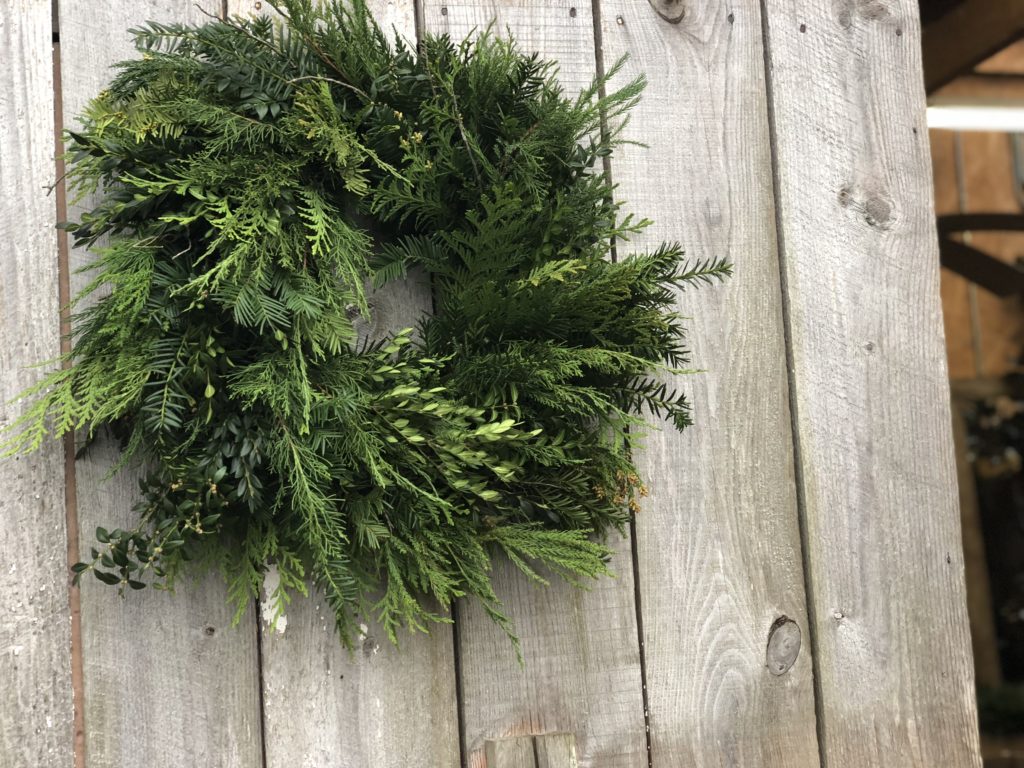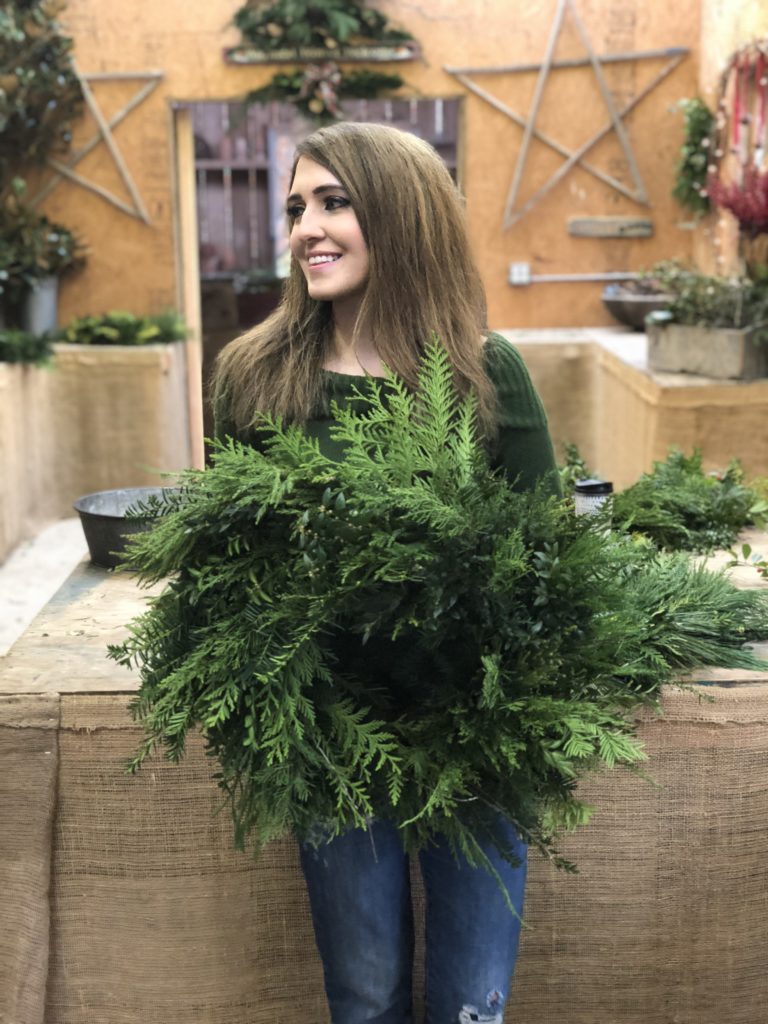 I so don't consider myself a crafty, DIY type of person. I may be creative when it comes to photography and cooking, but not when it comes to crafts. I can't be left to my own devices to freely create something from my own mind. If the DIY has a step-by-step instruction guide or it's something that I can easily replicate, then it's my jam. Obviously, when it comes to certain things, it's all about what you create and how you want it to look. With art, there are no right or wrong answers.
I saw a wreath hanging on the wall, and loved how it looked! I decided I wanted to make one similar to it for mine, so I asked how it was made and what greenery was used. For my wreath, I used five different plants; juniper, pine, boxwood, magnolia, and I can't remember the fifth one. I also wanted it to have a more rustic look, so I put several sticks in it sporadically. For each "bundle," I varied how many pieces I grabbed. I based it on how thick and full they looked. For some, I would use one piece, and some I would use five pieces, so for each bundle, I had about nine to thirteen pieces total.
I loved how thick and full it turned out!
After it was finished, it was sprayed, so it could last and not turn brown!
If you are local to Lexington or live nearby, then I'm sure you would love taking part in this class! There are several dates left for you to choose from*:
Saturday, November 25: 10am & 1pm
Thursday, November 30: 10am & 1pm
Monday, December 4: 12pm
Wednesday, December 6: 12pm
Thursday, December 7: 6pm
Saturday, December 9: 10am & 1pm
Tuesday, December 12: Happy Hour in the Barn 5pm
*Be sure to check their official calendar to see what dates and times they stilll have available (These classes are $55)
You can also book a private wreath making class for you and your friends. For the daytime, it's $60 and for the evening, it's $65. Happy Hour in the Barn is $75. It includes a tour of their Events Barn & and Display Gardens and you'll get to learn how they grow and harvest their specialty greens. You'll also be able to join a complimentary signature Springhouse cocktail!
What are you doing to get into the Christmas spirit?