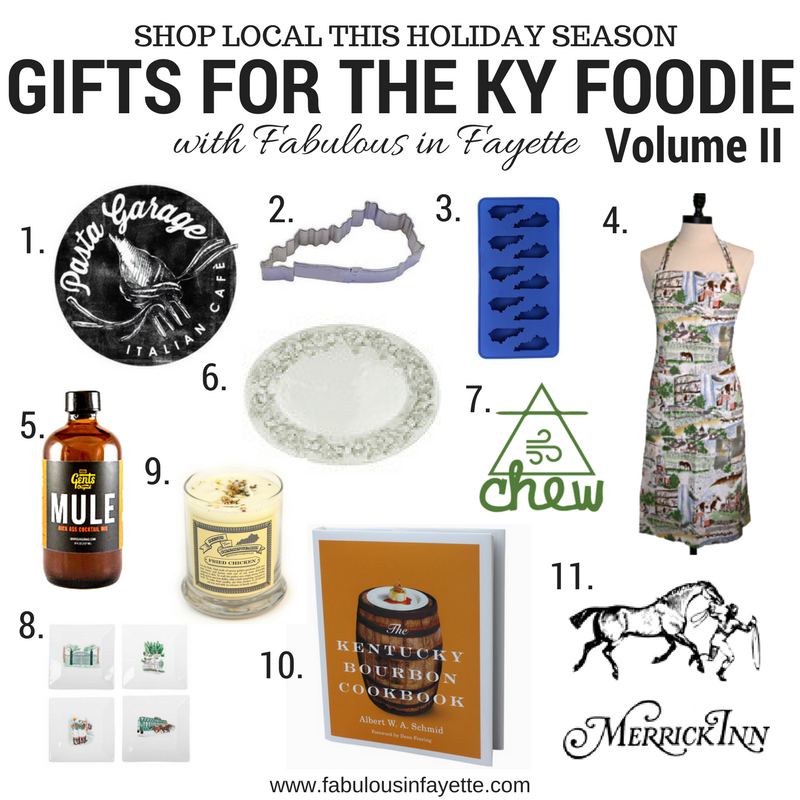 Lexington and the state of Kentucky is such a foodie paradise that I couldn't just dedicate one post for gift suggestions. There are so many awesome events, products, and finds that I'm sure that all Kentucky foodies would love Volume II (In Case You Missed It: Kentucky Kind of Christmas: Gifts for the Kentucky Foodie (Volume I)!
You won't want to miss this "Kentucky Foodie" Gift Guide! You'll definitely will want to check out the Pasta Club Membership from Pasta Garage and the Fried Chicken Candle from Kentucky for Kentucky. Those are my must-haves!
Let's see what else made the list…
Gifts for the Kentucky Foodie (Volume I):
1 . Pasta Club Membership from Pasta Garage: I absolutely LOVE eating at Pasta Garage! They are a local restaurant and their pastas are made fresh daily, in small batches, using the best ingredients possible by Lexington Pasta. You can even purchase their pasta at stores like Whole Foods, and they even created this amazing concept -a Pasta Club Membership! I would love to receive this as a gift! I mean, who doesn't love pasta? It's even better that it's made fresh and locally made!
The membership costs $200 ($300 value) and you will receive:
one Pasta Garage t-shirt
one Lexington Pasta container, plus one Stuarto's Olive Oil mini bottle
 two 10% off cards
12 weeks of pastas and sauces for a family of four
10% off purchases at Bodega and Pasta Garage through the duration of your membership
$10 off the Pasta 101 class (reservations required)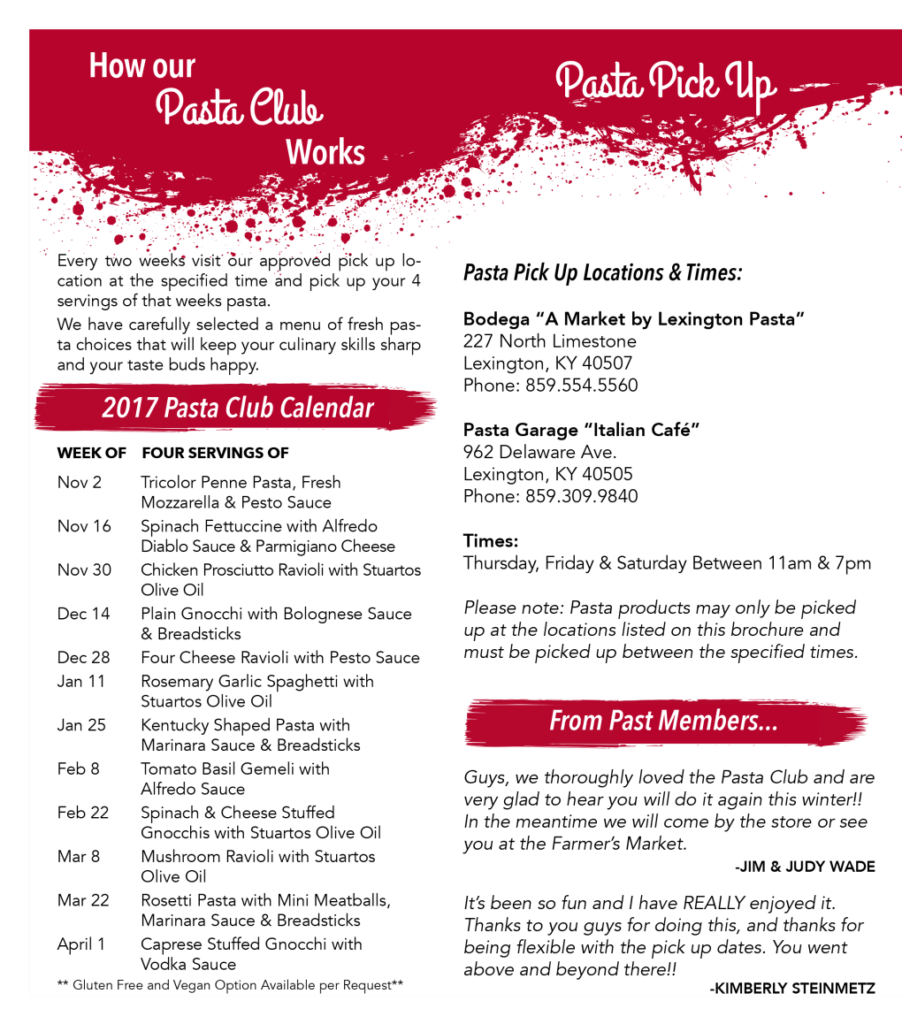 2. Kentucky State Cookie Cutter: This is great for the baker in the family, who happens to also be a Kentuckian! I have this, and it makes for the cutest cookies!
3. Kentucky Rocks! Ice Cube Tray: Regular ice cubes are boring, make any drink more exciting with awesome KY shaped ice cubes.
4. Lexington Print Apron: Cook in style with this Lexington Print apron!
5. Gents Mule Cocktail Mix: I'm sure a lot of you have heard of Moscow Mules, but here in Kentucky, we like our bourbon, so we make Kentucky Mules. This mule cocktail syrup is crafted with organic ginger root, fresh-squeezed limes, cane sugar and sea salt. It is handcrafted by local artisans right here in Lexington, Kentucky.
6. 19″ Embossed Running Horse Large Oval Platter: Stoneware is a family craft business. The first factory that came to Louisville was founded by Jacob Lewis in 1815, and that's the pottery company that they still operate today!
7. Air – Chew Dinner Series: The CHEW farm-to-table series is a two part series featuring Kentucky producers, products, and the people who make it tasty. It's not just about getting together with friends and having dinner or drinks, but it's also about sustainability of farms, traceability of our food source, learning about 'Kentucky Proud' products, and exploring local neighborhoods, chefs, and venues. The CHEW Dinner series is super popular and each event always sells out. For each event, that they had in 2017 was inspired by the elements (fire, earth, water, and air). The last event of the year, Air, is going to be held on December 6.
8. Dishique Keeneland Square Plates: Make a statement with these when you host your next party!
9. Kentucky Bourbon Cookbook: Although Kentucky is known for its bourbon (95% of the world's bourbon is made here), it's also known for its cuisine. Within this cookbook, you will learn how to make classic cocktails, such as the Mint Julep. You'll also learn how to make bourbon inspired desserts, as well as savory dishes like a Steak with Bourbon Ginger Sauce. Inside you will find recipes for each course. The author uses the four distinct seasons of the Bluegrass State to guide the readers through each of the dishes.
10. Fried Chicken Scented Candle: These soy wax candles are fried up in a cast iron skillet with real chicken and top secret seasonings by Kick-Ass Kentuckian Kathy Werking. Back in May 2015, this amazing Kentucky scented candle has been featured on CNN, Mashable, Huffington Post, IGN, Paste Magazine, Thrillist, The Late Late Show, Food & Wine Magazine, The Metro, The Mirror and a ton of other news outlets. Other scents available: Bourbon Ball, Cornbread (NEW), Burning Couch (NEW), and Mint Julep. These will become available for purchase today at 10am, and these will SELL OUT! Last time, they sold out within a day. Limited quantities available in each scent!
11. Gift card to Merrick Inn: The Merrick Inn is an amazing restaurant!! (Some recommendations: the Grouper Fingers and the Pecan Crusted Pork Tenderloin). Some people may or may not know how The Merrick Inn got its name, but it was named after the great thoroughbred, Merrick. The Merrick Inn was built before the Civil War and completely remodeled in 1936 by the Cal Milam family. The Merrick Inn served as the manor house for one of Lexington's finest horse farms. Merrick finished in the money 157 times, winning 62 races. Merrick became a member of the Milam family not only because of his success at the races, but also because he was "worthy in deeds and noble in character" – a tribute to him etched by the Milams on his gravestone located in the shady circle just in front of the inn.  Merrick died in 1941 at the age of 38, the oldest of all thoroughbreds.  Merrick was a truly special horse and his namesake a very special farm.
Only 33 days until Christmas!