This post is sponsored by WhiskeyMade. All of these opinions are entirely my own. Thank you for supporting brands and businesses that support Fabulous in Fayette!
It's no secret that my husband and I are lovers of bourbon. After all, we live smack down in the middle of "bourbon country." When you live in the state where 95% of the world's bourbon is made, it's safe to say the whiskey options are endless. With that being said, I love the rustic, reclaimed wood look. Bourbon and that particular style go hand in hand. I was super ecstatic that WhiskeyMade contacted me about teaming up with them to showcase their bourbon barrel heads. I knew this would look perfect right above the bourbon area that we have in our kitchen. If you are a lover of bourbon, a Kentuckian, love the look of wood, or all three, then you need this for your decor!
Not only did I get to design my barrel head, but I actually got to see it be engraved in person! It was super cool to go behind the scenes, because I had no idea what went into the process. I had only seen the finished product, until now.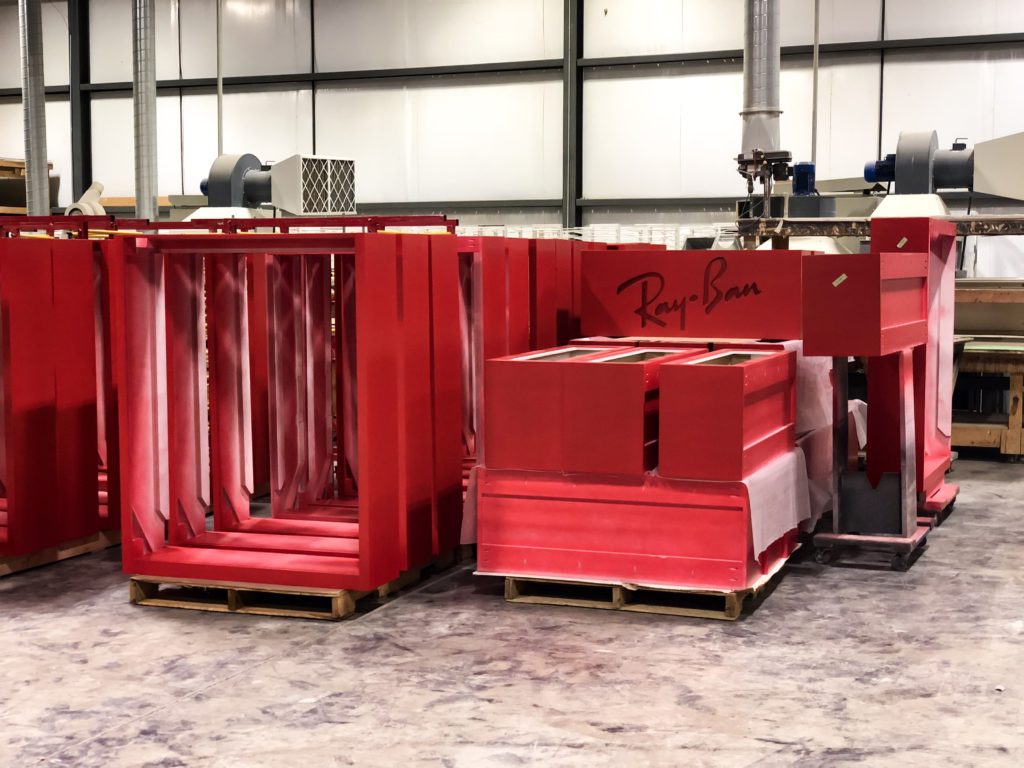 Over Christmas, my husband and I drove down to Nicholasville, Kentucky to ACT (Automated Cutting Technology) to meet with the engraver and to check out the process. Angela showed me around ACT and explained what all they did there, which I found extremely fascinating. I was surprised to learn that ACT makes all the displays for Rayban nationwide, as well as other national brands, such as:
Patricia Nash Designs: This is an upscale designer and manufacturer of fine Italian leather goods based in Knoxville, Tennessee. ACT's displays are in her 1000+ retail locations. Patricia Nash fixtures utilize distressed veneer and hardwoord, metal, glass, vinyl, and LED lighting. The finishing touch is provided by their proprietary distressed finishes.
Seafolly: Australian based brought their powerhouse brand to the United States from a land down under in 2013 they needed a fixture partner who could provide everything from design to delivery. For Seafolly, ACT, Inc. ultilized veneer, hardwood, laminates, paint, metal, and glass to create and exciting look and feel.
Cole Haan: Established in 1928 Cole Haan is one of America's oldest and largest puryeors of shoes and accessories. ACT, Inc. provides Cole Haan with store fixtures utilizing wood, metal, powder coat, paint, corian, acrylic, lighting, and fabric benches.
ACT also created all of the signs that you see in the parks, in Lexington.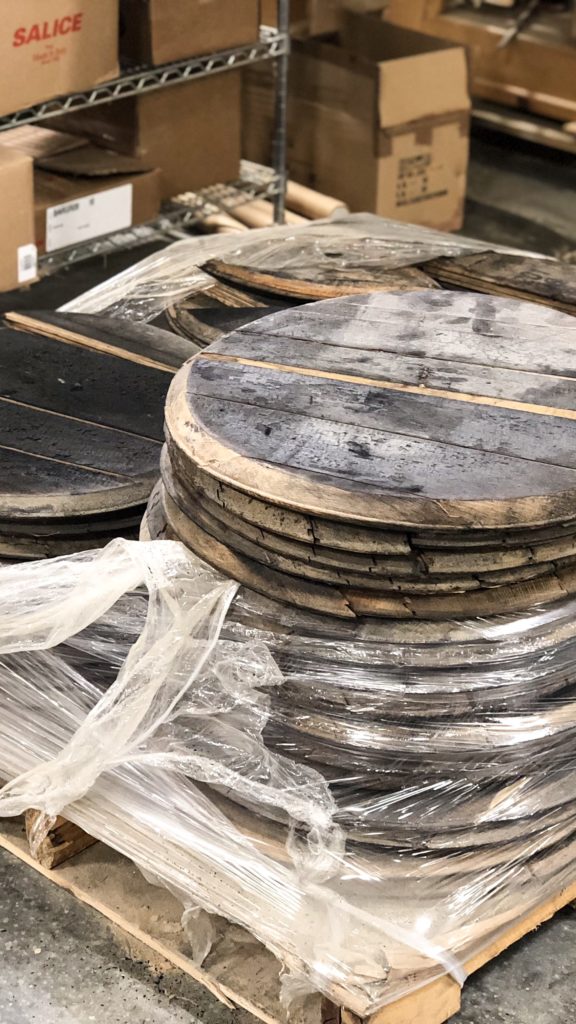 My husband and I came up with the design. We wanted the quote "Too much of anything is bad, but too much good whiskey is barely enough" with the shape of Kentucky above it. I told WhiskeyMade what I wanted and they sent the proofs back for me to give the a-okay. Once that happened, I made an appointment with the engraver.
In case you didn't know, there are two lids per whiskey barrel. Each lid is made of white oak slats that are held together by the pressure of the liquid inside the barrel. In order to give whiskey its deep caramel color and rich smokey flavor notes, distilleries lightly "toast" the barrels to caramelize any natural sugar in the wood. Many distilleries "toast" the barrels  so they are a level four char. The barrel heads themselves are often charred longer. There is not any glue used in the production of bourbon barrel heads. There are only holes, dowels, and a bit of paraffin wax around the outside to help the seal.
The coopering process is done entirely by hand. That is the way that it has always been done. Solid craftsmanship eliminates the need for adhesive, which could touch the whiskey and interfere with the flavor. The way the wood slats fit together also allow them to expand and contract comfortably as the whiskey ages over the years.
There are many options for you to choose when customizing your barrel head, such as having it "resurfaced," which is the planing down of the barrel head's worn surface. The charred side is planed down, so the reverse side of the barrel head still has the mark in tact. This removes any bits of char that may flake and come off of the barrel. Usually for wedding guestbooks, resurfacing the charred side is ideal, but you could also choose to have the marked side resurfaced, which leaves the charred side in tact.
After your barrel head is engraved, you can choose one of their finishing options. They offer light to dark shades of stain, in addition to the gloss option, which preserves and highlights the natural color of the wood. For the bourbon barrel I received, I opted for the gloss.
FYI: If you are thinking of purchasing a wedding guest book, they recommend finishing your barrel head at home after the big event so your guests' messages will be better preserved. Without a finish, resurfaced barrel heads will look (and smell) like fresh wood, and unresurfaced barrel heads will include scratches, markings, and any other wear it may have earned while doing its time in the distiller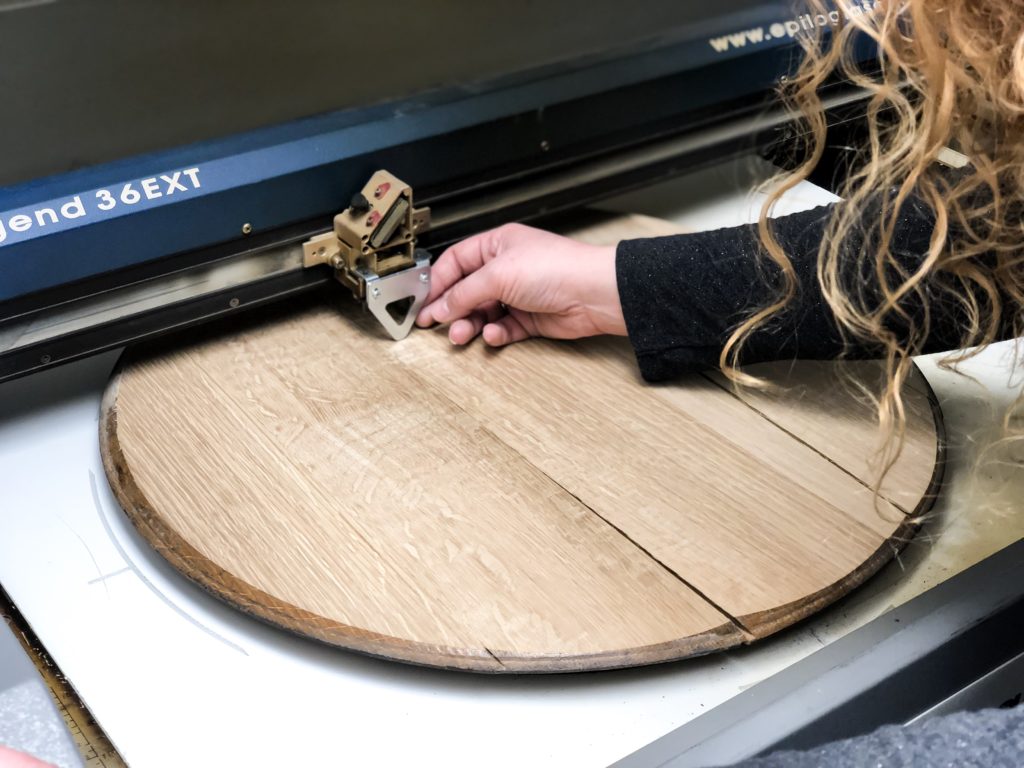 After walking around ACT and taking a small tour, it was time to see my barrel head come to life. I double-checked the design one last time from the computer and then it was then time to send the design to the printer! It was such a cool thing to see the design slowly being engraved on the barrel head. It probably took around 20 to 30 minutes for my entire design.
PRESS PLAY
Here's a little sneak peek of the process and how it works (you might want to turn your volume down – the machine is kind of loud).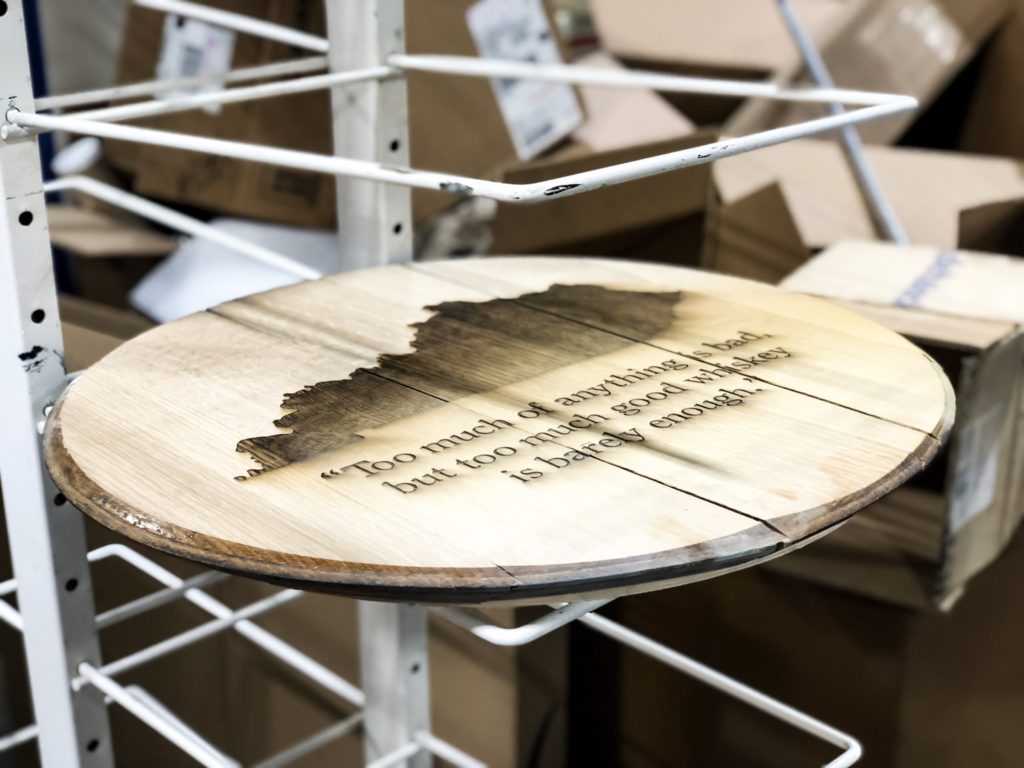 After the barrel head is engraved, it's ready for the finish of your choosing. Pictured above is our barrel head immediately after getting engraved with the design. When we left, the gloss was applied and it was left to dry. I was so happy with how it turned out! We went back the next day to pick it up, so it could be hung in our home!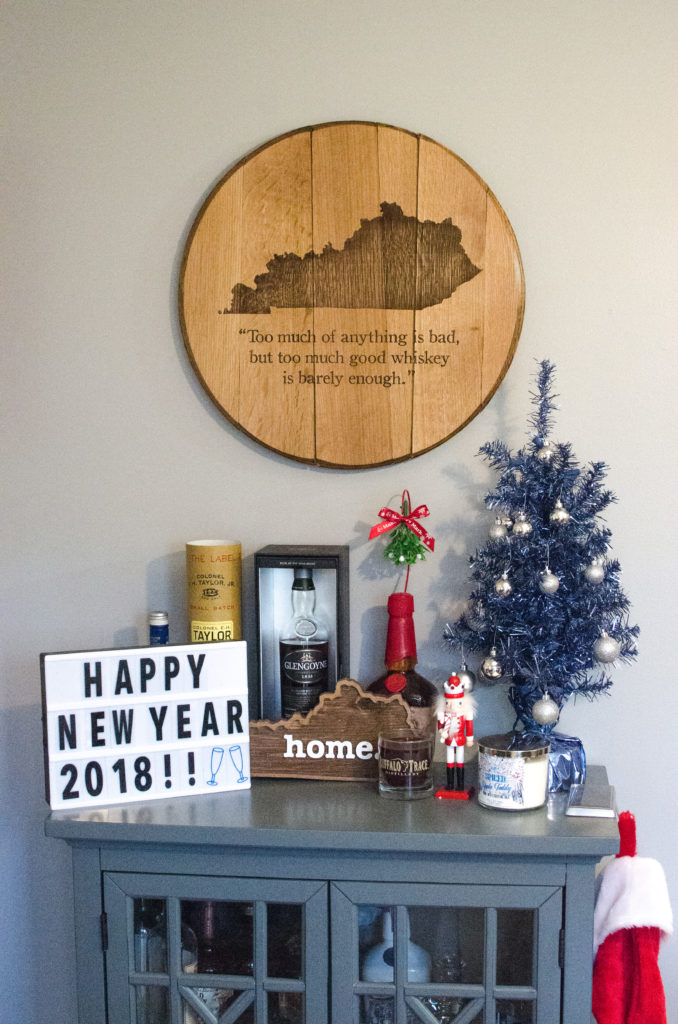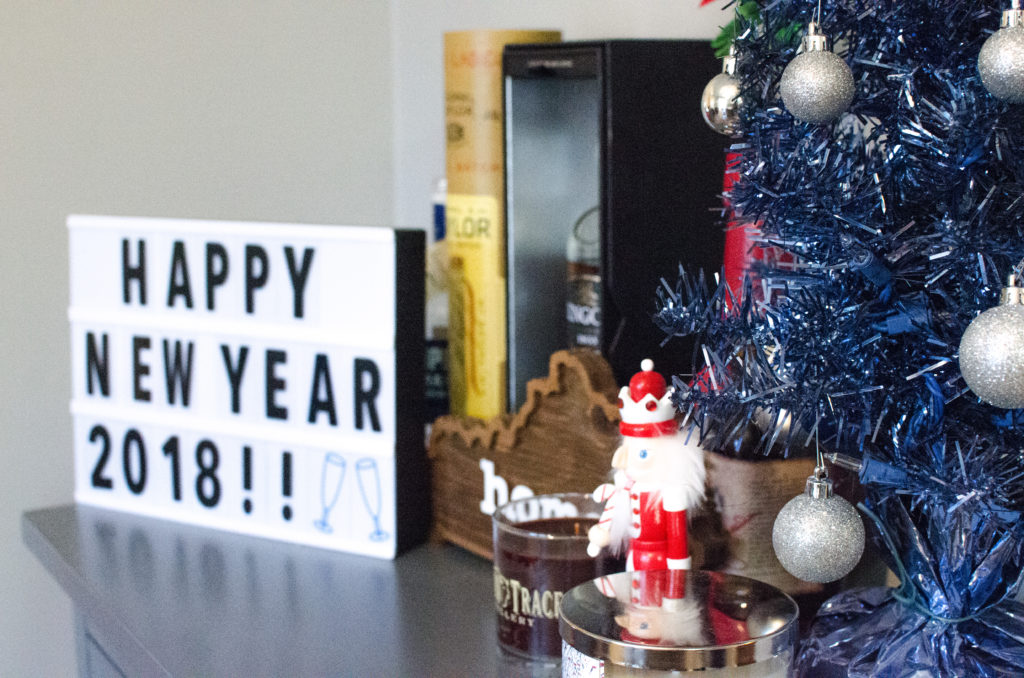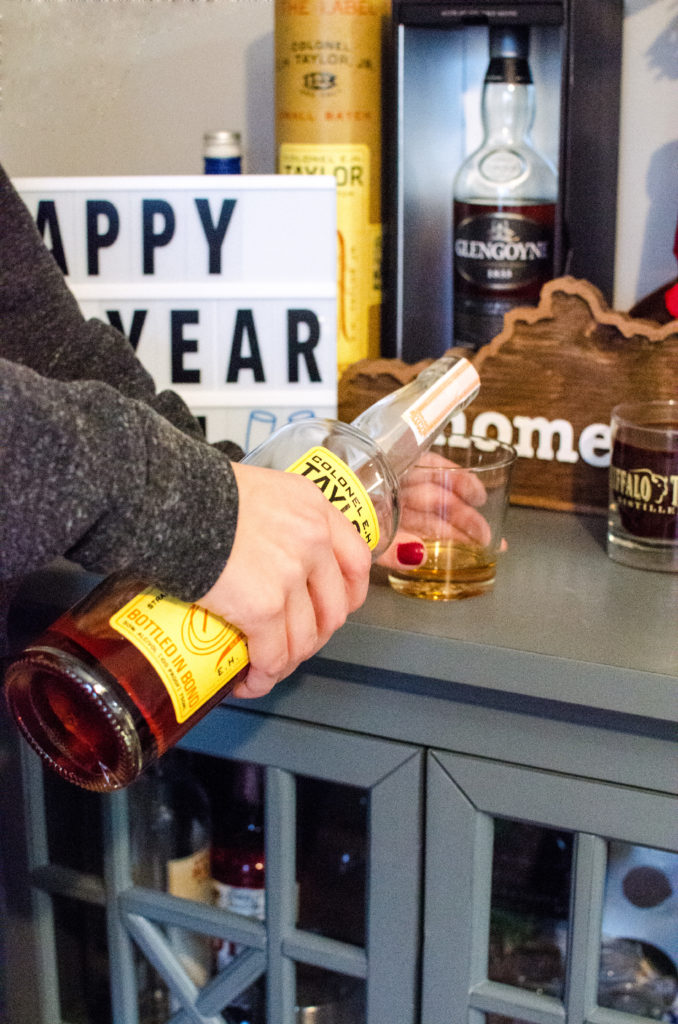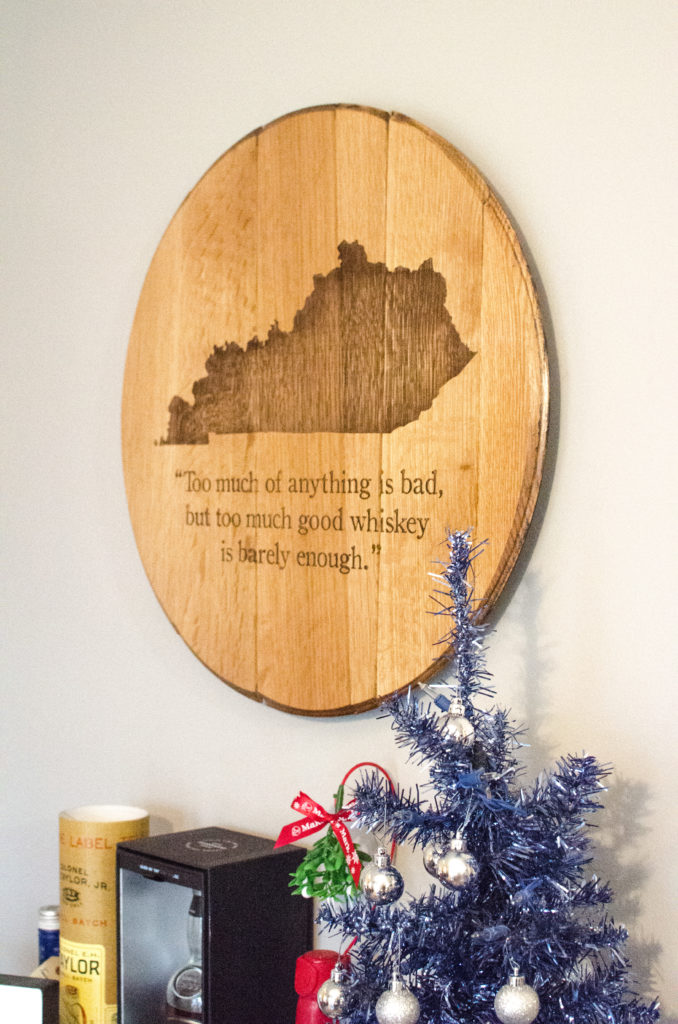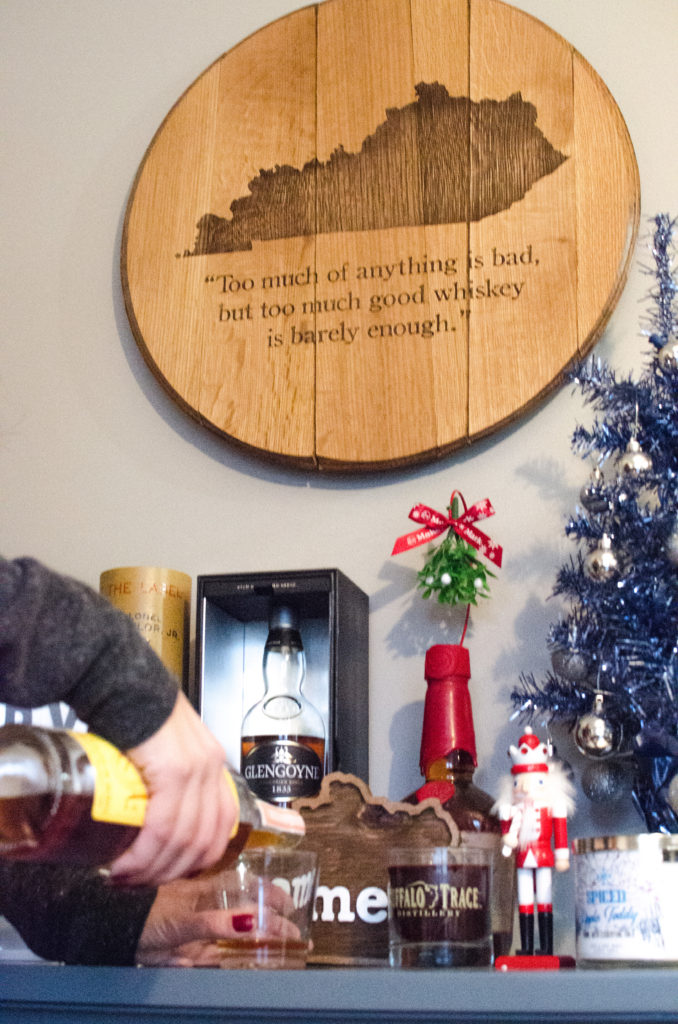 I decided to place our barrel head right above the bourbon area in our kitchen. On top of the buffet table, we keep only two to four bottles of bourbon for show. The more rare bottles and keepsake bottles (such as the bottles that I have had signed by the Master Distillers and the ones that are Limited Edition bottles) are kept inside in order for them not to be broken, along with all of our glassware.
Our kitchen has lots of industrial and rustic elements, so obviously the barrel head would fit in with the rest of the kitchen. Not only that, but a lot of our house is filled with prints and decor that are all from local shops right here in the Bluegrass State. I'm a big believer of shopping local! Having decor hung on the wall in a home is a must for me, because I believe it gives a home character and makes it more interesting and cozy. In fact, on the other side of the kitchen, I have the "Classic Bourbon Cocktails Print" that has twelve beautifully hand-drawn illustrations of iconic bourbon-based beverages and recipes.
I thought the barrel head would look the best to be centered above the buffet table. I wanted it to be easily seen when in the kitchen and pouring a glass of bourbon. It's such a statement piece and conversation starter. It is something that is long-lasting and something that you'll have for decades and decades to come.
If you don't already have a barrel head and you are a) a lover of bourbon, b) are a Kentuckian, c) love the look of reclaimed wood, d) love supporting local businesses, then you definitely need this in your home! (They also ship to other states, so you don't have to be from Kentucky to order!)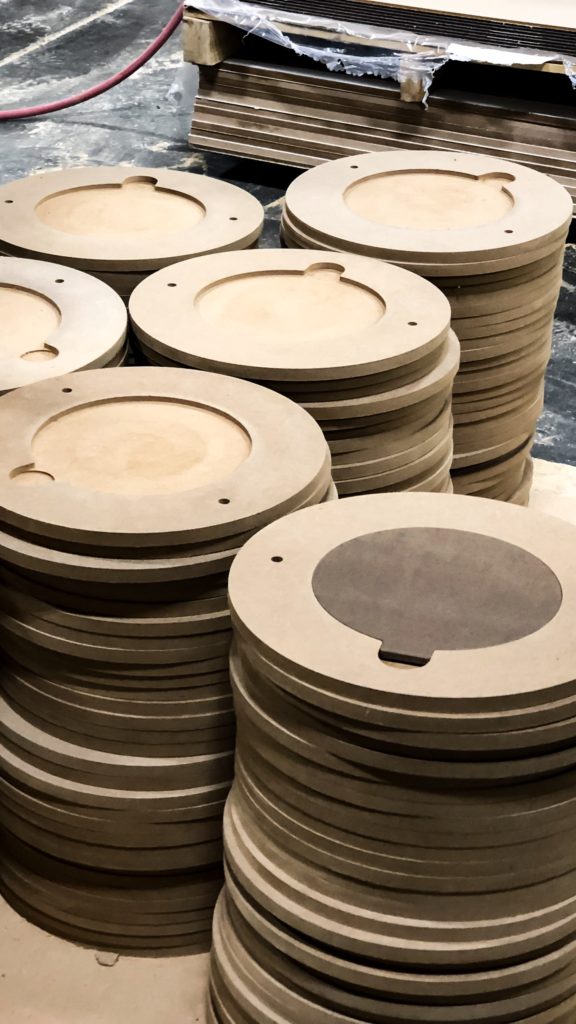 About WhiskeyMade:
WhiskeyMade is local to Kentucky and they source bourbon barrels from local distilleries in the Bourbon Belt. They clean them up and re-purpose or customize them for their customers. They have a wide variety of products, such as barrel heads from ten distilleries, a bourbon barrel head wall clock, reclaimed bourbon barrel heads, and a reclaimed bourbon barrel head lazy susan. Not only that, but they have customized products available as well, such as; a bourbon barrel wedding guestbook and a reclaimed bourbon barrel head.
About the barrels that WhiskeyMade uses:
They only use 100% authentic, distillery used, United States made whiskey and bourbon barrels.
Each barrel comes from the distillery charred on one side and marked with a unique batch number on the other.  They then make the heads into upcycled decor for your home, bar or man cave.
They can engrave! Adding a personal touch or a design to them just adds to the barrels story.
Everything is made and shipped from Kentucky – right in the middle of the "Bourbon Belt."
If you are thinking about getting a customized barrel head:
The design service is free! You just send them the details, and they will email you back a mock-up for you to approve before placing your order. They can also create a design for you. They'll revise your design up to three times for me. Once you approve it, a checkout link will be sent to you for you to purchase. After that, you just wait! In the meantime, they will engrave and ship your barrel head to you. It takes anywhere from 1-2 weeks, and you can rush your order for an additional fee. You can purchase one: HERE.
Cheers!