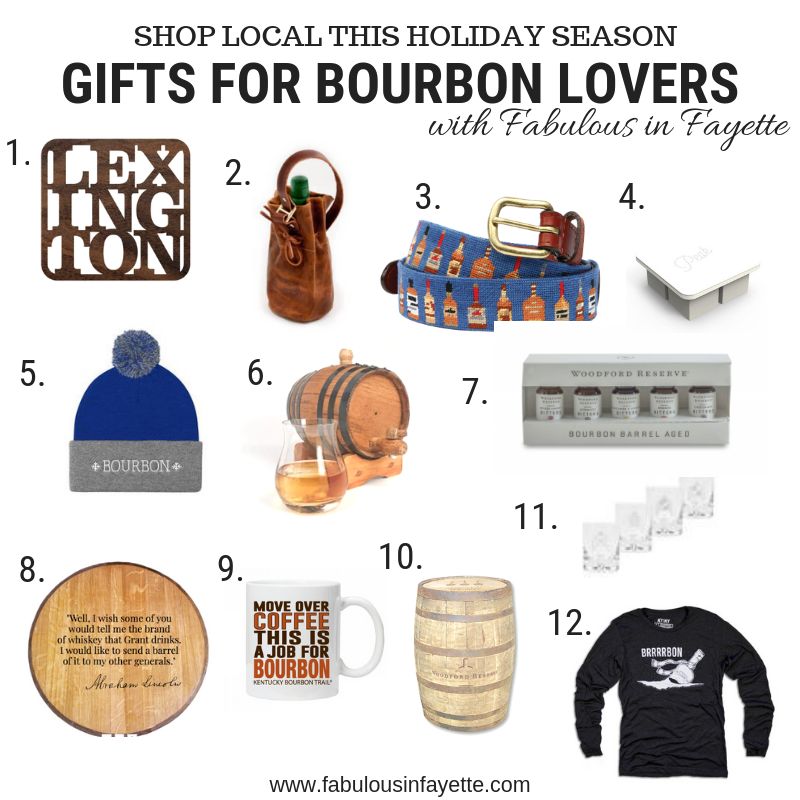 With Christmas less than two weeks away, I know I can't be possibly the only one that hasn't finished their Christmas shopping! These gift guides are for the last minute shoppers like me. Since Kentucky is the land of bourbon (95% of the world's bourbon is made here!), I obviously had to dedicate a whole entire gift guide to bourbon lovers!
Gifts For Bourbon Lovers (and Kentuckians!)
1. Handcrafted Wooden Lexington Coaster Set: These set of four coasters are handcrafted in Kentucky by Grainwell. 
2. Bourbon Carrier: In Kentucky aka the birthplace of bourbon, we obviously take bourbon very seriously, so why not carry your bourbon in style?! This Bourbon carrier is created in Louisville by Steurer & Jacoby from caramel Bison premium leathers.
3. Bourbon Needlepoint Belt On Blue by Smathers & Branson: The hand-stitched traditional belt is 1.25" in width and is finished with full grain, chestnut colored leather and a solid brass buckle. Each belt is elegantly packaged in a handmade wooden gift box.
These 12 gifts are perfect for any bourbon lover!! They are even more perfect if they are a Kentuckian! #sharethelex #lexingtonky #kentucky #kyforky #bourbon
Click To Tweet
4. Extra Large Ice Cube Tray: This tray makes four extra large ice cubes to keep your drink colder, longer. The provided lid blocks out pesky flavors from your freezer, while an internal steel frame makes filling and transporting the tray to the freezer a breeze.
5. Bourbon Knit Cap: This cap is warm and soft, and the pom-pom gives it a playful touch!
6. One Liter Mini Bourbon Barrel: Each Bluegrass Barrel is made from American white oak with a medium char. With each barrel, you'll receive a stand, a bung, a spigot, and handling directions. Perfect to be used as home decor or you can fill the barrel with your favorite spirit.
7. Bitters Sampler Pack: This five piece set contains Woodford Reserve Bitters flavors. This set comes in a sleek, stylish gift box and is a perfect introduction to all of the Woodford Reserve Bitters flavors. Each big flavor is made in small batches and tested at the Woodford Reserve distillery room. The set of all five Woodford Reserve Bitters, include the following: Woodford Reserve Chocolate Bitters, Woodford Reserve Orange Bitters, Woodford Reserve Aromatic Bitters, Woodford Reserve Sassafras and Sorghum Bitters, and Woodford Reserve Spiced Cherry Bitters.
A customized bourbon barrel head from @whiskey_made would make a perfect Christmas gift for the bourbon lover in your life!
Click To Tweet
8. Customized Bourbon Barrel Head: Know someone that loves Bourbon? Whiskey Made has custom engraved, one of a kind, barrel heads.  They're also made from real reclaimed whiskey barrels!
[RELATED: Every Kentuckian Needs a Bourbon Barrel Head In Their Home]
9. Move Over Coffee Mug: Great addition to any home or office!
10. Unfinished Barrel: This unfinished barrel is a used, natural barrel. The Woodford Reserve logo is burned into the wood. These barrels are intended for display only and should not be used to store product. 
11. Silks Rock Glass Set of Four: This set of four rocks glasses are machine-made, imported non-lead crystal, have a polished rim, a stylish bubble in the base, a 10 oz. capacity, and has different silks on each glass.
12. Long Sleeve Brrrbon Tee: Warm yourself by the Bourbon! This tee is handprinted in Kentucky!
Happy Holidays!!