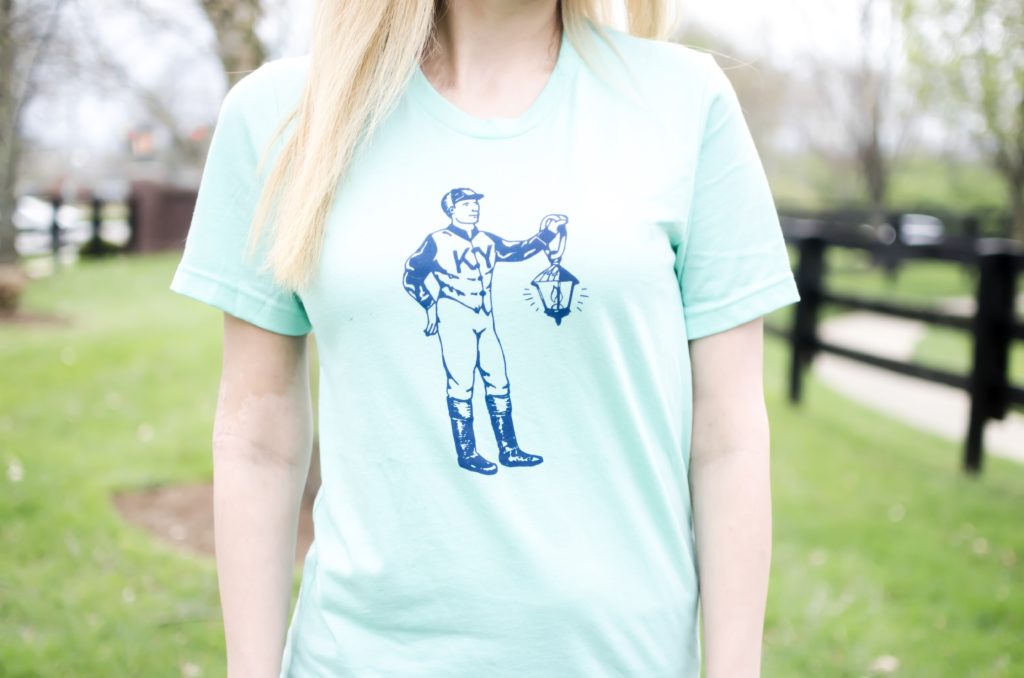 This week's "Local Spotlight" is none other than My Kentucky Tee. Hearing the name you might think it's just a t-shirt shop, but no, it's not! I mean, they do have shirts available for purchase on their website, but it is so much more than that! My Kentucky Tee is a subscription service where you'll receive a Kentucky themed shirt (aka "Tee of the Month") every month!
I've been a customer of My Kentucky Tee for over THREE years and own every shirt they've produced and sent out for their subscription service! It's crazy to think that it's been that long! I first found out about them in 2015 on Instagram. Initially, I had won a giveaway, and right after I received my shirts, I immediately signed up to be a customer and have been ever since! I mean who wouldn't like to receive a t-shirt that is full of pride every month?!

The tees are super comfortable and soft! My Kentucky Tee uses 100% ringspun cotton for their adult tees!
When you are a customer, you receive the newsletter which gives you sneak peek at next month's design. Just take a look at May's design and what they had to say about it:
"Alexa – has there ever been a Kentucky Derby run in the snow? Kentucky Derby run in the snow? A month from now, the horses will be running, and we promise you, PROMISE YOU, this nonsense (but at the same time pretty entertaining) Kentucky weather will have regulated itself into some outdoor weather.

We. Can't. Wait. Days spent on the trail, evenings with our feet up by the fire, deep in the Gorge, Kentucky is begging us all to get outside. So says our May Tee Of The Month design…"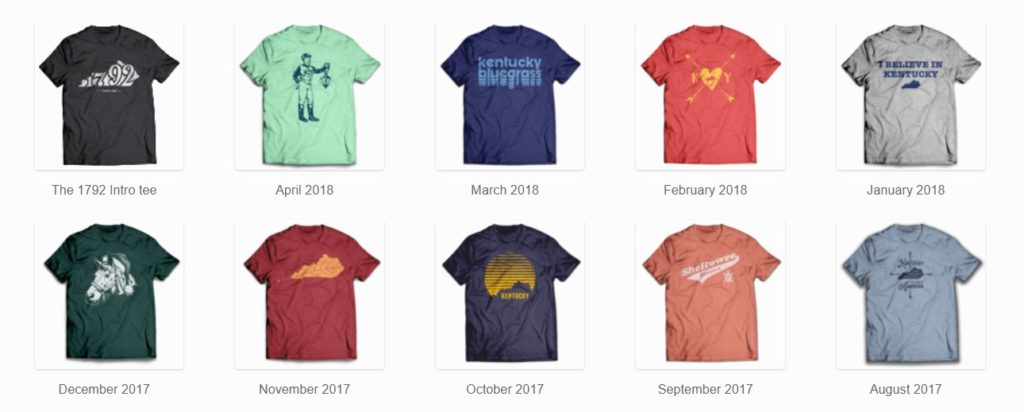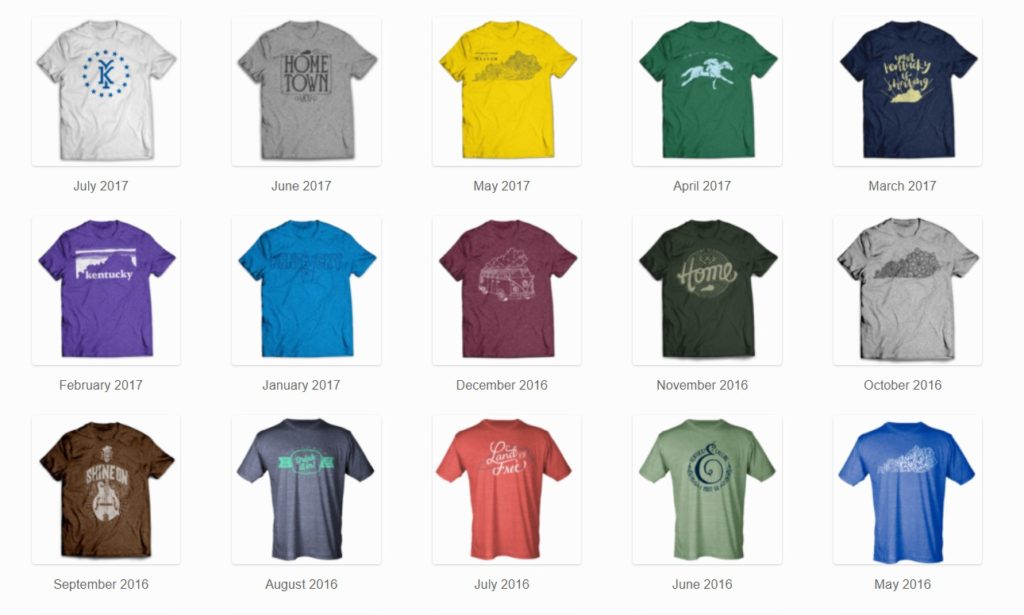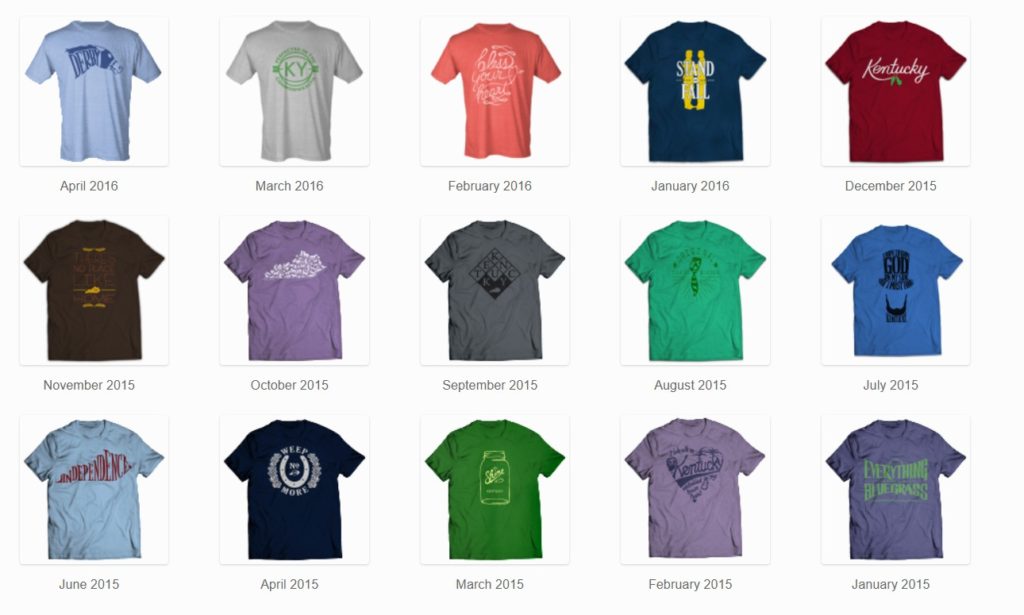 Above are all the shirts that were released since My Kentucky Tee's inception. Since January 2015, including May, there has been 40 shirts released.


It's super easy to sign up and become a customer! Get a fresh piece of Kentucky pride delivered right to your door each month!
My Kentucky Tee's motto is:
"We love Kentucky's uniqueness, and we are proud of our state – just like all Kentuckians scattered across our country. Through Tee of the Month, we want to offer all folks who love the Commonwealth a way to wear this pride. 

The official Tee of the Month provider for Kentucky, we're your resource for Kentucky pride shared through creative expressions on top quality tees. Our goal is to spread the pride of Kentucky for lovers of the Commonwealth to wear and to share."
What is "Tee of the Month"?
Tee of the Month is a subscription-based service. It only costs $10 per month which covers the cost of the shirt, plus $4.05 for shipping and processing. After that, you'll be all set to receive a uniquely designed Kentucky themed t-shirt every month. There are many sizes available; both adult and youth. It will also be shipped directly to you!
How does it work? Let me explain…
When you sign up, you'll receive the 1792 "Intro" tee first. All new subscribers will receive this shirt! The first week of the following month and every month after that, you'll receive your "Tee of the Month." My Kentucky Tee sends out a monthly newsletter, which has a preview of the upcoming tee. You'll also have access to exclusive deals via a subscribers-only page. There is no contract involved with "Tee of the Month" and you are free to cancel at any time (but why would you want to?!?!).
I love it! How do I sign up??
Click on the "Tee of the Month" at the top of the page or "Subscribe Now!" button in the middle of the page.
Choose your shirt size.
Fill out your account information.
Click "Submit Order"
Wait patiently for your shirt to arrive!!
*Also, if you want to sign up, you can give them my name, Whitney Scheibel and I'll receive $5 towards my order. This is part of their Lincoln Loyalty Referral Program that they offer!
This would also be a great gift idea!
We all have a special Kentuckian in our lives, and My Kentucky Tee also offers several gift packages – 3 months, 6 months, or even a full year!
Be sure to check them out and support a local business!