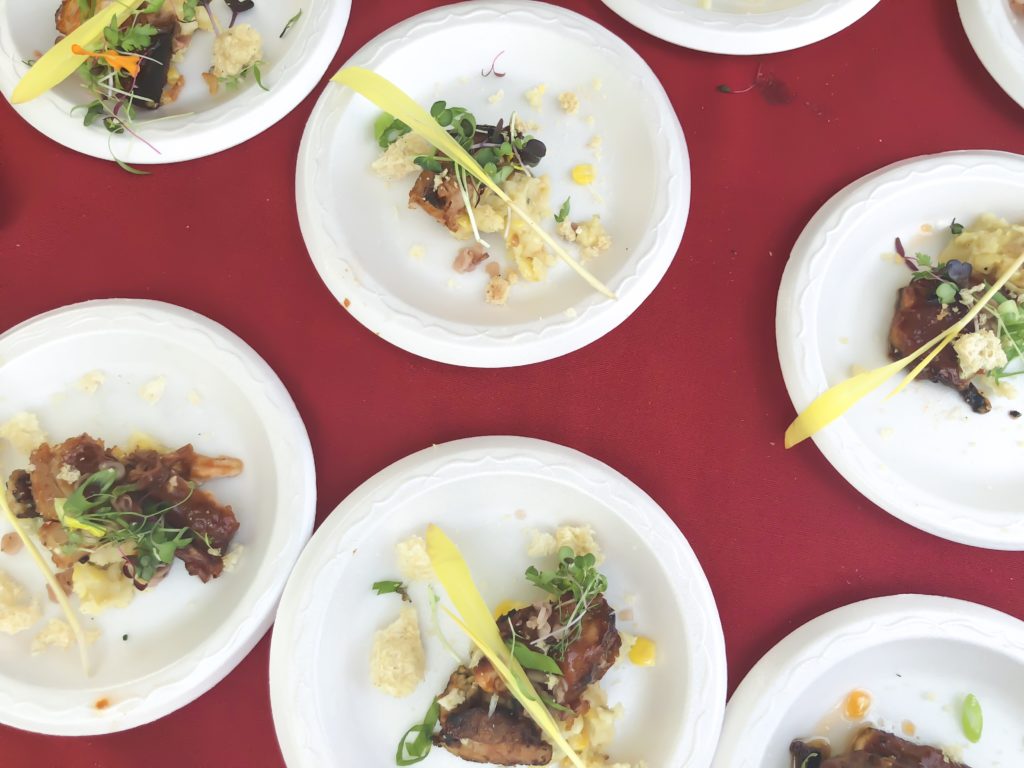 This post is in collaboration with the USA TODAY NETWORK Wine & Food Experience. All of these opinions are entirely my own. Thank you for supporting brands and businesses that support Fabulous in Fayette!
I got the pleasure to attend the Wine & Food Experience featuring The Martha Stewart Experience in Cincinnati, Ohio, which kicked off the 12-city USA TODAY NETWORK tour that explores the American culinary scene. June 16 was Cincinnati.com's first-ever Wine & Food Experience! It delivered some of the city's finest bites and fine wines, craft beers and spirits. Y'all, it was a scorcher out there at 105 degrees for the "feels like" temperature. However, it was located at the beautiful Yeatman's Cove with tons of delicious food.
The event was held in Cincinnati at Yeatman's Cove and featured celebrity guest Chef Graham Elliot, who did a cooking demonstration. You may recognize this Chicago-based chef from being a judge on the hit cooking show, Top Chef. He's also been a judge on Master Chef and appeared on the Food Network Channel and Good Morning America. He is also a cookbook author and is known for his creative twists on standard fare.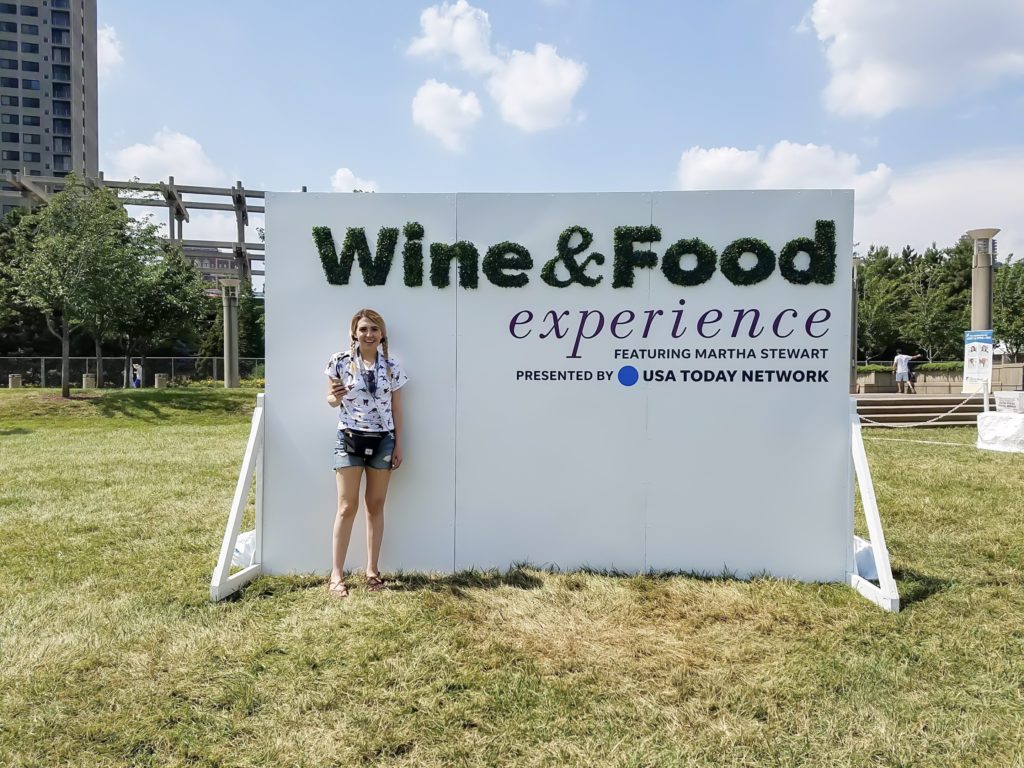 Local chefs also did cooking demonstrations as well, such as chef Julie Francis of Nectar Personal Chef Service and chef Cristian Pietoso of Via Vite.
The Grand Tasting Experience celebrated Cincinnati's culinary scene along with the region's leading gourmets and restaurateurs. Not only that, but there was a a showcase of Martha Stewart's latest lifestyle collections, including books, kitchen gear, tabletop vignettes and more that was part of The Martha Stewart Experience.
[RELATED: Courier Journal Food and Wine Experience 2017 in the Beautiful Norton Commons]
I attended the Food & Wine Experience in Louisville in Norton Commons last fall, so it was interesting to see how the cuisine differed in Ohio from the cuisine in Kentucky. If there is any chance that I get to eat local food, I'm in!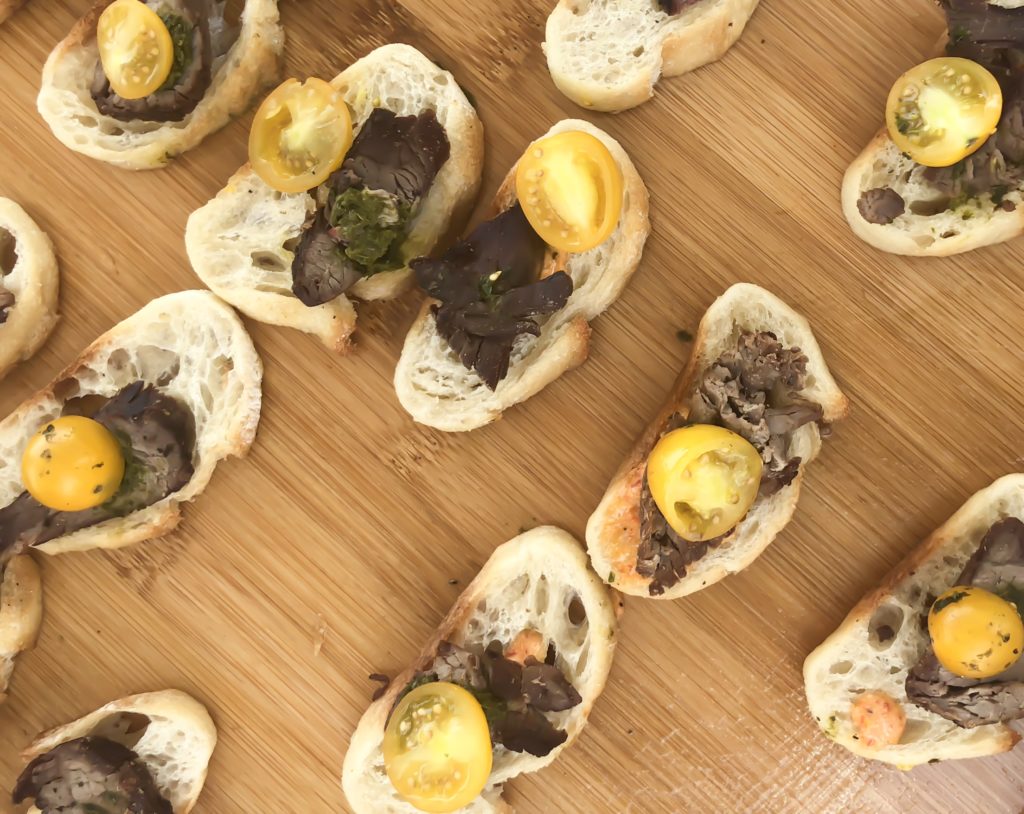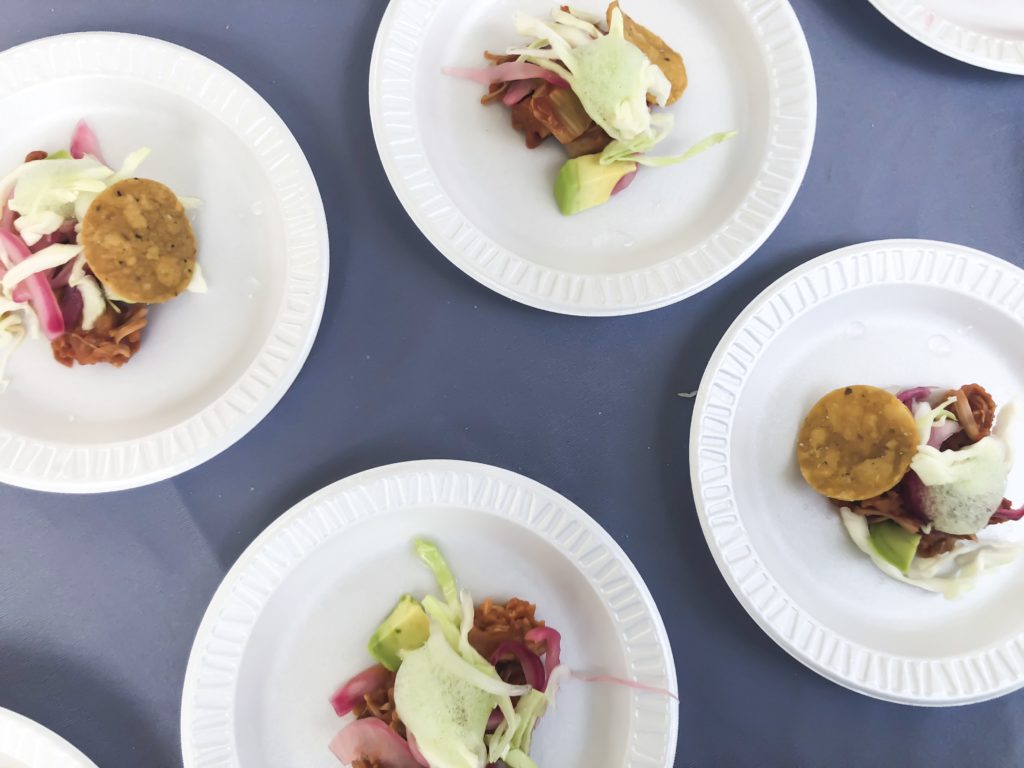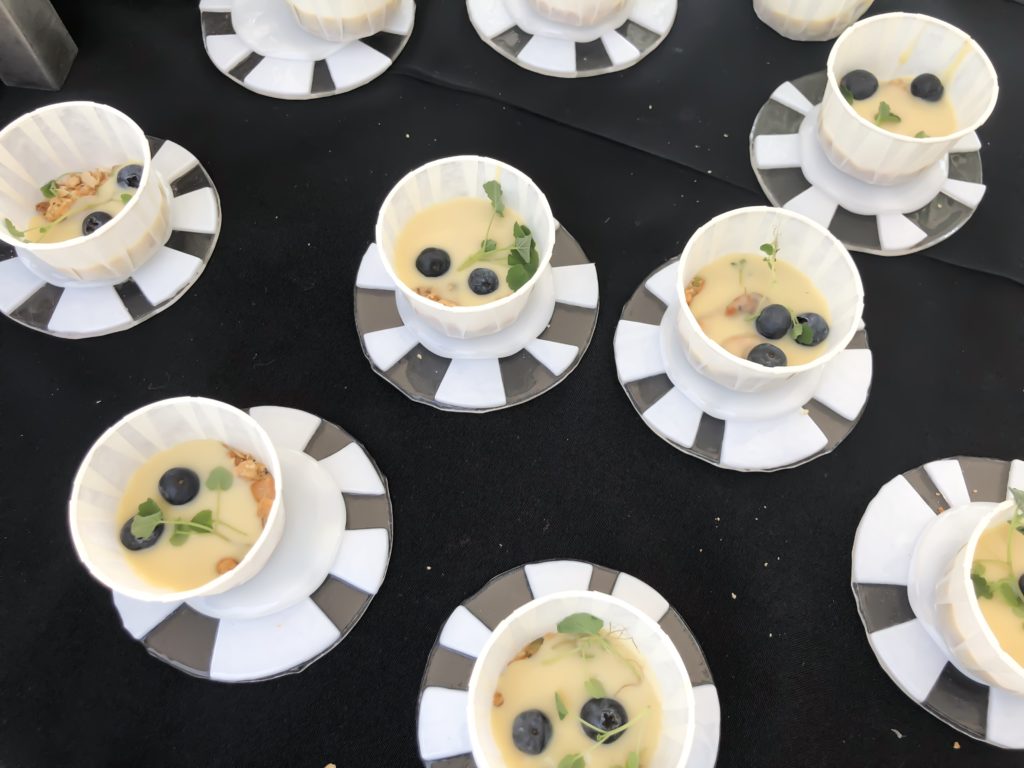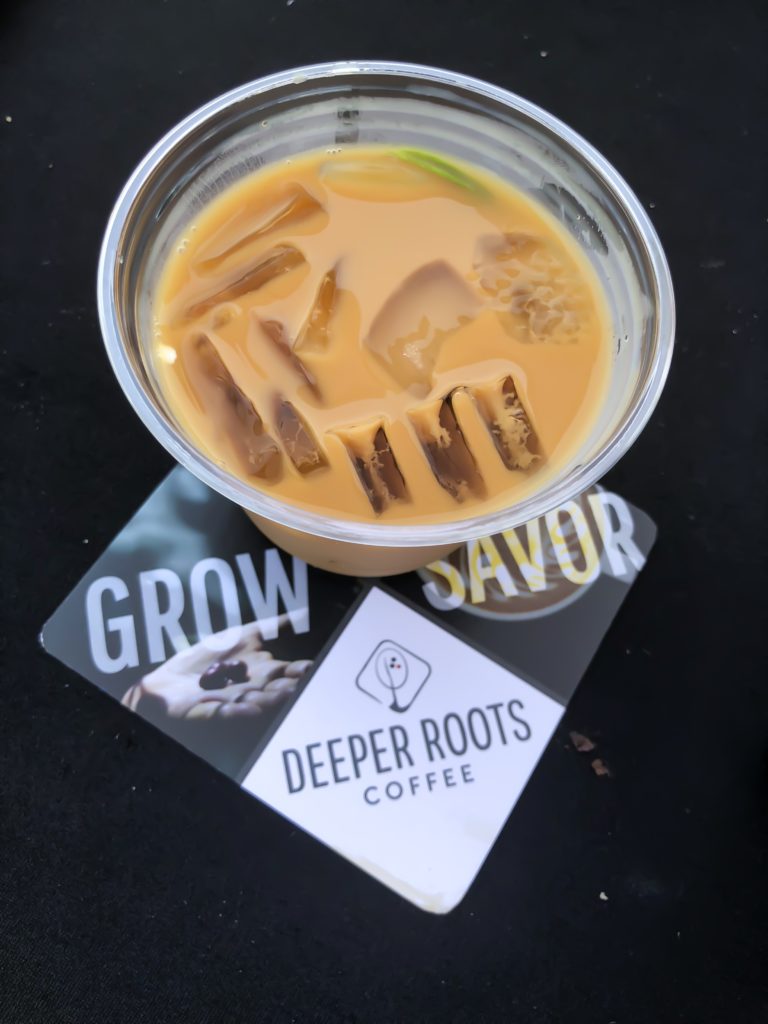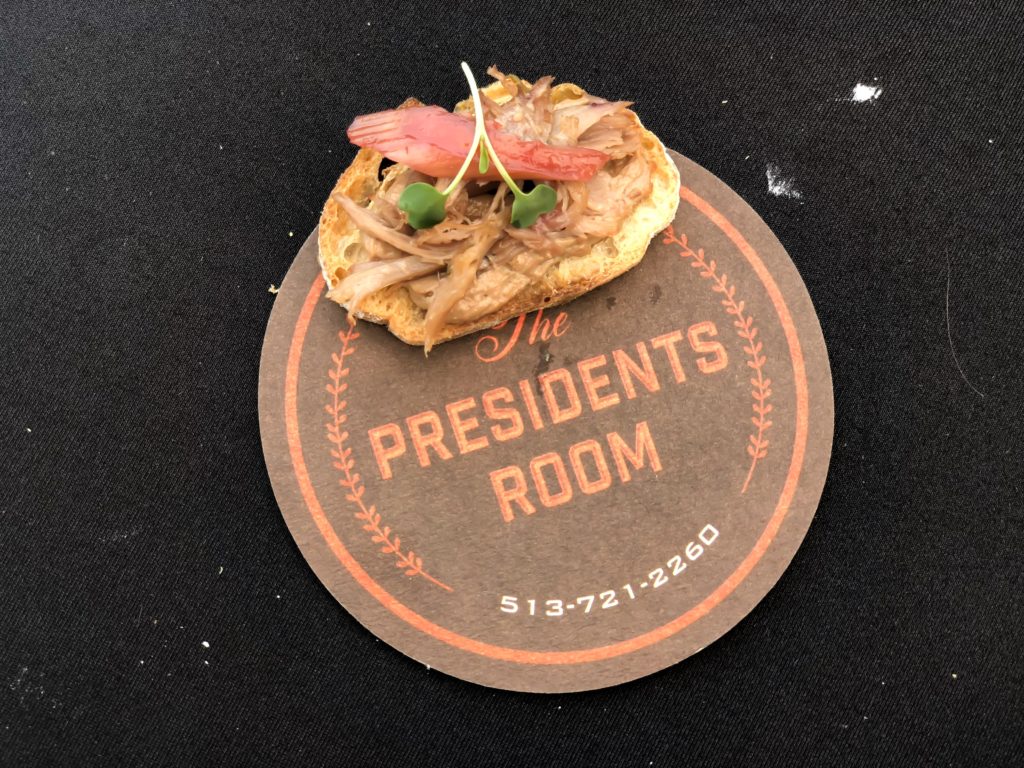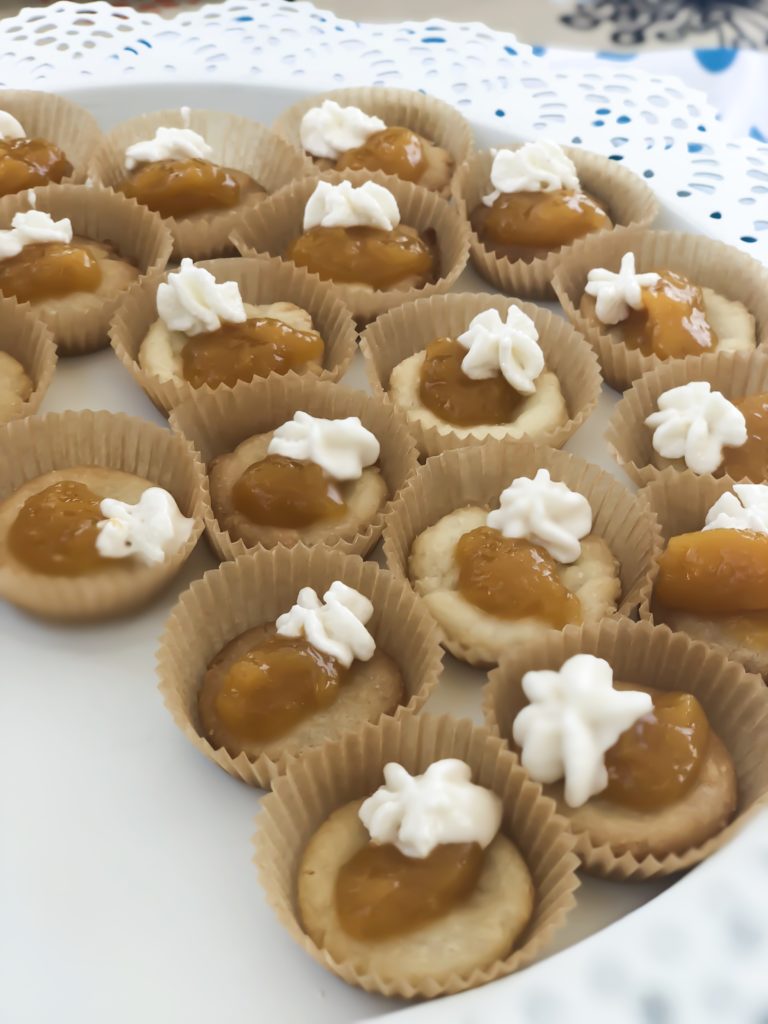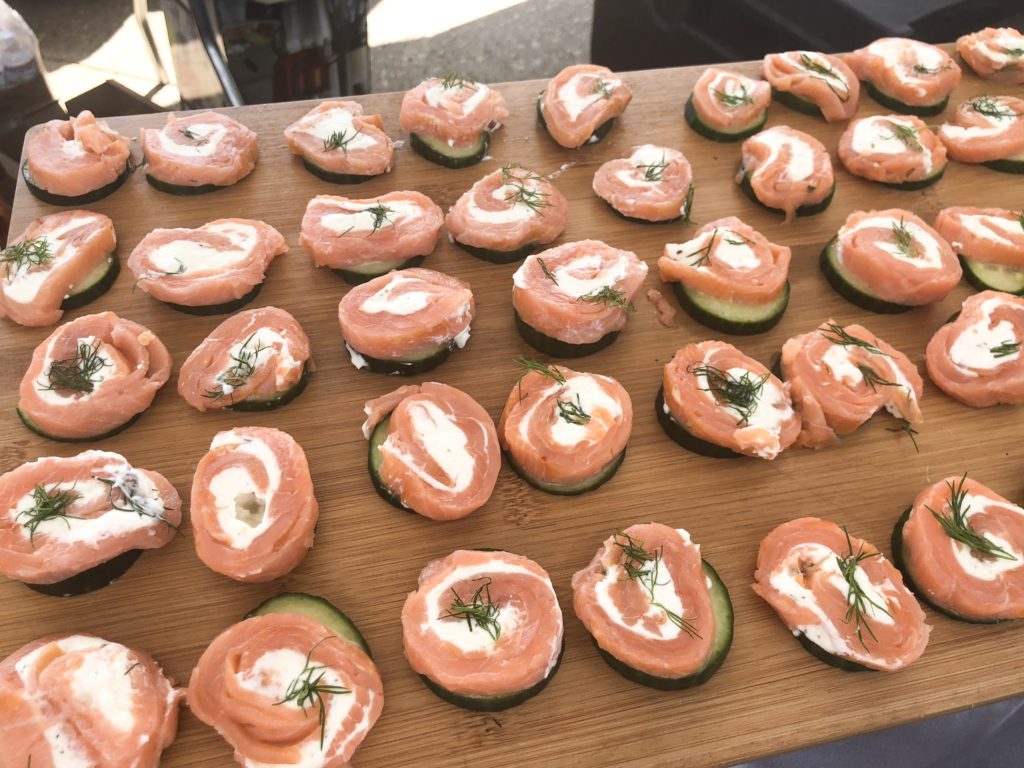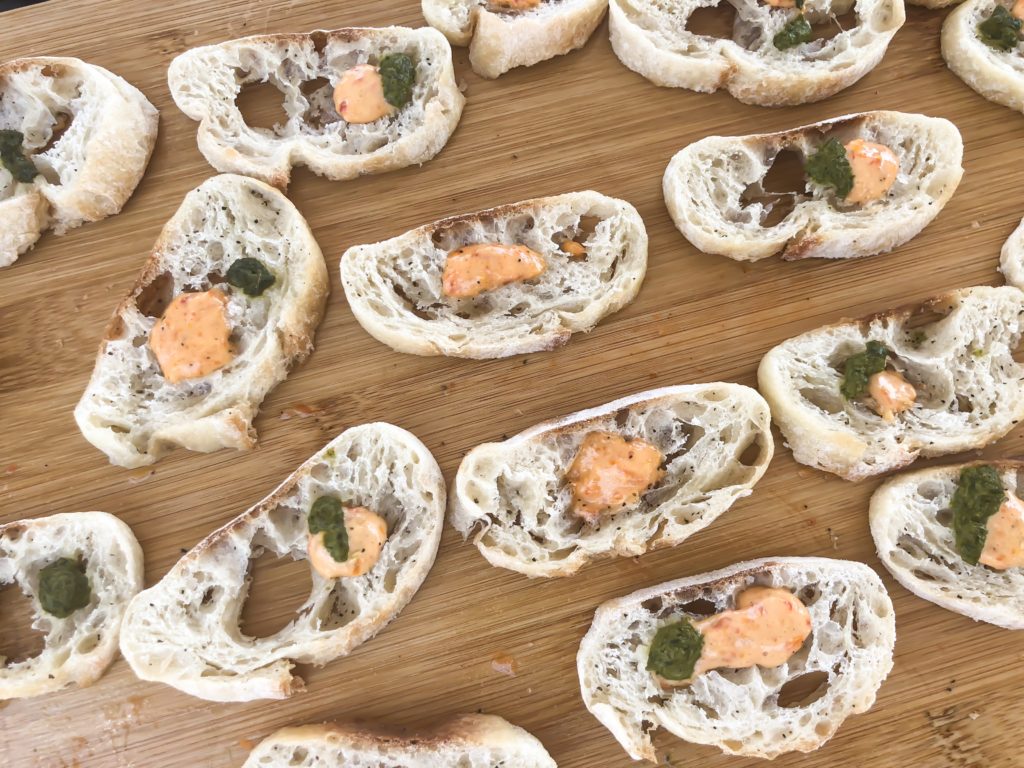 You definitely won't leave hungry attending an event like this. There were about 30 local restaurants in attendance and there is quite a range of food to sample. Just a few examples that were featured were jerk finger pies from O Pie O, mini tostados from Mazunte, a modern twist on surf and turf, and many many more delicious eats. Also, the name doesn't lie. There was wine. Like lots of wine. There were more than 30 varieties to choose from.
I'm a super big supporter of local restaurants in businesses, especially in Kentucky. It was definitely nice to experience the local restaurants that Cincinnati has to offer.
Sweets & Meats BBQ was one of the restaurants in attendance. They grew from a roadside pit stop, to a food truck, and then a brick and mortar restaurant in just three short years. Since the restaurant's opening in 2017 Sweets & Meats BBQ has been recognized as Best Food Truck Restaurant, Top 7 New Restaurant and Top 7 Best BBQ Joint.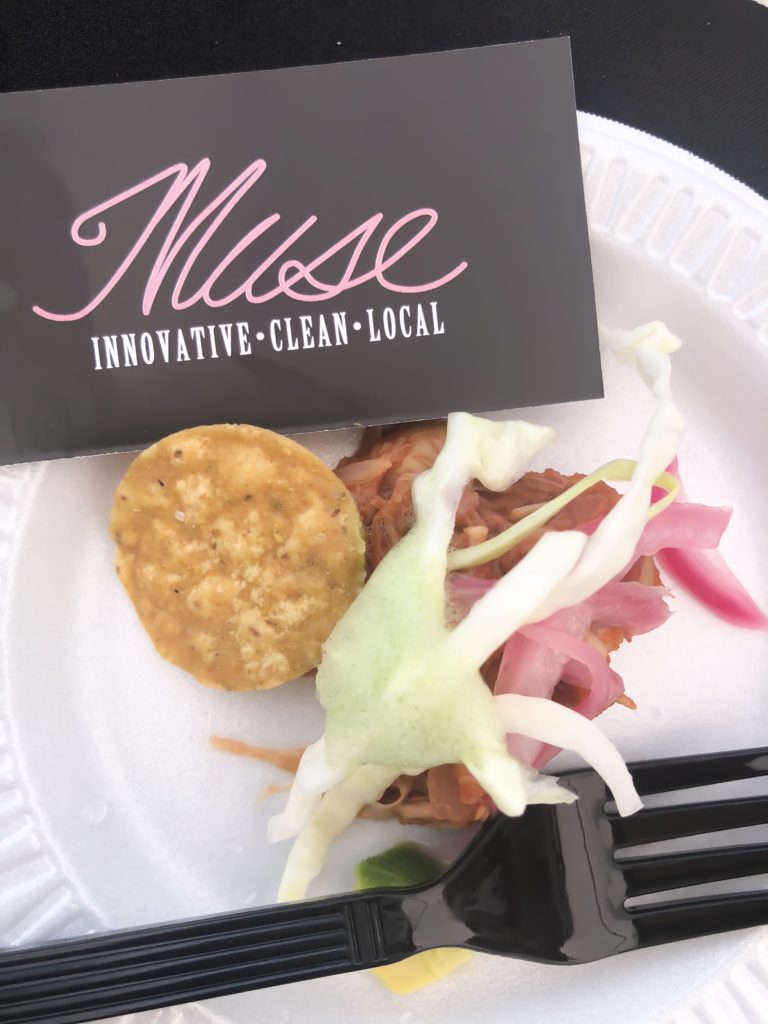 Pictured above is jackfruit from Muse. This was the first time I'd ever tasted jackfruit, let alone heard of it!  The jackfruit, sometimes known as simply jack or jak, is a species of tree in the fig, mulberry, and breadfruit family native to southwest India.
My friend had been wanting to try it for a long time and was excited that she was getting the opportunity. Jackfruit is pretty interesting, because it tastes just like pulled pork! You would never know that you are eating a fruit. If you are a vegan or vegetarian, this is definitely something you may want to try!
The jackfruit is a good source of protein, potassium, calcium, and iron. It also has tons of uses. It can be your main dish or even your dessert! The seeds can be roasted and eaten, or ground into flour; even the timber from the jackfruit tree is useful.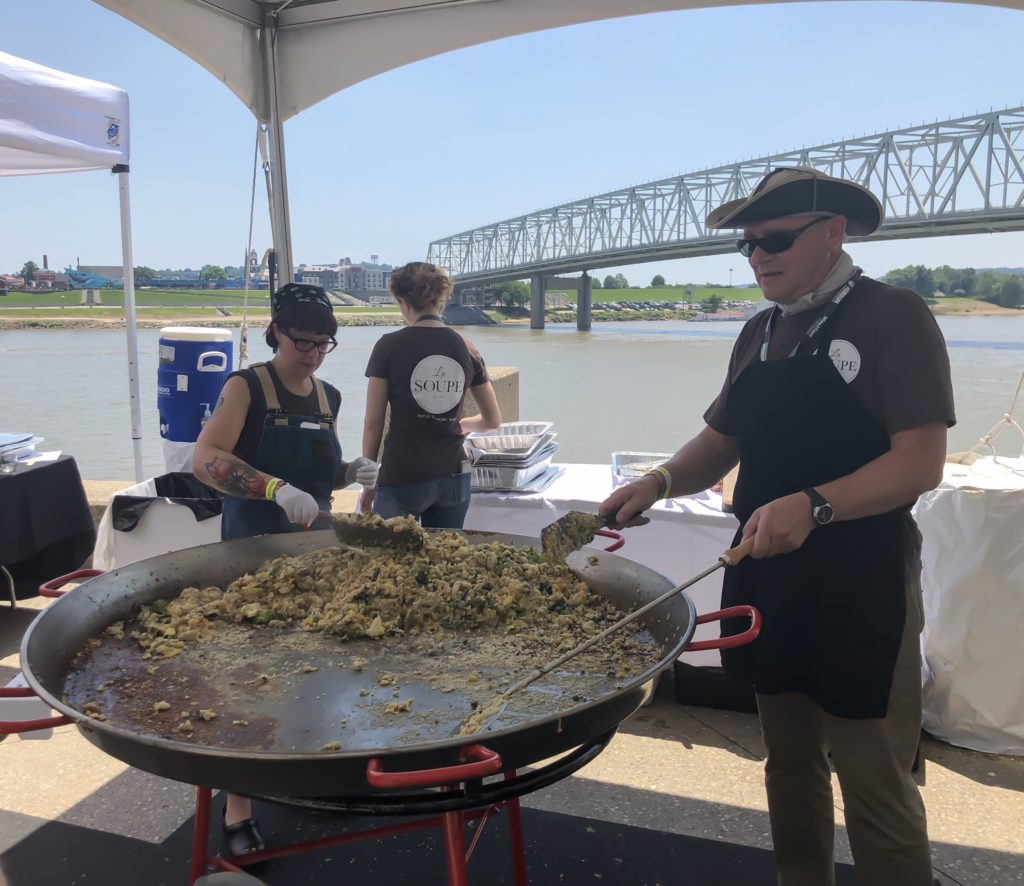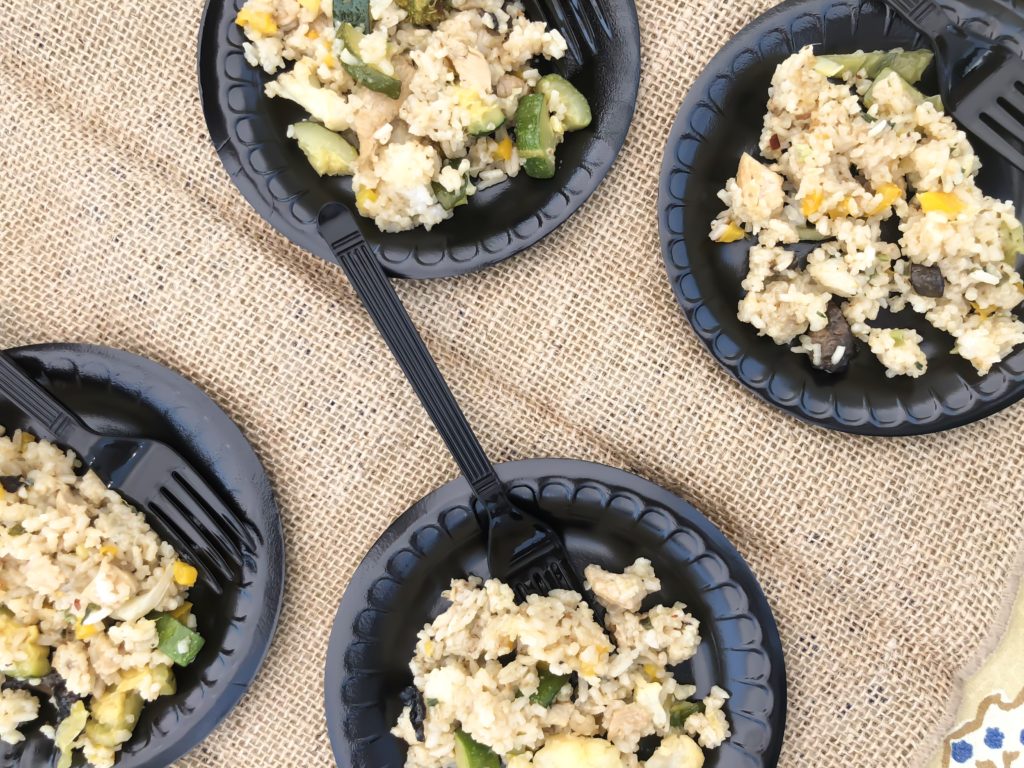 La Soupe Cincinnati is a restaurant with a pretty cool and unique mission! Forty percent of food in the United States is thrown away. Two in seven Cincinnatians live in poverty. Their solution is to rescue, transform, and share. La Soupe bridges the gap between food waste and hunger by rescuing perishable food, transforming it into delicious and nutritious meals, and sharing with the food insecure and our supporters. Each week, La Soupe is rescuing 5,000 pounds of perishables and feeding up to 2,000 kids via 47 partner agencies.
This is what their impact has been since 2014:
498,116 pounds of food rescued.
277,661 servings donated to agencies.
5,044 gallons produced by local chefs.
La Soupe partners with Kroger, SugarCreek, Crosset Company, Jungle Jim's, and multiple local farmers to rescue over-ordered or "ugly" produce. They also distribute meals to food insecure families through their 47 "share" partner agencies. These include schools, community groups, pantries and more. Lastly, their Bucket Brigade chefs bolster La Soupe's weekly production by making soupe in their own kitchens. 100% of all Bucket Brigade soupes are donated.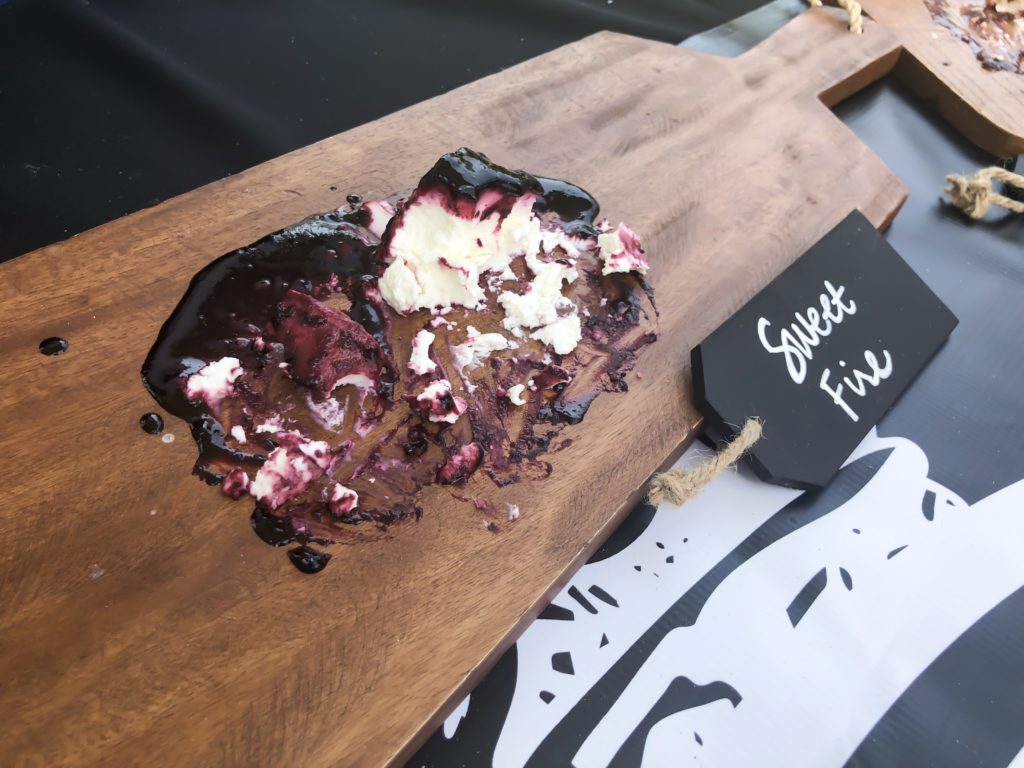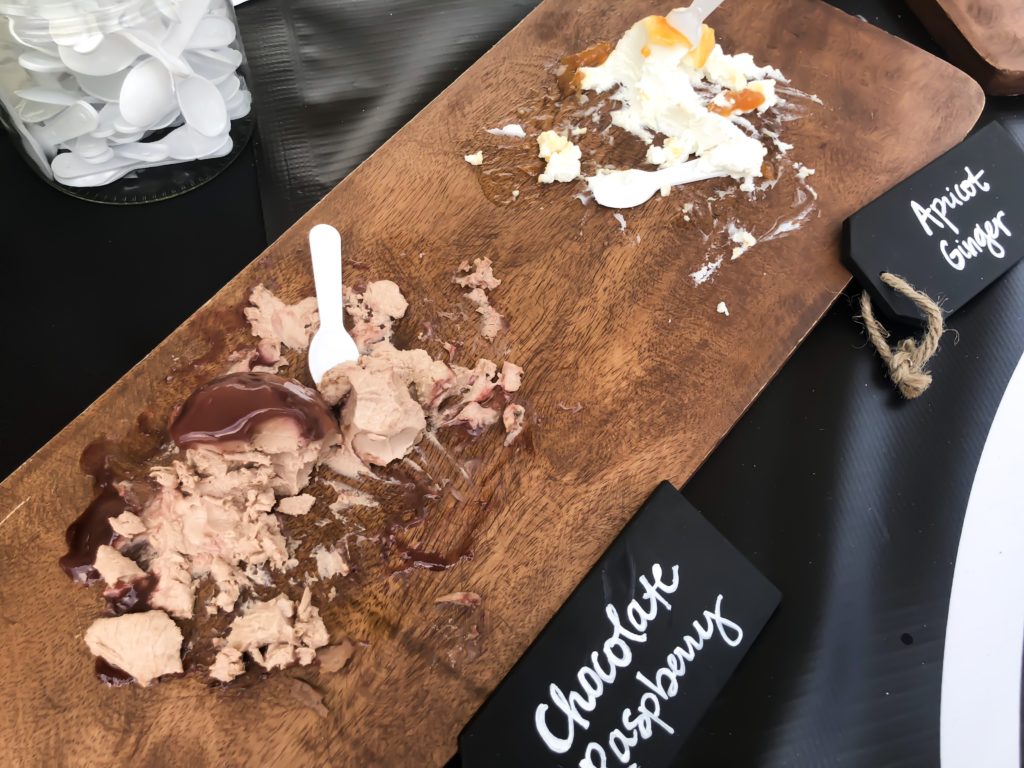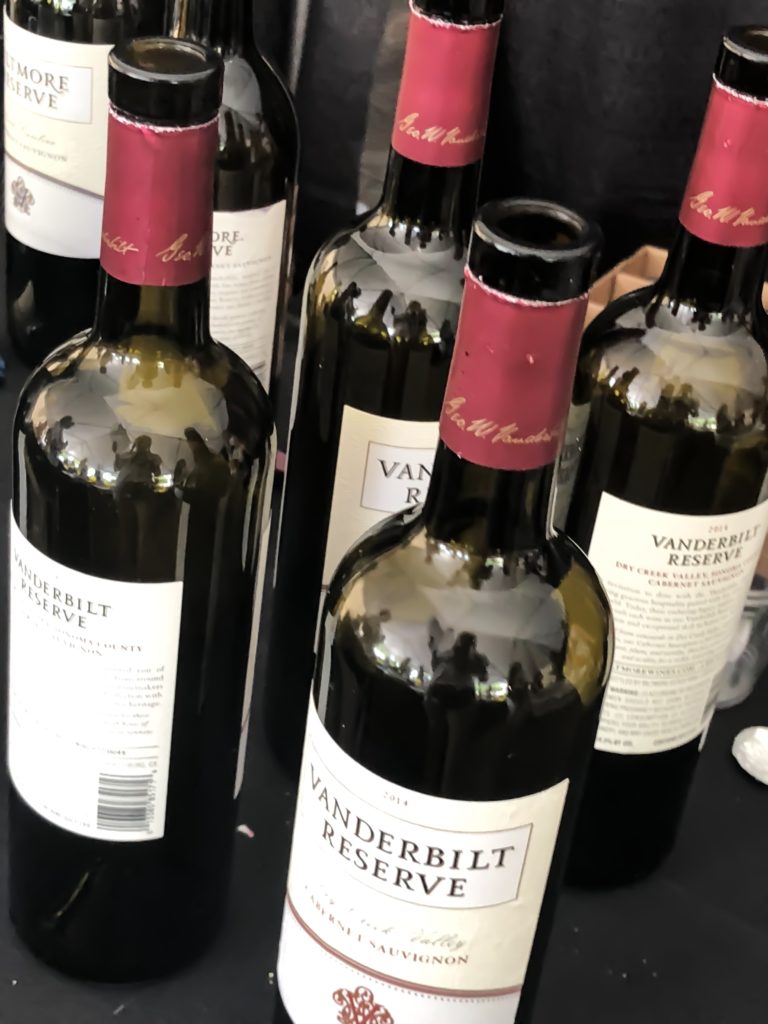 I don't know much about wine (I'm a bourbon girl, being from Kentucky and all), but it's always interesting to learn something new. I got the pleasure of attending one of the wine seminars. In this seminar, Michelle Krumpelman of Biltmore Wines chatted about the difference between wines from California and Biltmore's home state of North Carolina.
During the seminar, we got to try:
Biltmore Vanderbilt Reserve Dry Creek Cabernet Sauvignon
Biltmore Sur Lies California Chardonnay
Biltmore Estate North Carolina Chardonnay
Biltmore Estate North Carolina Cabernet Sauvignon
There were also wines from Orin Swift in California and Craggy Range in New Zealand there as well. If wine isn't your thing, they had 10 varieties of craft beer being poured for you to try.
Graham Elliot made a Cincy-inspired chili burger during his cooking demonstration. After his cooking demo was over with, you could meet Graham Elliot and take photos. The food that he made was also being passed around, so I got to try some! It was so freakin' yummy!
I saw Graham Eliiot a few days prior in Lexington, Kentucky, because they were filming an episode of Top Chef there at Rupp Aena. I got to be in the audience while they were filming that particular episode. However, it won't air until January. I'm super excited that Top Chef is being filmed in Kentucky for season 16 (Lexington, Louisville, and Lake Cumberland). I also had met him at the Food & Wine Experience in Louisville last year.
Tips for Attending the Food & Wine Experience:
The event only lasts from 1pm to 4pm, so get there right on time. Three hours goes by super fast!!
Be sure to stay hydrated. When I attended the event, it was around 105 degrees, so it was important to stay cool and drink water (they provided free water throughout the event!). It may not be as important, since some of the dates are in the fall, but it is something to be aware of!
Come hungry, of course!
It may be impossible to try everything. Some portions are pretty good sized, so you may get full relatively quick!
They will likely run out of food before the event is over, so keep moving around! I love sitting around and enjoying my food as much as the next person, but if you want to at least attempt to try everything, you'll need to go from one tent to the next.
About Cincinnati.com:
The Cincinnati Enquirer is a morning daily newspaper published by Gannett Company in Cincinnati, Ohio, United States. First published in 1841, the Enquirer is the last remaining daily newspaper in Greater Cincinnati and Northern Kentucky, although the daily Journal-News competes with the Enquirer in the northern suburbs.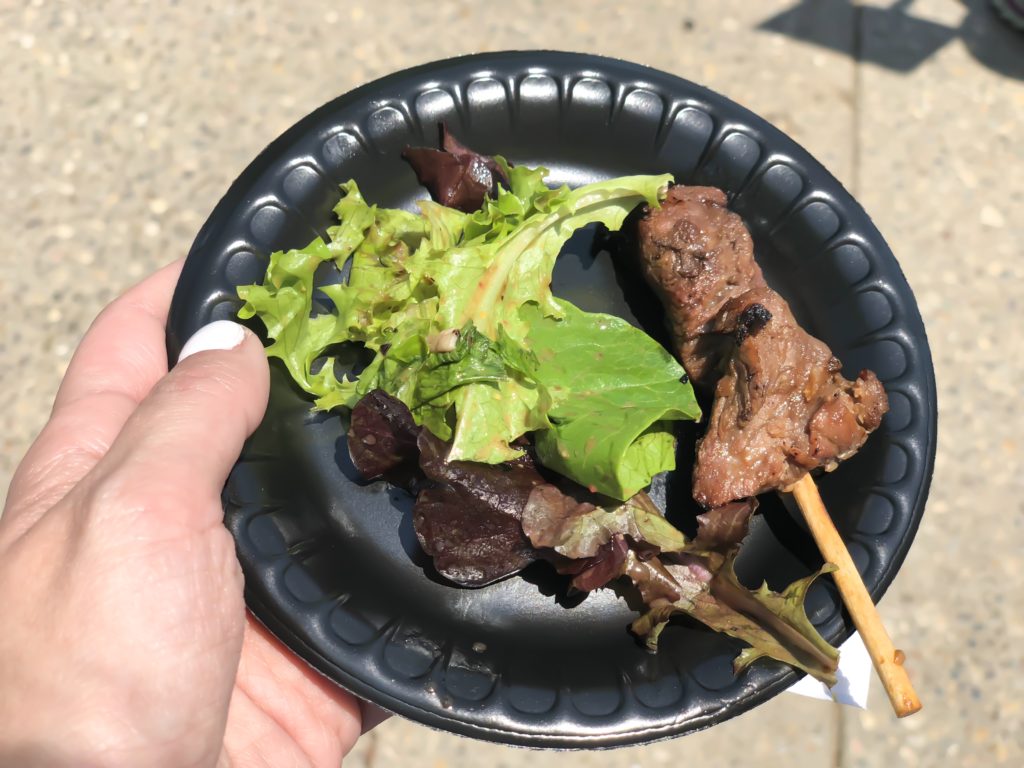 Participating Restaurants:
There are still 11 cities left on the tour – upcoming cities:
September 8, 2018: New York, New York (New York City Wine & Food Experience – Martha Stewart will be making an appearance)
September 15, 2018: Detroit, Michigan (Detroit Free Press Wine & Food Experience – Scott Conant will be making an appearance)
September 22, 2018: Milwaukee, Wisconsin (Journal Sentinel Wine & Food Experience
September 29, 2018: Indianapolis, Indiana (IndyStar Wine & Food Experience – Scott Conant will be making an appearance)
October 13, 2018: Las Vegas, Nevada (Las Vegas Wine & Food Experience – Martha Stewart will be making an appearance)
October 20, 2018: Louisville, Kentucky (Courier Journal's 2018 Wine & Food Experience – Scott Conant will be making an appearance)
October 27, 2018: Naples, Florida (Paradise Coast Wine & Food Experience – Scott Conant will be making an appearance)
November 3-4, 2018: Scottsdale, Arizona (azcentral Wine & Food Experience – Marcus Samuelsson and Aaron Sanchez will be making an appearance)
November 10, 2018: Ventura, California (VCStar Food & Wine Experience – Graham Elliot will be making an appearance)
November 17, 2018: Chicago, Illinois (Martha Stewart's Food & Wine Experience, Presented by USA TODAY network – Martha Stewart and Graham Elliot will be making an appearance)
December 1, 2018: Santa Monica, California (Martha Stewart's Food & Wine Experience, Presented by USA TODAY network – Martha Stewart will be making an appearance)
Interested in attending the event at one of the cities above? Purchase tickets: HERE.
Do you like attending food festivals?