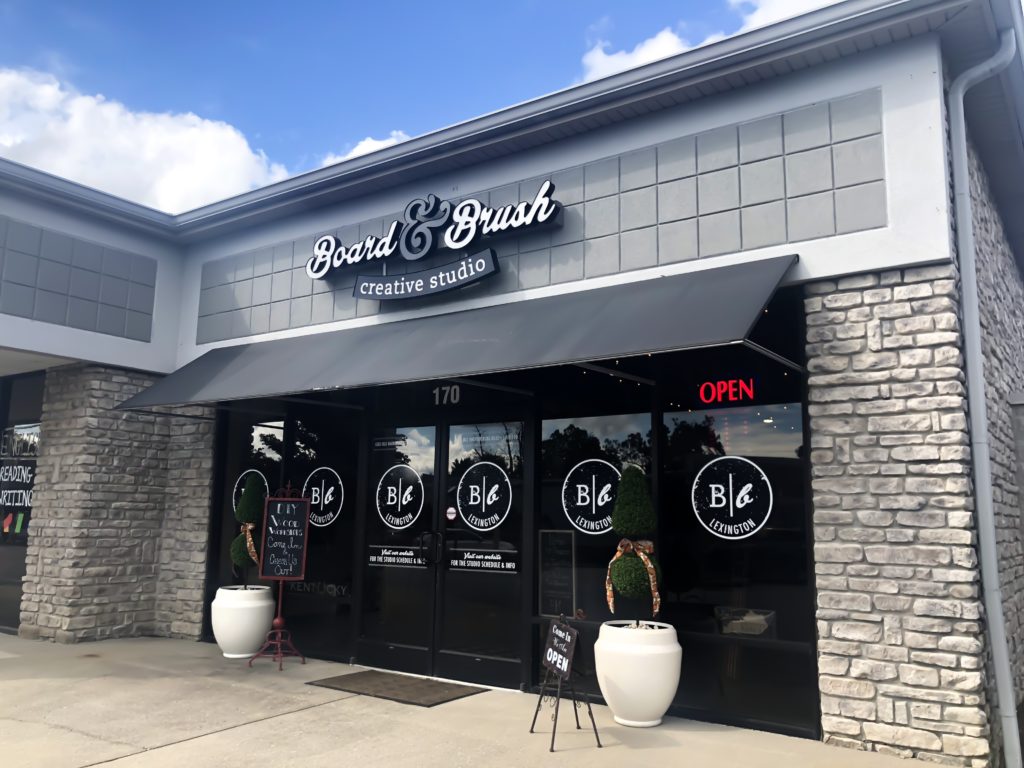 Fabulous In Fayette is occasionally gifted items to try and/or compensated in exchange for a post.  Any collaborative post will be disclosed as a collaboration or partnership. Regardless of receiving a gifted item and/or compensation, my thoughts and reviews are 100% my own. 
I have a perfect activity that you can do with your friends, or do on a date – enter Board and Brush Lexington. I'm sure you've heard of the places where you get to paint on a canvas (those are fun – don't get me wrong), but Board and Brush brings something different to the table.
With Board and Brush Lexington, they teach you how to make custom wood signs that you can use to decorate your home!
I'm not really the most creative person. I can take great photos, cook, put together an outfit, and things along those lines. However, when it comes to crafts where you have to paint and use hand-lettering techniques, I struggle. I'll be honest, my husband and I were a little nervous and apprehensive. We didn't want to mess up my creation. I wanted to end up with something that I was proud of.
One of their workshops would be a great idea for a night out with friends, or to have a fun date night with your significant other. It's such a fun DIY project, and you don't have to worry about buying all the supplies or making a mess in your home! The workshops are usually around three hours!
Before I get into the process of what you'll encounter in a workshop, let me tell you all about Board and Brush and how it came to be.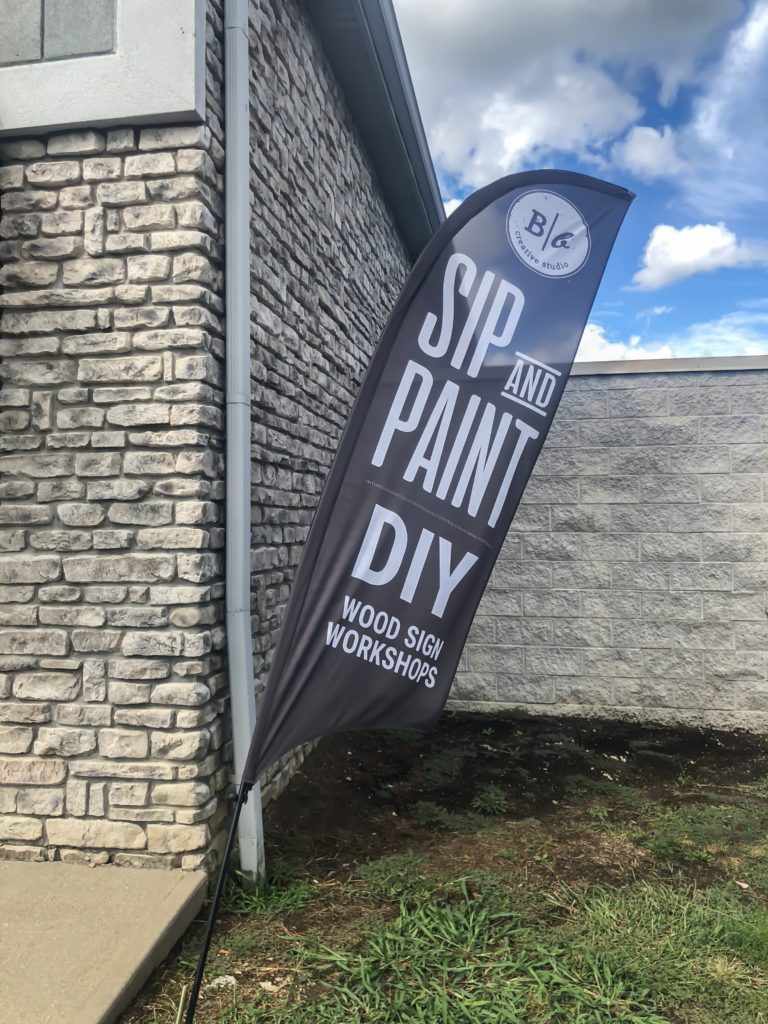 About Board and Brush Lexington:
"At Board & Brush Creative Studio, our goal is to turn you into a "DIY master" by educating you to understand and appreciate the beauty of raw materials—the wood, the knots, the color variations and the simple imperfections that will make your project unique. Distressing, sanding with the grain, and staining are a few of the important steps we will guide you through to make your personalized wood sign look as though it has been with you for years—like a vintage heirloom.

Hone your own passion for décor & DIY projects; we hand you the tools & direction, you create the friendships and craft."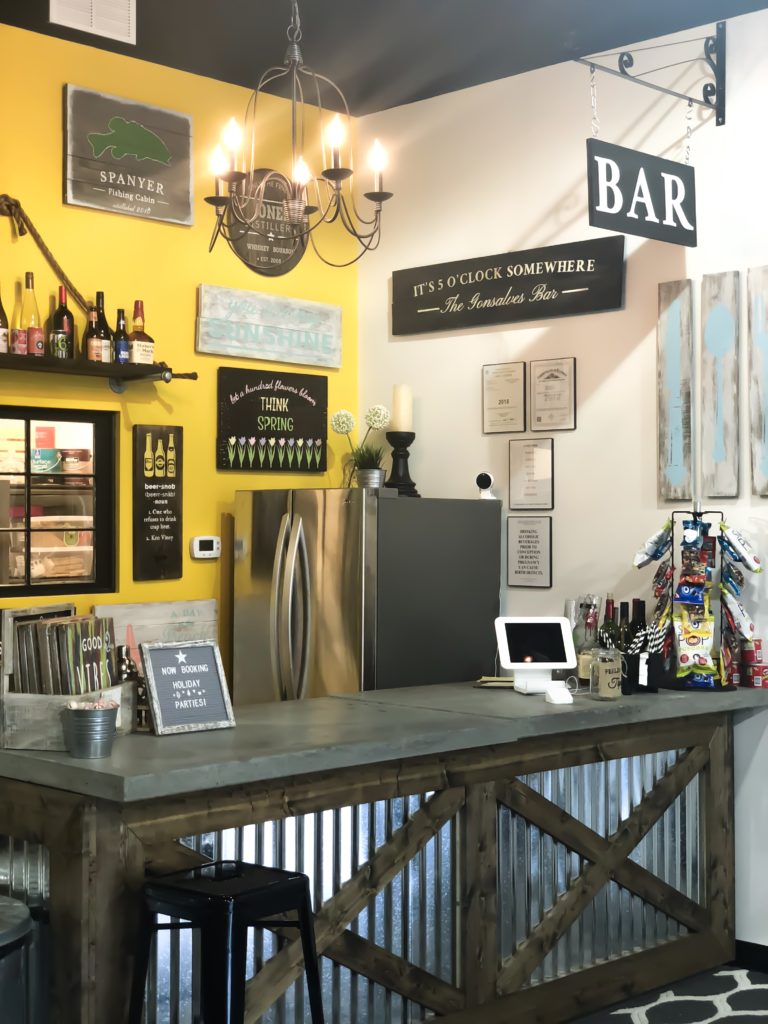 While attending the workshop, you can purchase beer, wine, and mixed drinks at the studio. You also may bring dry snacks, cupcakes, etc to enjoy while participating in the workshop.
Now, let me walk you through the process…
Step One:
You want to pick out the date of the DIY wood sign workshop that you want to attend. The workshops are usually held on Thursday, Friday, Saturday, and some Sundays. Once you pick out the date of the workshop you want to attend, you need to register for the class, which you can do on their website. Check out the calendar: HERE for Lexington, Kentucky.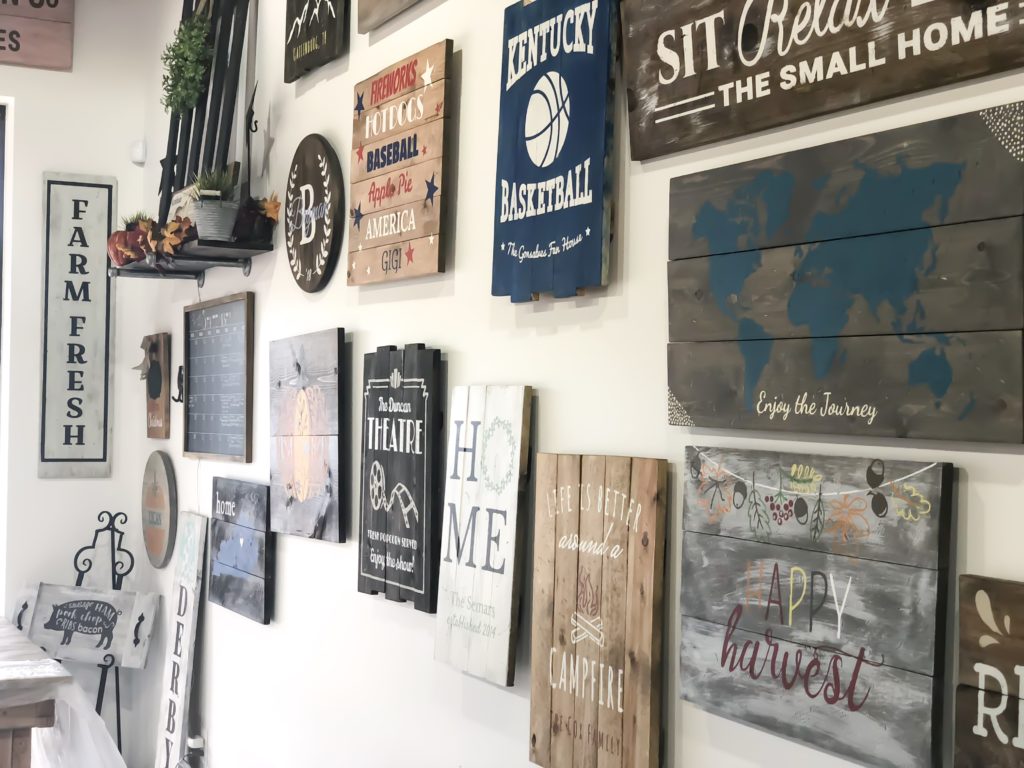 Step Two:
When you are picking out the date you want to attend, you will also be picking out the design you want to make during the workshop. This is so the graphic designer can make the stencil/sticker for your project. This will also give you the opportunity to customize your design. It will be ready for you when you arrive, along with the supplies that you'll need (You can check out the gallery: HERE).
They have the following categories:
New!
Bar
Bathroom
Children
Christmas
Family
Halloween
Kitchen & Laundry
Lake
Most Popular
Office
Pets
Pool
Porch
Quotes
Religious
Seasonal
Sports
USA/World
Wedding
For the workshop, I chose the Home Coordinates Sign (it is 12 inches x 32 inches). My husband chose the Porch Welcome Sign (it is 12 inches x 48 inches).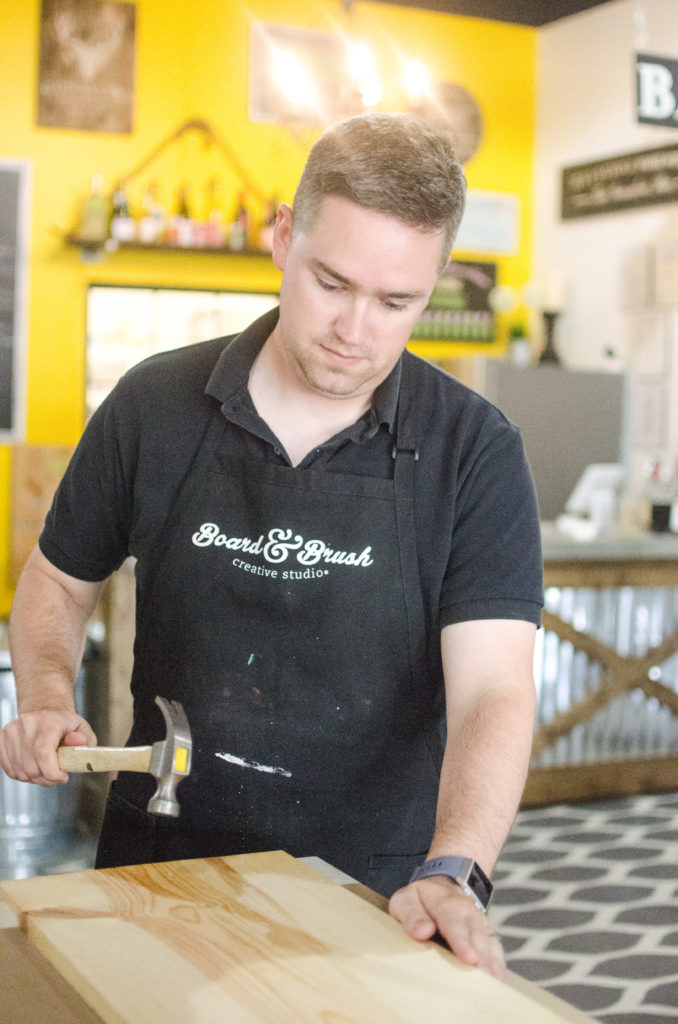 Step Three:
This is the fun part! This is where you will distress your wood. You'll have several different tools to use – like a hammer or a meat tenderizer! You can make as many marks as you want to make it to your liking.

Step Four:
Now, you want to stand it to make sure all the edges are smooth.

Step Five:
This is where you'll stain your wood. There are several different colors of stain to choose from, such as:
White Wash
White Dry Brush
Sedona Red
Dark Walnut
Classic Gray
Ebony
Early America
Jacobean
You can put the stain on as light as you want or dark as you want. Board and Brush Lexington walks you through the process and teaches you how. I chose the Classic Gray stain and I wanted a lighter stain, so I didn't put too much on. At one point, I accidentally dipped my cloth into my husband's stain, and I didn't notice until I had put it onto my board. I was so upset because I thought I had ruined it. However, I chose to just work with it, and then I strategically put the darker stain in random places on my board to give it a more weathered look. I then rearranged my two boards to look like I wanted, and then it was time to add the hardware to my board.
My husband chose the Ebony stain, and he chose to do one thin application so it wouldn't be too dark.
Step Six:
Once you have distressed and stained your wood, you may want to add any hardware that is needed for your project (Note: Not everyone will need to do that. My particular project had two pieces, so I needed to have them connected, before I stained them).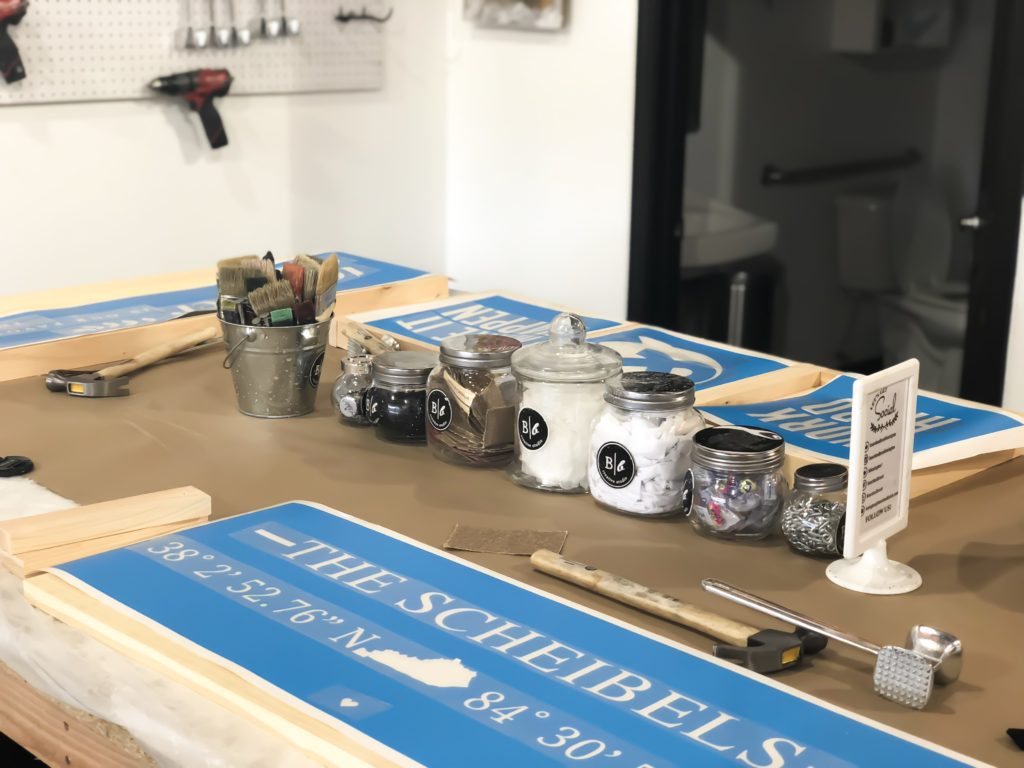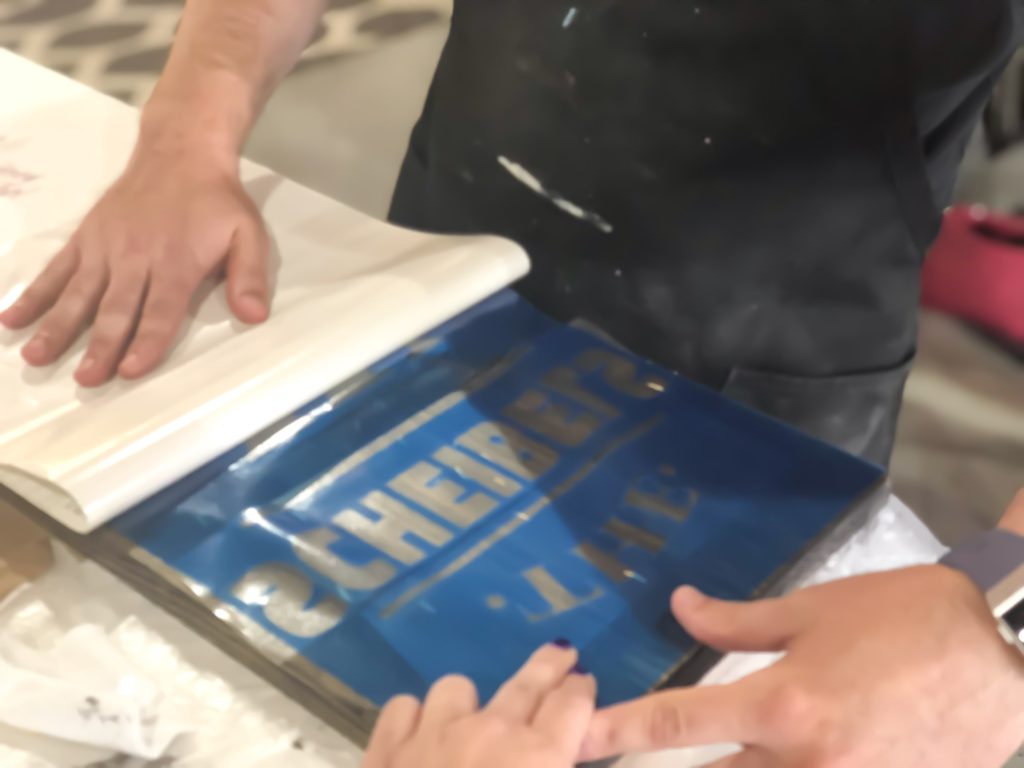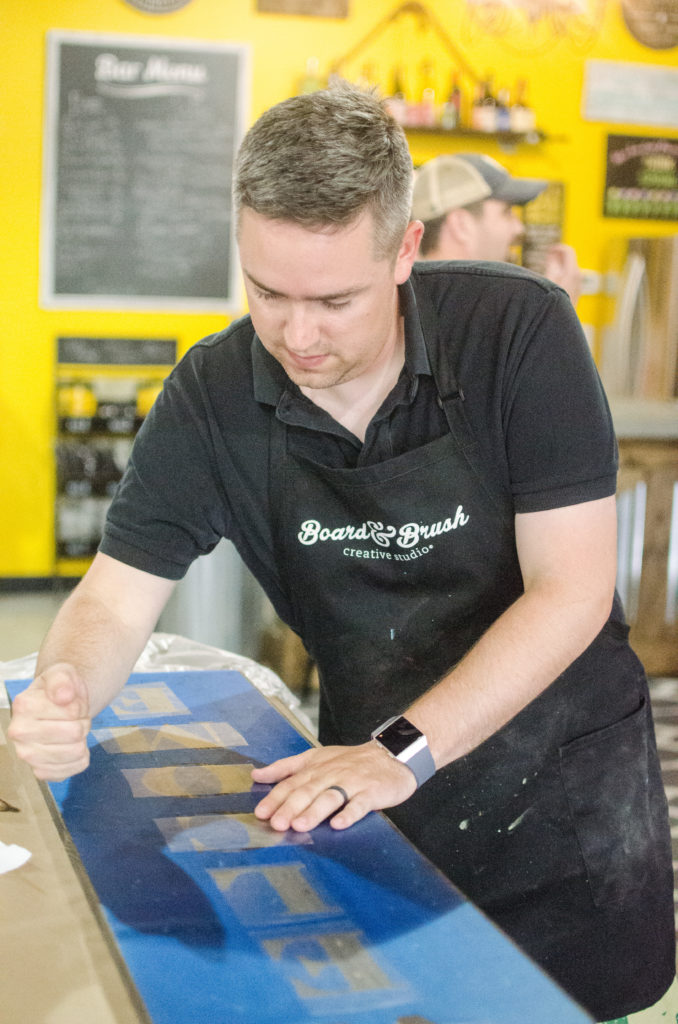 Step Seven:
It's time for your stencil! You'll need help from a partner, since the stencil is a sticker. After you've peeled the back off, you'll want to turn it over and place it carefully on top of your board. This is how you will stencil your board.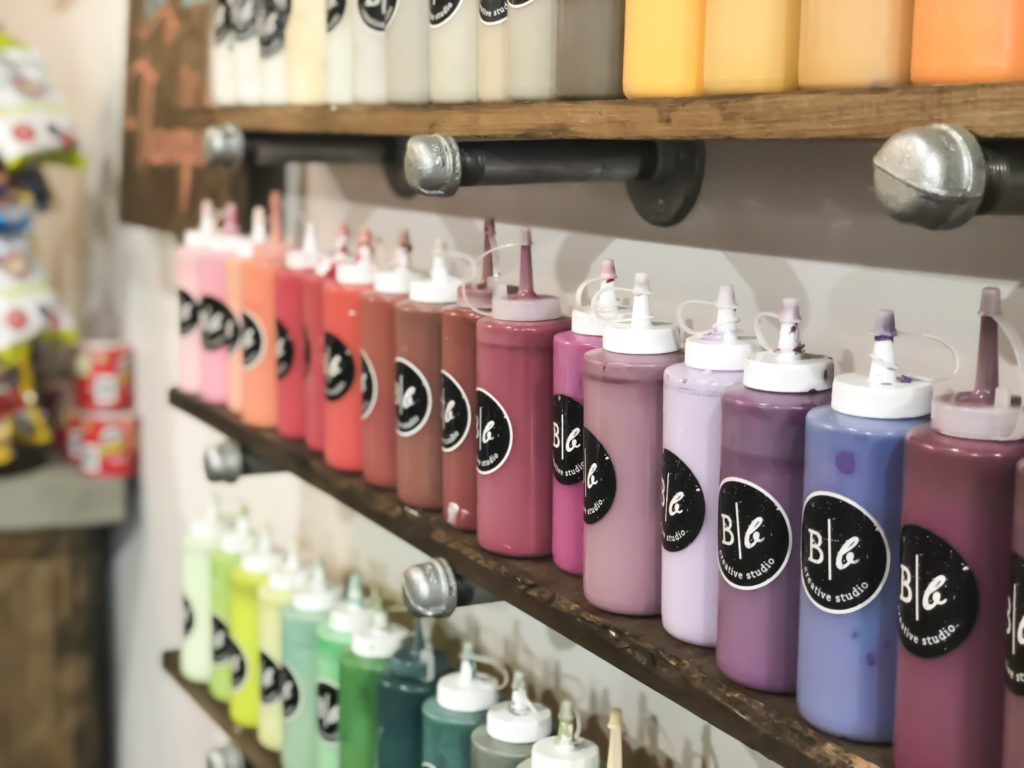 Step Eight:
Board and Brush has a variety of colors to choose from and you can choose any colors that you would like. There is a special technique that you use when painting on your board, so it doesn't bleed under the stencil.
Step Nine:
Once the paint dries, you can remove your sticker. Voila! Your board is finished!
Step Ten:
If your project is one that you want to hang on your walls, after it dries, you can get the hardware installed that will make it easy, so you can go home and immediately hang it!

Step Eleven:
Enjoy your amazing sign you created!

My husband and I both had an amazing time, and we enjoyed creating signs that we were proud of that we could hang in our home. It was something that we saw through from the beginning to the end. Where else can you find a one-of-a-kind piece, along with the whole experience of being involved in the creation process – everything from distressing, to staining, to the paint. We bought our house about 1.5 years ago, and we are always looking for home decor to fill our walls. This was exactly what we needed! We already plan on going back again later this fall to create two more unique signs.
Address:
4383 Old Harrodsburg Road, Suite 170
Lexington, Kentucky 40513
Hours of Operation:
Check out their website for upcoming classes!
Prices:
Clock Co. Project – $90
All Boxes (Bulb Box, Centerpiece Box, Succulent Box, Farm to Table Centerpiece Box, Herb Box) – $75
All Trays (Floral Tray, Monogram Tray, Hot Cocoa Tray, Keepin' It All Together Tray) – $75
All Trios (Work Hard Trio, Quilt Trio, Farm Trio) – $75
You've Got This Wire Board – $75
Monogram Crate – $75
Organizational Board – $75
Standard: Pick any project in the gallery! – $65
Note: They also post new designs every month, so be sure to check back and see their newest designs. You can also check them out on their facebook page and instagram.
*They have over 200 plus designs to choose from their gallery!
**Board and Brush offer private wood sign workshops. These are perfect for birthdays, bachelorette parties, bridal showers, team building, fundraising, community events, after school playdates, Girl Scout/Boy Scout Troops, and more!
Be sure to check them out! I guarantee you'll have a great time!