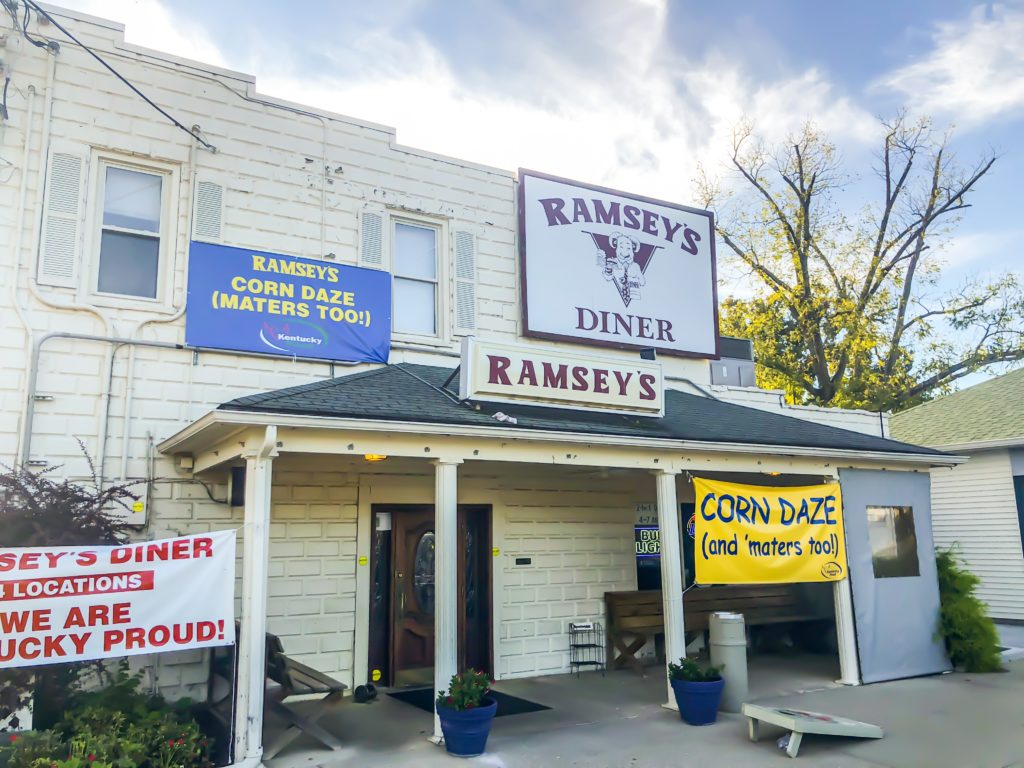 Ramsey's is such an iconic Lexington restaurant for Southern fare. It's been a Lexington staple for almost 30 years. Between the "meat and three" and Missy's Pies, you won't leave hungry and it will leave you wanting to come back again and again. Ramsey's and Missy's Pies are both Kentucky Proud.
About Ramsey's:
In April of 1989, Rob Ramsey opened the first Ramsey's Diner at the corner of Woodland and High Street in Lexington, Kentucky. With big dreams came four Ramsey's locations and a pie shop called Missy's. The original Ramsey's opened in 1989. However, it closed in January 2014, and  has been replaced with a newer, more spacious location on West Zandale.
About Missy's Pies:
If you've ate at Ramsey's, then I'm pretty confident that you've heard of Missy's Pies. I was curious to see how Missy's Pies originated and this is what I found out.
In 1989, shortly after opening the High Street location, Rob Ramsey was faced with the dilemma of having his ovens in the kitchen being so busy and running 24 hours a day that there wasn't any time to cook the two pies that were on the menu; Chocolate Brownie and Peanut Butter.
Next door to the restaurant, a small space came available. Ramsey set out to help his lead prep cook start a new business, which would be selling pies to Ramsey's Diner and a local grocery chain.
However, the next day, Ramsey came to work to find a note from Missy stating that she had a change of heart and was moving to Connecticut to marry a man named Brad.
Now, Ramsey was in the pie business and Missy was never heard from again.
Fast forward to present day, Ramsey's has grown as fast as their menu, and their pies are highly acclaimed.
Missy's has won several awards, such as the Lexington July 4th Pie Contest (Professional Division) in 2005, 2007, 2008, and 2009. In 2010, Lexington discontinued the Professional category.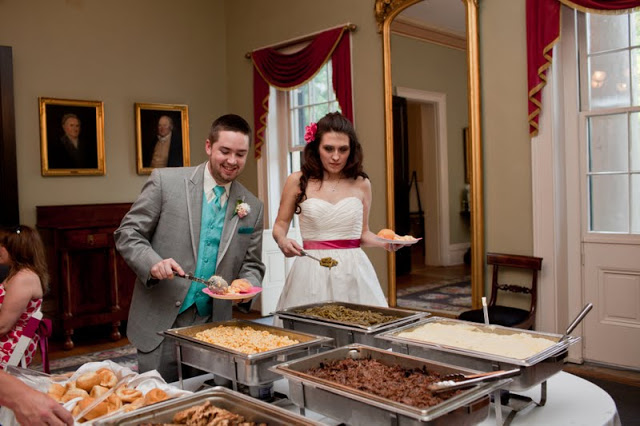 My husband and I have always been a fan of Ramsey's. In fact, they catered our wedding back in June 2011 at the Bodley-Bullock House in Lexington, Kentucky. Everything was so delicious. I knew for my wedding that I didn't want "traditional" wedding food. I wanted comfort food that made you say, "Oh my goodness… this is so good" when you ate it. We thought what better restaurant than Ramsey's. So for our cocktail hour, we had a few appetizers (mini sandwiches and asparagus wraps) made by Ramsey's as well.
We went buffet style for our dinner at the wedding. We served pot roast, baked chicken, macaroni and cheese, green beans, mashed potatoes, and more! Everyone kept telling me how delicious the food was!

Every year around July 4th, Ramsey's offers something called Corn Daze (and 'maters too!). This is when the locally sourced corn comes in. They partner with Gallerien Farms for the corn and Abell Organics for the tomatoes to bring the freshest product to the restaurants, which are picked and delivered daily! Fresh is definitely the best! During Corn Daze, Ramsey's offers corn on the cob, fried corn, creamed corn, okra corn and tomatoes, sliced tomatoes, and cottage cheese. During Corn Daze, they sell about 10 acres of corn and 8 acres of tomatoes. Kentucky Proud is a program sponsored by the Kentucky Department of Agriculture that encourages local Kentucky farmers to be able to promote their crops.

After my husband and I finished our workshop at Board and Brush, we ate dinner at the Ramsey's on Old Harrodsburg Road. You can't go wrong with tasty Southern food. You get so much bang for your buck! For $12.95, you get your choice of one of their many meats and three of their veggies.
I mean, seriously, look at the meats you can choose from:
Meat Loaf
Chicken Livers
Country Fried Steak
BBQ Chicken Breasts (2)
Lemon Yogurt Chicken Breasts (2)
Fried Chicken Breasts (2)
Skillet Fried Pork Sirloin
Pan Blackened Catfish
Southern Style Catfish
Cajun Fried Catfish
Buffalo Fried Chicken Breasts (2)
Pot Roast
Charbroiled Pork Chops (2) – Broiled with Ramsey's Red Sauce unless otherwise requested
Country Fried Pork Chops (2)
And their veggies?? It's such a hard choice, because everything is so good!
Veggie of the Day
Macaroni and Cheese
Mashed Potatoes with Gravy
Green Beans
Creamed Corn
Honey Mustard Carrots
Corn Oysters
Yellow Squash and Onions
Fried Green Tomatoes
Pinto Beans
Apple Fritters
Kale Greens
Okra, Corn, and Tomatoes
Fried Okra
Sautéed Spinach
Stewed Tomatoes
Coleslaw
Potato Salad
French Fries
Baked Potato
Sweet Pickled Beets
Parmesan Deep Fried Corn on the Cob
In the South, macaroni and cheese is a veggie!
Click To Tweet
For my meat, I chose Fried Chicken Breasts, because fried chicken is always delicious, At Ramsey's, you get two! For my veggies, I chose the trifecta – macaroni and cheese, green beans, and mashed potatoes. You can't have fried chicken without mashed potatoes.

My husband got the Buffalo Strip Chef Salad. Their chicken strip chef salad has chicken dipped in buffalo wing sauce. My husband loved it and said it had the right amount of kick!
He also got the Parmesan Deep Fried Corn on the Cob. If you haven't tried it, then run, don't walk and order it ASAP. No joking! It's part of their Corn Daze, so that means they won't have it forever. They locally source their ingredients and are Kentucky Proud.
For those that don't know…
"Kentucky Proud stands for foods, nursery items, crafts, agritourism sites, farmers' markets, state parks, and many other products and destinations with roots in Kentucky soil. Kentucky Proud foods are raised, grown, or processed in Kentucky by Kentuckians. You can serve Kentucky Proud foods to your family with the confidence that they came from your friends and neighbors just down the road — not from thousands of miles away."

Of course, I couldn't leave without getting a slice of pie for dessert. I chose the Black Bottom Banana Pie, because I'm a sucker for anything banana. The Black Bottom Banana Pie is a long-time favorite! It's a decadent layer of chocolate with a heaping layer of bananas and Missy's own old-fashioned custard filling. This pie is sinfully topped with whipped cream and chocolate syrup.
It is seriously decadent!

I can't believe out of the many times I've eaten there, I haven't had the Traditional Ramsey's Breakfast. This breakfast is served up to five eggs all cooked the same way, along with your choice of any or all the following, bacon, sausage, hash browns, pancakes, and toast. You can get ALL of this for $9.95. You can't get that much food anywhere else!
I'm a huge fan of hot browns, and I've heard Ramsey's hot brown is out of this world!
Awards & Recognition:
2005 Best Independent Restaurant – Ace Magazine
2003 Best Wait Staff in Lexington – Ace Magazine
2002 Best Happy Hour – Ace Magazine
2007 Best Regional Fare – Kentucky Magazine
2007 Best Place to Meet For Brunch – Lexington Herald-Leader
2007 Place to Eat While in Kentucky – Travel and Leisure Golf Magazine
2010-2017 Best Restaurant Under $10 – Lexington Herald Leader's People Choice Awards
Address:
151 West Zandale Drive, Lexington, Kentucky 40503
4391 Old Harrodsburg Road, Lexington, Kentucky 40513
4053 Tates Creek Centre Drive, Lexington, Kentucky 40517
3090 Helmsdale Place, Suite 270, Lexington, Kentucky 40509
Hours of Operation:
All locations have the same hours of operation.
Sunday: 9am to 11pm
Monday – Friday: 11am to 11pm
Saturday: 9am to 11pm
Be sure to check them out and support a local business!