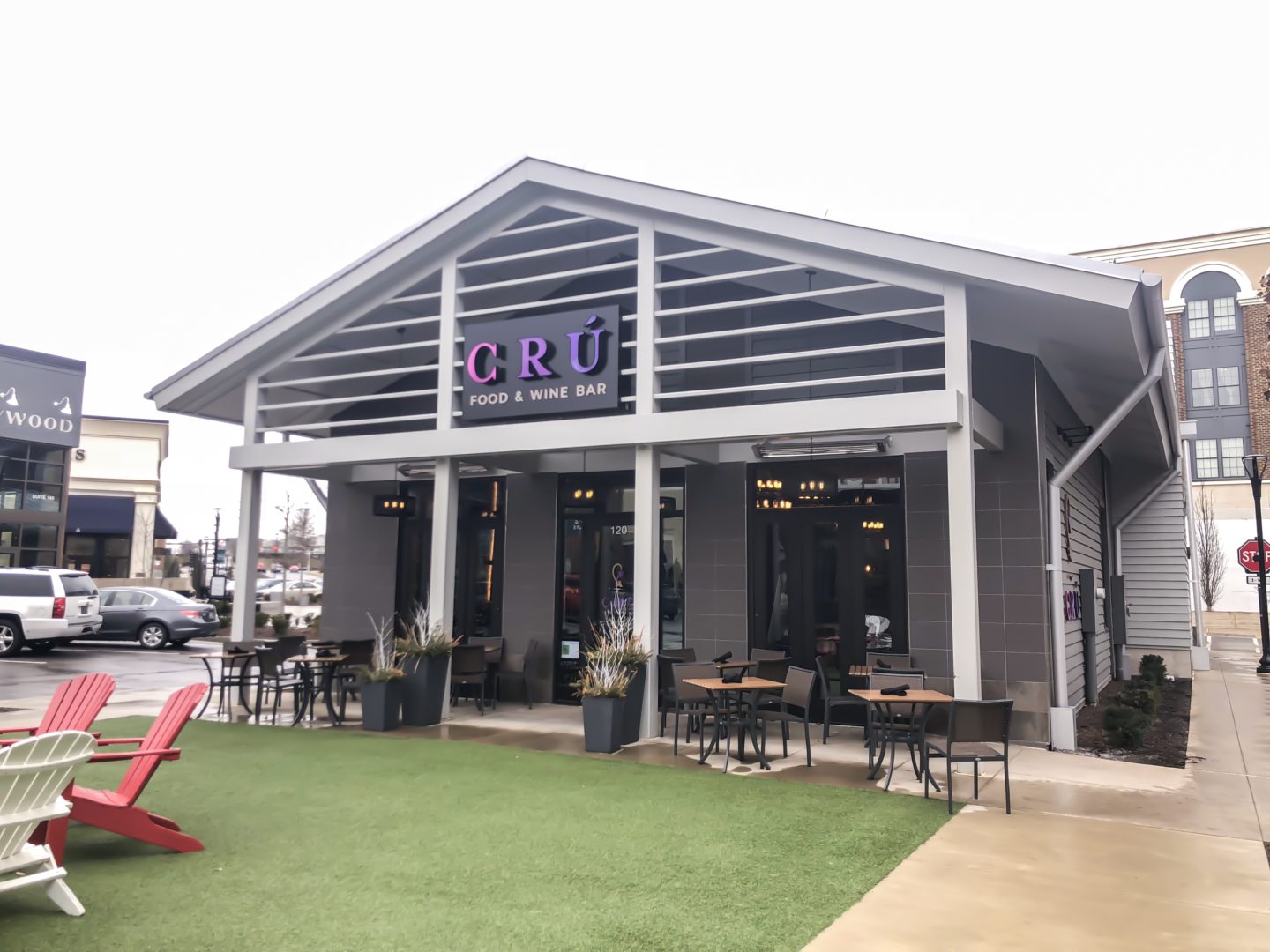 One of my favorite things about the weekend is BRUNCH!
Since my husband and I are members of the Wine Club at
CRU Food & Wine Bar
, we decided to go for brunch on Sunday afternoon 
(By the way, it's FREE to join!)
. We had received a buy one get one free coupon for brunch for February 10, so we thought, why not go? Previously, we had only been there for dinner
(and it ranked up there being one of the best meals we've ever had!)
, but we had never been for brunch. We are always wanting to try some of our favorite restaurants in Lexington's brunch offerings, because you just can't say no to brunch!
Remember how I mentioned that we received one brunch entree for free? well, by being members of their Wine Club, you receive:
A complimentary appetizer for signing up
A free entrée on your birthday
Priority reservations
Advanced notice of our special events
40% off retail wine (at participating locations)
Member only benefits like special BUY ONE, GET ONE FREE brunch entree days
Free brunch?! Yes, please! Now, let me get into what we ordered!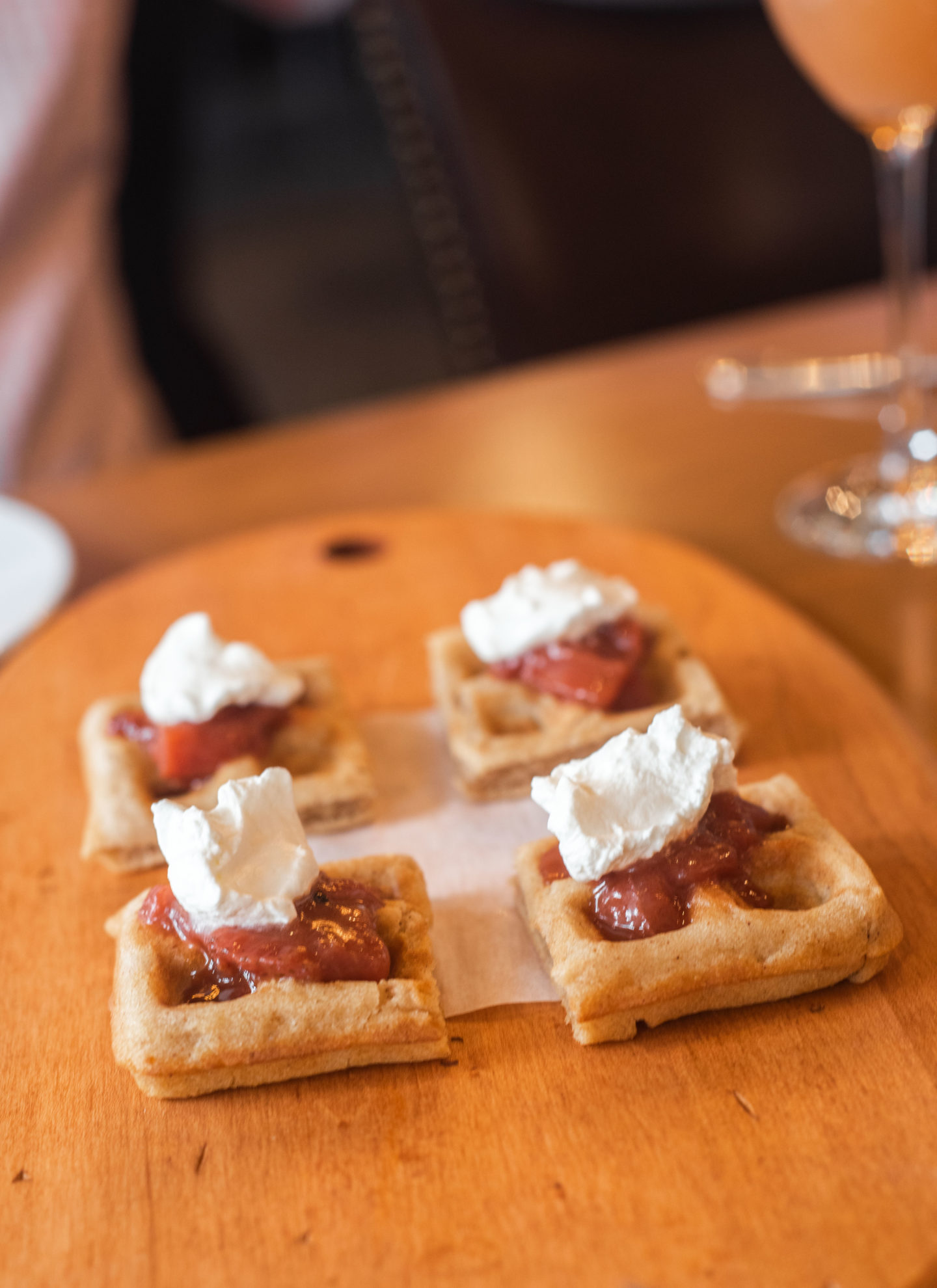 When we started our brunch, we decided to get an item off their "Taste & Share" menu. The four options on the menu were: Mini Belgian Waffles, Avocado Toast, Goat Cheese Beignets, and the Fig and Gorgonzola Bruschetta.
Because I love strawberries, and since we both were already getting something savory for our entrees, we opted for a sweet option. We ended up ordering the Mini Belgian Waffles, which came with strawberry compote and vanilla whipped cream. It's always a dilemma for me when it comes to brunch; should I choose a sweet or savory dish? Since I was getting a savory dish for my entree and since I love strawberries and waffles, I had to order these! Plus, they were great to share and perfectly bite-sized. I was able to indulge in the best of both worlds!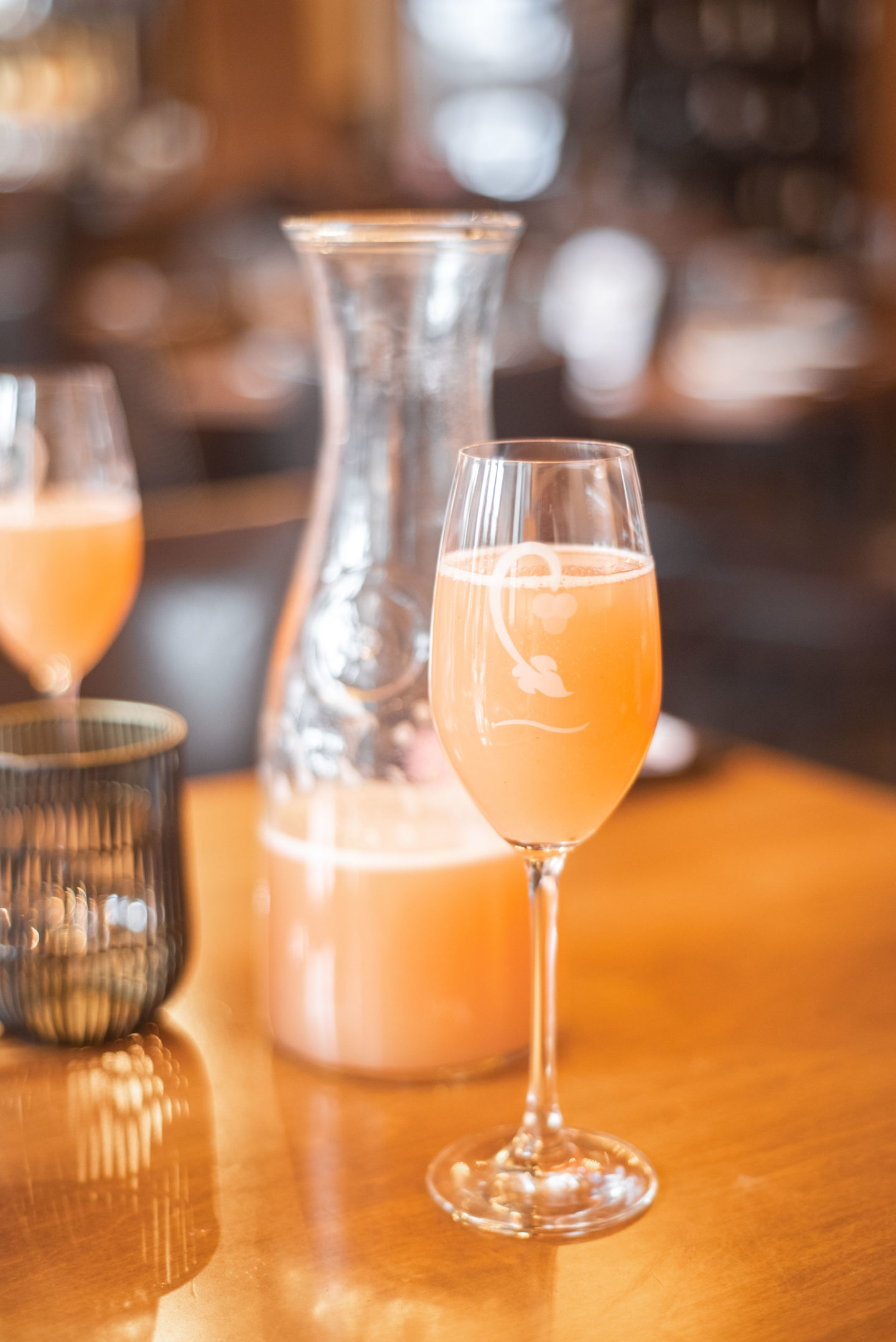 With pretty much all brunches at the majority of restaurants, mimosas and bellinis are served, and Cru Food and Wine Bar isn't any different! At Cru Food and Wine Bar, you have the choice between three classic cocktails and can get them in either a glass or a carafe.
The three choices of drinks were:
Cru Mimosas (ruffino prosecco, grovestand orange juice)
Blood Peach Bellini (moscato d' asti, blood peach puree, lemon)
Bellini Cipriani (ruffino prosecco, white peach puree)
The Blood Peach Bellini sounded the best to us, and it was super refreshing and sweet. You could tell the puree was made from fresh peaches. You would never know that you are drinking something alcoholic. The freshness from the peaches took the drink to the next level.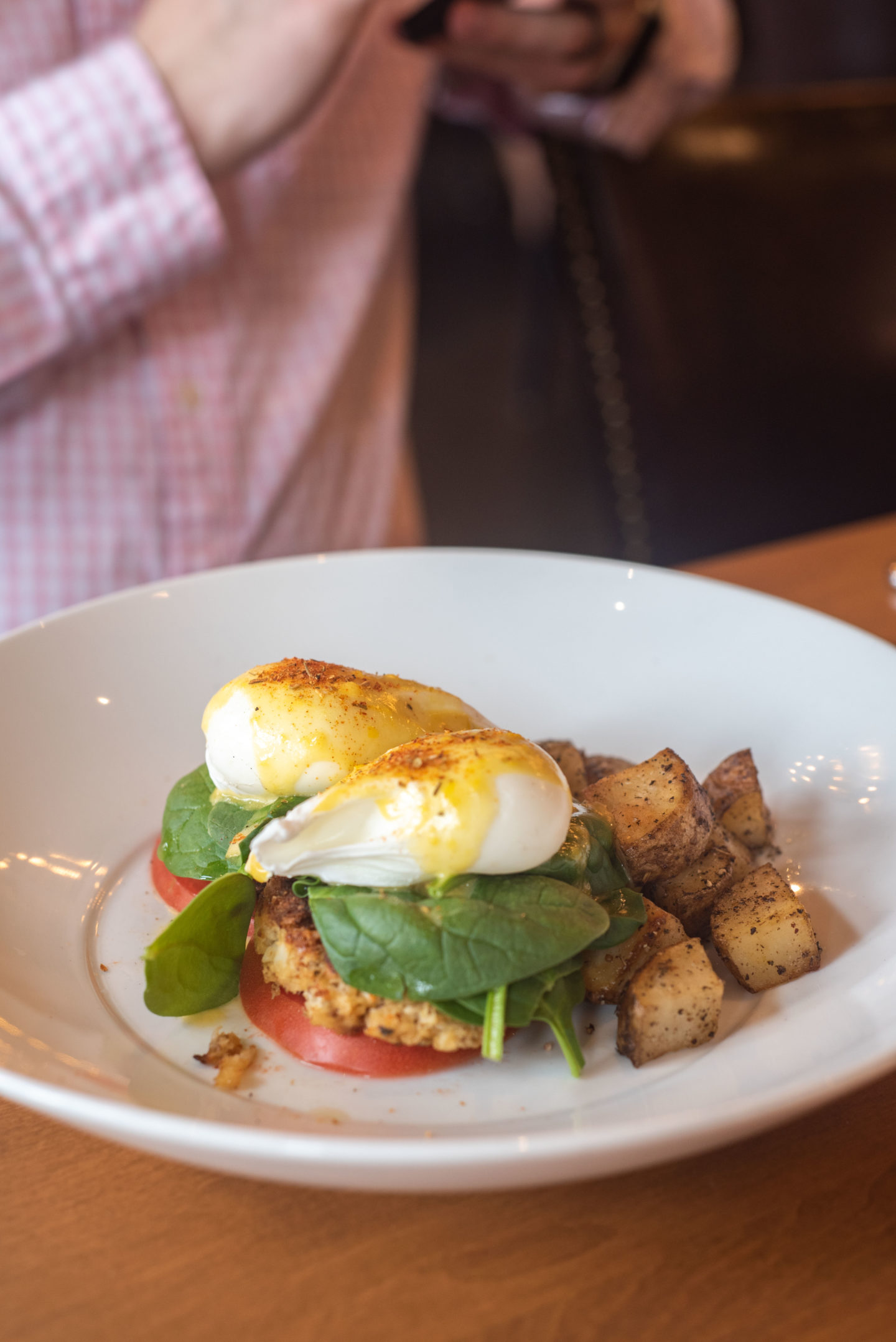 For my husband's entree, he got the Cru Crab Cake Benedict. It came with baby spinach, organic eggs, fresh eggs, fresh herb hollandaise, and rosemary yukon potatoes. My husband said it was a fun twist on a classic dish, and that it tasted like the crab came straight out of Maryland!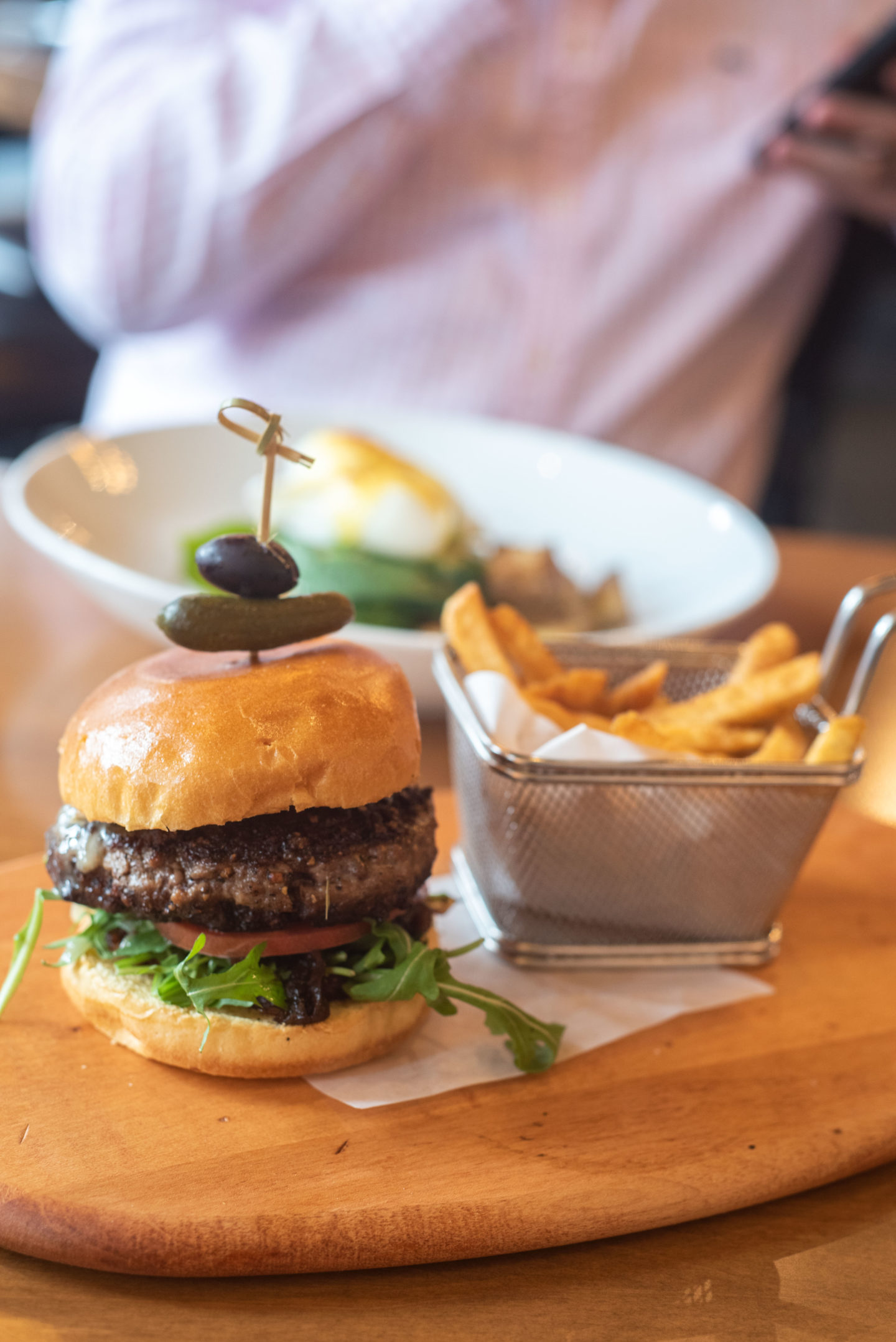 For my entree, I got the Napa Burger. It came with fig jam, caramelized onions, Humboldt Fog, arugula, a roasted tomato, and fries. I'm sure you have heard me say it before, but the messier the burger, the better! I much prefer burgers that are considered "outside of the box" over a plain cheeseburger. I love when burgers are creative and combine ingredients that you normally wouldn't think about being on a burger. I loved the combination of flavors that came from the cheese and the sweetness from the fig jam. They paired perfectly together.
You may be wondering what Humboldt Fog is? Humboldt Fog is a goat milk cheese. It is made by Cypress Grove, which is located in Arcata, California and is in Humboldt County. The cheese is named for the ocean fog that rolls in from Humboldt Bay.
I'm not sure if you have seen the entrees and food that I ate from my first trip to Cru Food and Wine Bar back in January 2018. For my very first trip, I was invited out to the restaurant to try it out. The particular dinner we ate that night ranked up with one of the best meals that we had ever eaten! Since we are talking all about Cru today, I figured that I would go ahead and share the details again from that meal on this post.
Back then, I wasn't that knowledgeable about wine (Since then, I've became a lot more knowledgeable about wine. From my trip in January, I even got to taste many wines from the wineries on the Three Rivers Wine Trail, which is located in Coshocton, Ohio). 
If you aren't really knowledgeable about wine, the staff is knows their stuff, and will help you with your wine selections. If you aren't sure what wines to try, you can try one of Cru's wine flights. That's a pretty cool option, because it lets you try three wines at once! This is a perfect way to find out which one that you like the best!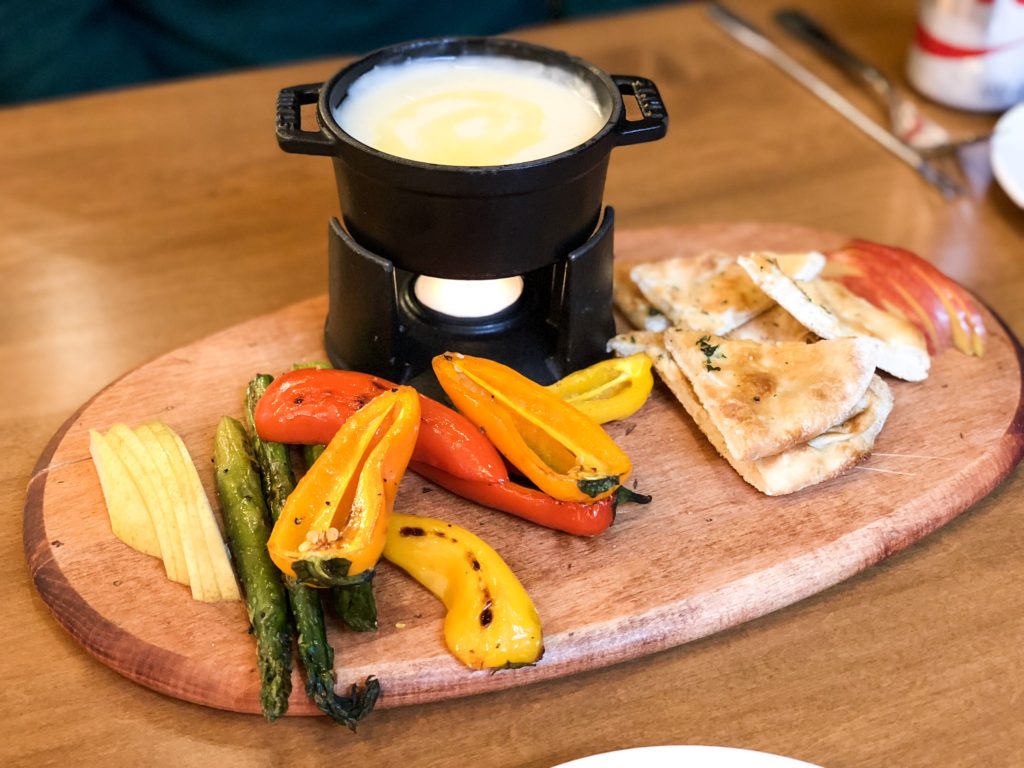 That night, we started with the Cheese Fondue as our appetizer. It was fondue and black truffle tartufo. It was served with apple, pear, herb flatbread, and jumbo asparagus. The bread was absolutely my favorite part!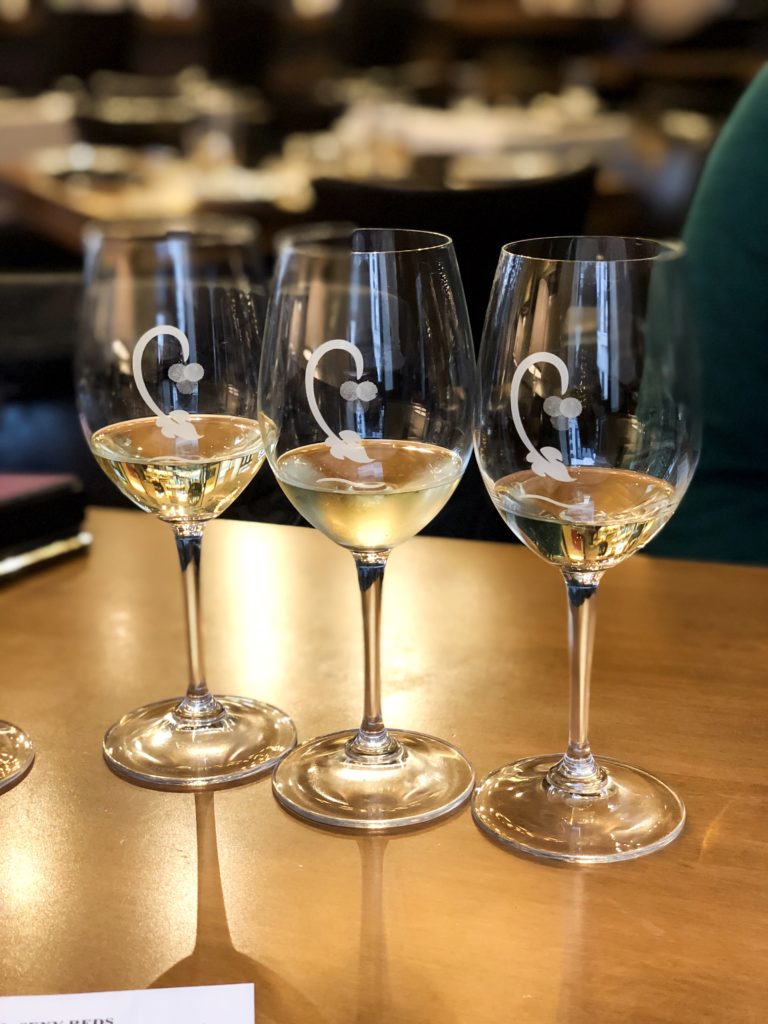 My husband and I each got a wine flight. My husband chose the flight, First Class Chardonnays, which included:
Shug '15 Carneros, California
William Fevre Chablis "Champ Royaux" '15 Burgundy, France
Cakebread '15 Napa Valley, California
Chardonnay grapes are grown throughout the world and are planted in many different soil types. Here you will taste a variety of great and new world chards. This flight is ripe, direct, and luscious.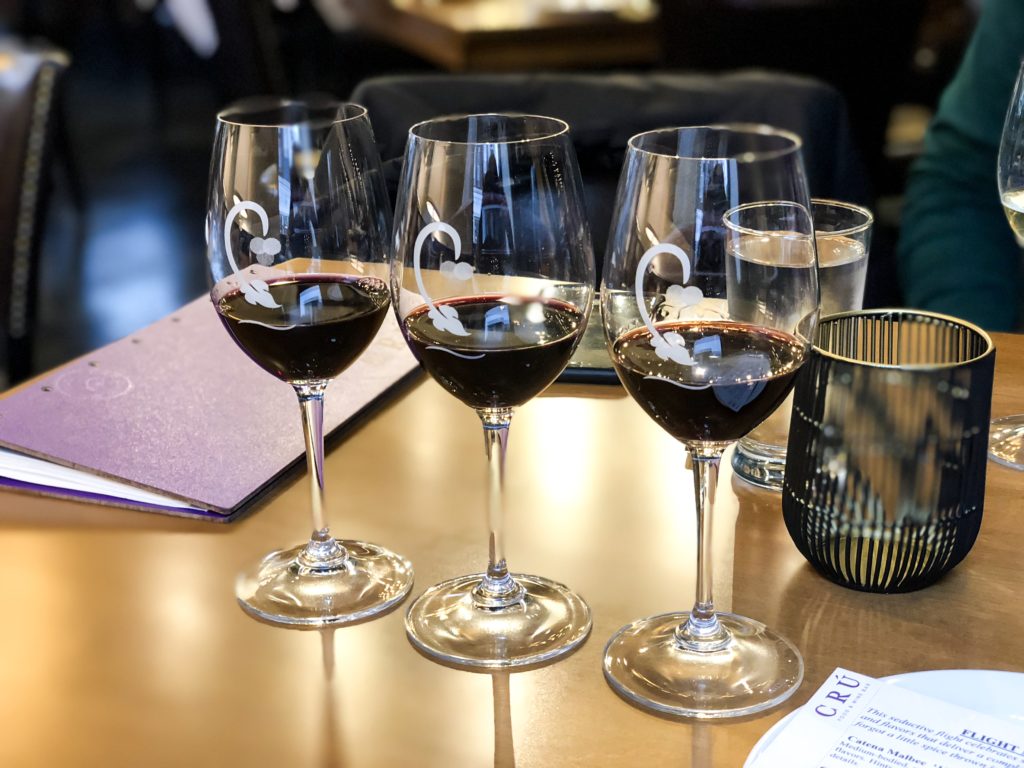 I chose the Sexy Reds flight, which included:
Catena Malbec '13 Mendoz, Argentina
Concannon Petite Sirah -14 San Francisco Bay, California
Seghesio Family Zinfandel '15 Sonoma County, California
This seductive flight celebrates smooth texture, voluptuous mouth feel and flavors that deliver a completely satisfying experience.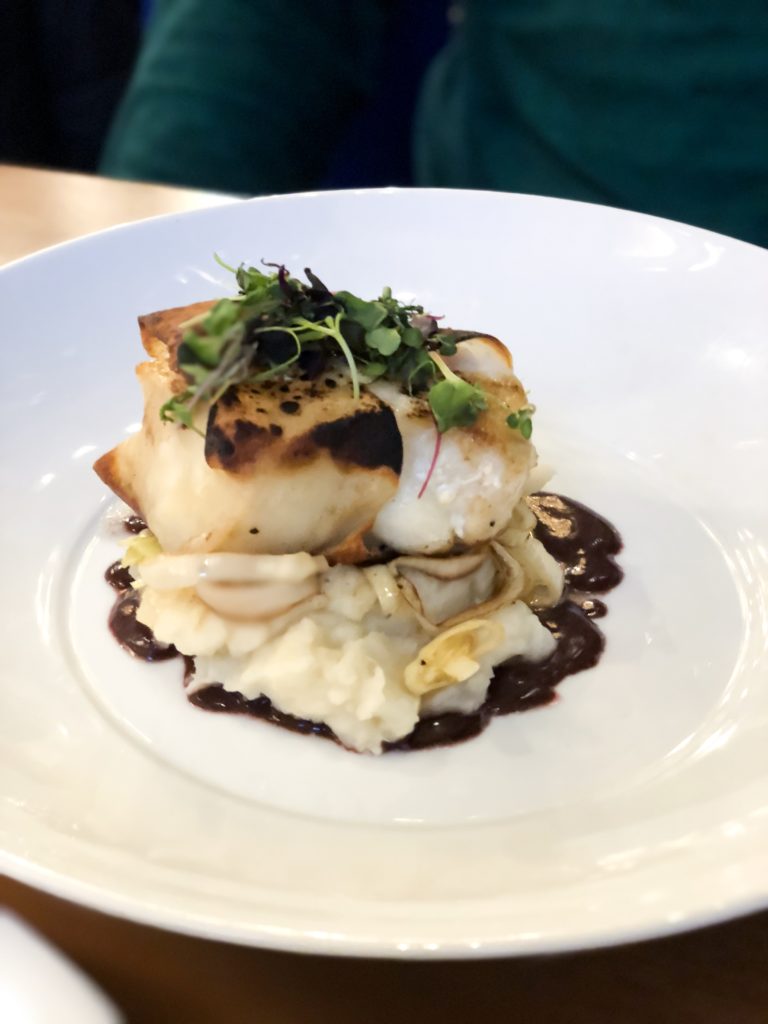 For the particular night I'm talking about, both my husband and I ordered one of the specials that they were featuring.
My husband got the fresh sea bass served on a bed of mashed potatoes with a red wine reduction.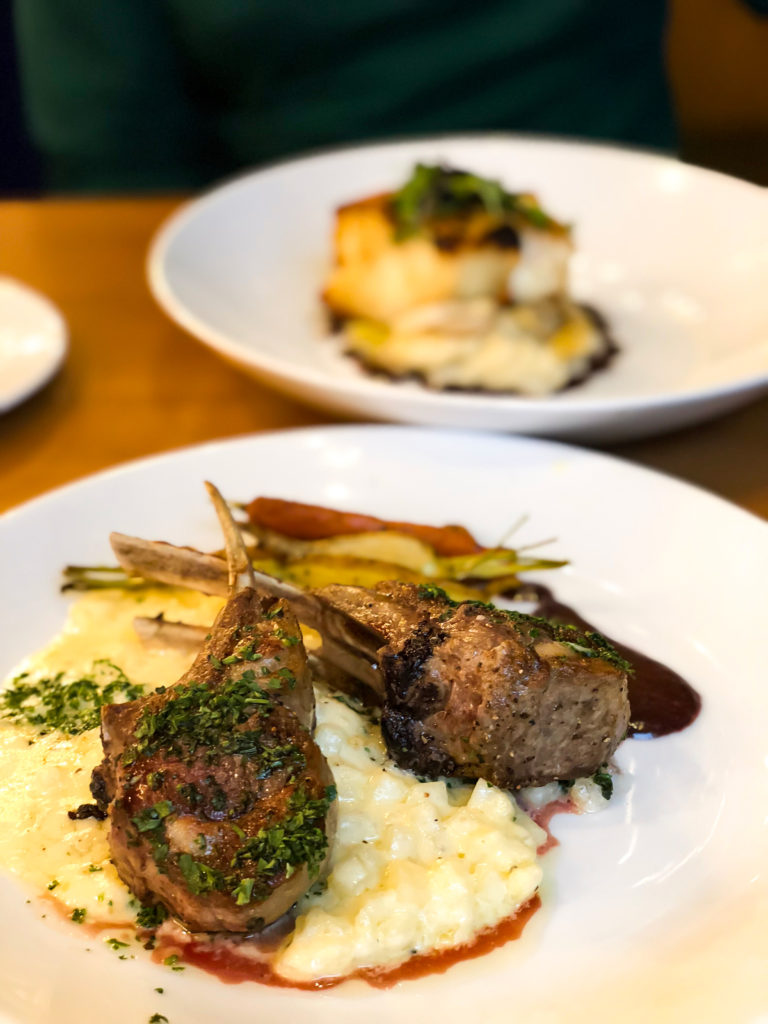 I ordered one of their other specials. I chose the rack of lamb with a potato parmesan risotto. This was seriously one of the best meals that I had ever eaten. The lamb was delectable, and the potato parmesan risotto was seriously perfection. I wish I could eat it every single day! Potato parmesan risotto should be a thing on menus everywhere!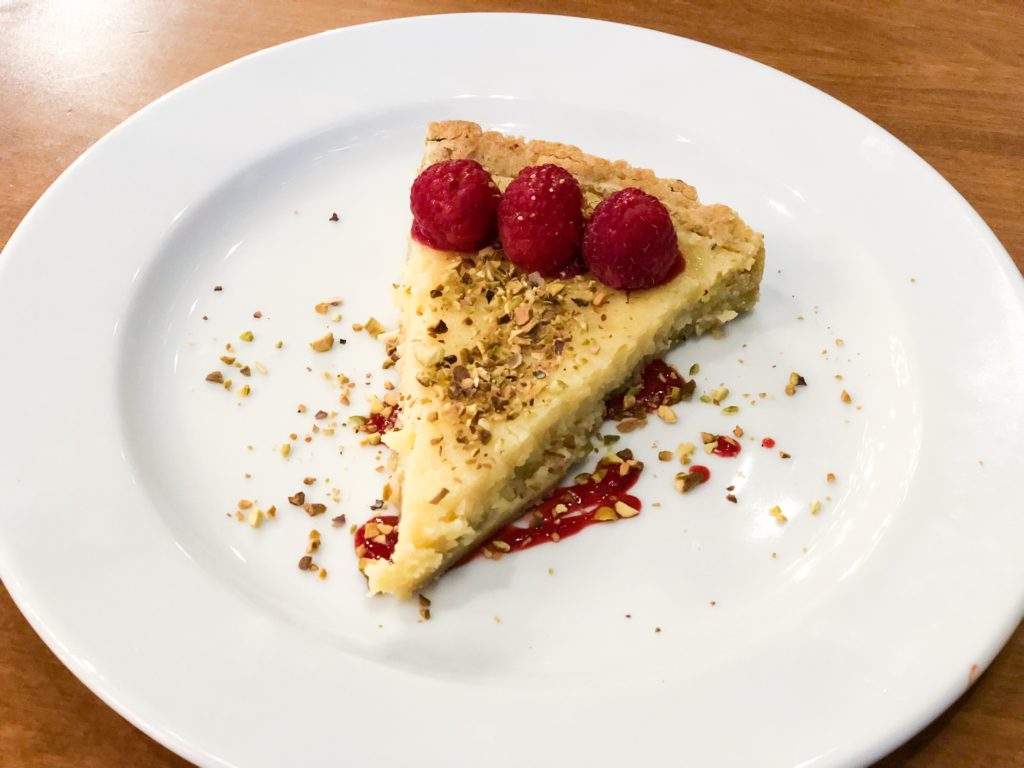 A fancy meal wouldn't be complete without dessert, so we ordered the Lemon Tart with raspberry and pistachio crumbles. It was so heavenly! I'm usually meh on raspberries, but all of the flavors combined made for one unforgettable dessert!
Cru Food and Wine Bar
changes their menu seasonly, and maybe more often than that, so it's best to keep an eye out on their current menu by following them on social media!
There are only fifteen locations across the country. Lexington, Kentucky is home to the only CRU Food and Wine Bar in the state. The other fourteen are located in: Atlanta, Austin, Dallas, Denver, Fort Worth, and Houston.
Address:
107 Summit At Fritz Farm #120, Lexington, Kentucky 40517
Hours of Operation:
Sunday: 12pm to 10pm
Monday to Wednesday: 3pm to 10pm
Thursday: 3pm to 11pm:
Friday and Saturday: 12pm to 11pm
If want a nice place to eat for brunch or even dinner, be sure to check out Cru Food and Wine Bar at The Summit at Fritz Farm!