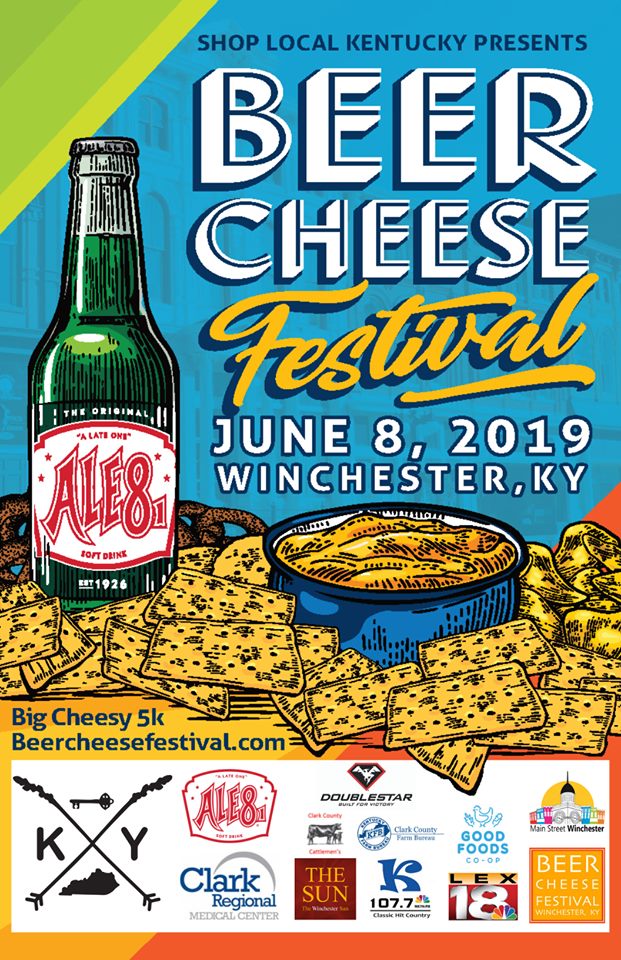 One of the most delicious festivals has come and gone for this year.
I'm talking about the Kentucky Beer Cheese Festival, which was held in Winchester, Kentucky, as has been every year since its inception. What better place than the birthplace of beer cheese?!
If you haven't had beer cheese, then you are missing out! Mashable has deemed this one of "14 Food Festivals That Show How Serious America Is About Food," as well as one of "15 Food Festivals in the U.S. for the Ultimate Foodie." Mental Floss put it on their list of "12 Highly Specific (and Extremely Delicious) Food Festivals." The Latin Kitchen even named it as one of "10 Summer Food Festivals Worth Traveling To."
What is the Beer Cheese Festival?
The Beer Cheese Festival is the ONE AND ONLY Beer Cheese Festival in the WORLD! That's right in the WORLD! There's no other place to celebrate it than the birthplace of beer cheese. Beer cheese was first invented back in the 1940s. In 2013, the Commonwealth of Kentucky deemed Clark County the birthplace of beer cheese – HB 206 (BR 924). How cool is that?
The 11th Annual Beer Cheese Festival was held on Saturday, June 8, 2019 from 10am to 5pm.
What is Beer Cheese?
If you are in Kentucky, I'm sure you have heard of beer cheese. If you haven't, then let me let you all about it!
I have heard some people say that they don't like beer cheese. GASP! To be honest, you can't make a blanketed statement like that, because ALL beer cheese is different. That's one of the things I like most about it! There isn't any that are alike. I don't really like the ones that have a liquid consistency, because to me, that isn't beer cheese. I like the ones that are creamy like Kentucky Beer Cheese, Mooshine Beer Cheese, Big Poppie's Beer Cheese, Big Russ Beer Cheese, Copper Kettle Beer Cheese, and those are just to name a few. I like both original and spicy flavors. I'm not picky!
Beer cheese is a cheese spread that is most commonly found in Kentucky. The spread is nearly ubiquitous here. It is on just about every menu at the majority of restaurants here, especially the locally owned ones. I love to try beer cheese whenever I see it on the menu. I consider myself a beer cheese connoisseur, so I have high expectations. Beer cheese is one of those things that is so versatile! You can eat it with chips, put it on burgers, have it as a topping on a hotdog, use it in soups, eat it with pretzels, and so on. The possibilities are endless! Kroger and Liquor Barn have great selections!
Beer cheese is usually made with cheddar cheese, spices, and beer. It can vary from very mild to spicy hot.
When is the festival?
The Beer Cheese Festival is always on the second Saturday in June in downtown Winchester, Kentucky. The festival starts at 10am and lasts until 5pm or until there's no more food.
On Friday, the day before the Beer Cheese Festival, there are activities as well, such as Rock the Block and The Big Cheesy 5k. This is also held in Winchester, Kentucky.
How much does it cost to attend the festival?
When I went in 2017 and 2018 to get into the festival, you needed a wristband. They cost $5 and that let you sample all of the beer cheese you like.
However, in 2019, they made some changes!
New Changes for 2019:
New in 2019, you no longer needed a wristband and there was no more fenced areas.
You could buy ten Beer Cheese Bucks for $5. You would then give one Beer Cheese Buck to one of the booths to sample the beer cheese of your choice. After you are finished sampling all the beer cheese, it's time to vote! Each set of Beer Cheese Bucks comes with one voting ticket.
Remember 1 Beer Cheese Sample = 1 Beer Cheese Buck!
Who were the competitors for the 10th Annual Beer Cheese Festival?
Competition for the event is broken down into an amateur and commercial/pro category. There is a Judge's Choice winner as well as a People's Favorite.
The professional competitors for 2019 were:
Big Poppie's Beer Cheese: 2017 was Big Poppie's first time competing at the Beer Cheese Festival! In 2018, Big Poppie's won third place!
Blue Isle Home-style Restaurant and Bar: 2019 marked their second time competing at the Beer Cheese Festival!
Bootlegger Beer Cheese: This was Bootlegger Beer Cheese's first year competing in the Beer Cheese Festival!
Copper Kettle Beer Cheese: Copper Kettle has been making its beer cheese and Benedictine spreads for close to 30 years!
Dad's Favorites Cheese Spreads: In 2015, Lexington's own Dad's Favorites was crowned People's Choice Award winner by festival goers. The win followed their first runner-up finish in 2014!
Hall's The Original Snappy Beer Cheese: Hall's took home the People's Choice Award in 2016 and were awarded First Place in 2015 by the panel of judges. As legend has it, Hall's is made with the original beer cheese recipe created by Joe Allman in 1930s!
Kentucky Beer Cheese: They brought home first place in 2011 and claimed first runner up in 2013. Kentucky Beer Cheese also won first place in both 2017 and 2018!
Nana's Beer Cheese: Nana's is brand new to the commercial market this June!
Roddy B's Beer Cheese: Roddy B's Beer Cheese is new to the market!
River Rat Beer Cheese: In 2019, River Rat Beer Cheese competed for the 11th year in a row!  They took home the People's Choice in 2017 and 2018, second place in 2016, 2017, and 2018, and third place in 2015!
Slushers Beer Cheese: Slushers Beer Cheese is produced in Morehead, Kentucky. This was their first year competing in the Beer Cheese Festival!
Smitty's Craft Beer Cheese: Smitty's Beer Cheese is made in Paris, Kentucky and even uses beer from Rooster Brewing in their recipe. In 2018, Smitty's took home second place in the amateur competition at Country Boy. They decided to turn pro, so 2019 was their first time competing in the Beer Cheese Festival in Winchester!
Trick's Beer Cheese by The Merrick Inn: The Merrick Inn has been a Lexington icon for more than 40 years. One of their most popular menu items is their famous Trick's Beer Cheese. This was their first time entering their beer cheese in the festival!)

Who were the winners for 2019?
Amateur Beer Cheese Contest winners for 2010:
Tips for attending the Beer Cheese Festival – Updated for 2019:
Be sure to wear and bring sunscreen: It's usually super hot and humid on this day! You'll need to protect yourself from the sun, because the UV Index is usually pretty high!
Bring an umbrella: It's Kentucky, so you never know what the weather will be like, so there is a possibility it could rain. Remember the Kentucky Beer Cheese Festival is a rain or shine event! It is best to be prepared.
Bring cash: If you want to do some shopping, some of the vendors only accept cash. However, there is an ATM tent with an ATM that you can use.
Parking: Parking can be rather tricky, especially depending on what time you get there. I suggest getting that early as possible! I like to get there right when it starts. It can get super crowded and parking can be limited. It's extremely likely that you will have to pay for parking, so it's best to have cash on hand just in case. In previous years, I paid $5 to park in a church's parking lot and another time, I just parked on the street. To purchase tickets, you'll also need cash.
Drink lots of water: Drink lots of water and if you can bring water with you, because you'll definitely want to stay hydrated! Since I know it's always pretty hot, my friend brings their camelback full of water.
Beware of long lines: There are tons of people and there can be long lines, so get there as early as you can! There is no need to complain, because a huge crowd is expected. I mean, it's the ONE and ONLY festival dedicated to beer cheese in the world. Not only that, but if you arrive early, you can avoid the hottest part of the day. You actually aren't supposed to wait in line, but I always just felt like it would have been rude to walk up in front of someone. Since lines had formed, we just usually waited in line along with everyone else. Another reason why it's important to get there as early as you can is so none of the beer cheese contestants run out of beer cheese!
Go with family and friends: It's a lot more fun when going with your loved ones!
Support downtown Winchester: If you have sometime, be sure to check out and give love to some of the local businesses in downtown Winchester!
The date has already been set for next year, so mark it on your calendars – Saturday, June 13, 2020!