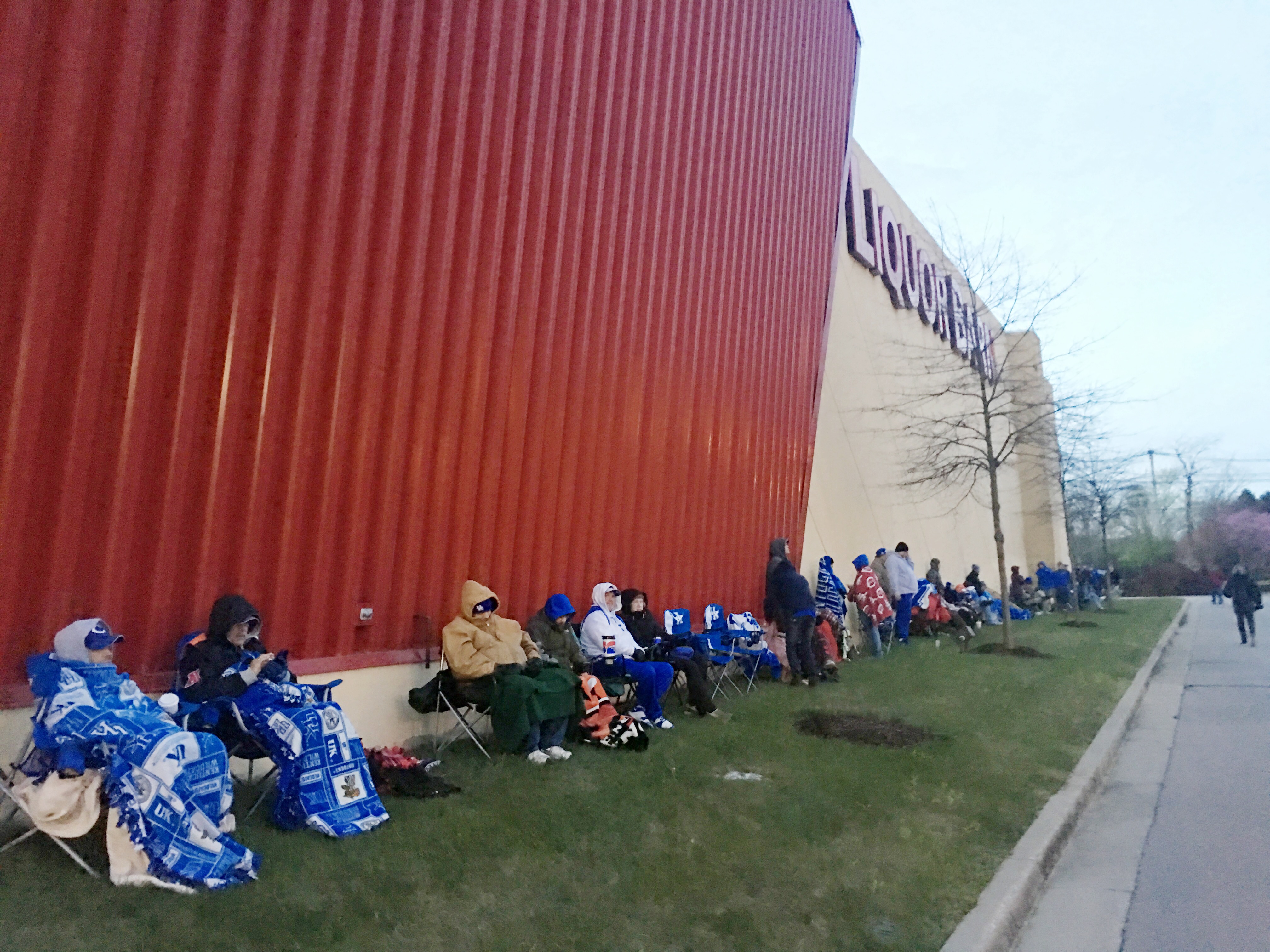 It's officially springtime in the Bluegrass State. Not only was this past weekend the opening of Keeneland for the spring meet, but on Friday, April 7, Maker's Mark released a commemorative bottle that featured the University of Kentucky's 1996 championship team, affectionately known as the "Untouchables." Of course, when I heard about it, I had to go stand in line!
"Our '96 championship team was one of the best not only in the history of our program, but in the history of college basketball. This iconic bottle is a fitting tribute to them and all they accomplished during that historic season." -UK Athletics Director Mitch Barnhart
The weather is pretty unpredictable in Kentucky. Just a few days prior, it was in the 70s, and on this particular morning, it was 37 degrees with a "feels like" temperature of 30 degrees (as I am writing this, it's back in the mid 70s). I severely underestimated how cold it actually was, so I was ridiculously unprepared. I didn't have any gloves, a scarf, a chair, or even a blanket with me. However, when I got there, the guy next to me went to his car and got me a blanket, so I could keep warm. When someone got in line behind me, he also went to his car to get a blanket for me to sit on. Waiting in line may sound crazy to some, but it isn't just about getting a collector's bottle or a rare bourbon, but it's about the experience. You meet some of the nicest people! Of course they are nice, because they are Kentuckians (it's that Southern hospitality) and they are bourbon people! I'm telling you some of the best people you'll ever meet are bourbon people!
There were only 13,000 bottles released, and they sold out in less than an hour! I stood in line about 3.5 hours before the store that I went to opened. By the time I got there, there were approximately thirty people in front of me, maybe forty, if I had to guess. Some people had gotten there on Thursday to wait in line. Several of the local news stations were there, and I even saw myself on the news in the background.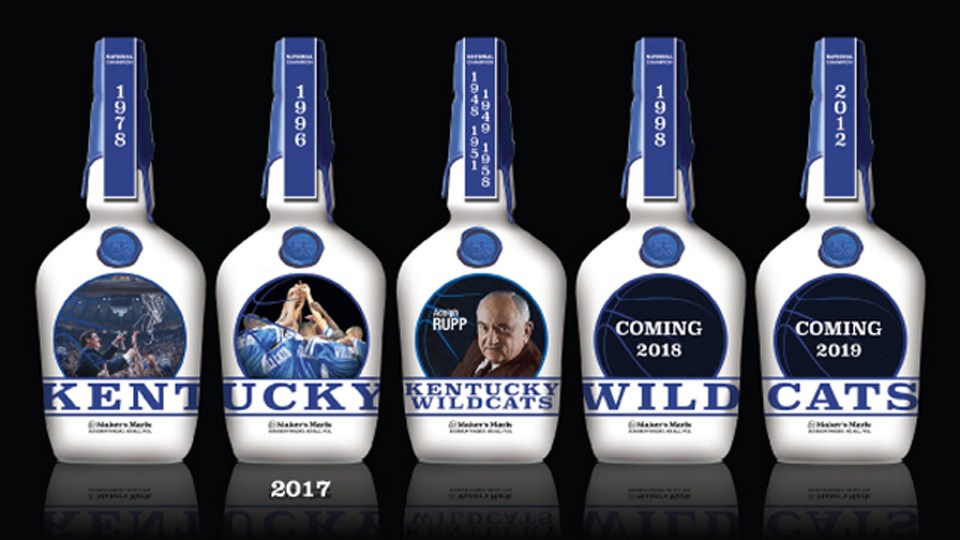 This is the third bottle in a series of five bottles, which will spell out KENTUCKY WILDCATS. In 2015, a bottle was released honoring coaching legend Adolph Rupp. In 2016, Maker's Mark released a bottle that commemorated Coach Joe B. Hall and the 1978 NCAA championship team.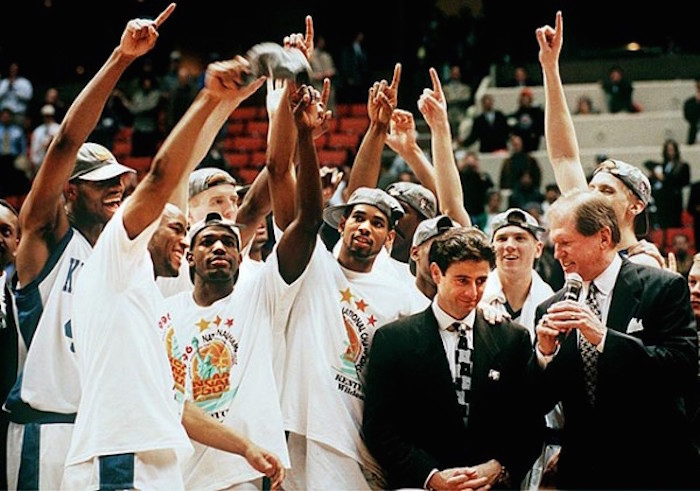 In 2017, the bottle that was released was to pay tribute to the 1996 championship team aka "The Untouchables," which was led by then Coach Rick Pitino and held a 34-2 record and perfect 16-0 in the SEC. Some other trivia for you: UK beat Syracuse by 10 points in the NCAA Championship. Nine players went to the NBA. This team is also widely recognized as one of the best basketball teams in NCAA Division 1 history. There will be another bottle released in 2018 and another in 2019. These bottles will honor the 1998 championship team (coached by Tubby Smith) and the 2012 championship team (coached by John Calipari).
If you were one of the lucky ones who snagged a bottle, I'm sure you know about the bottle signing at Keeneland on April 14. You must have a bottle, and you'll also need a ticket to attend. You can get your ticket at Keene Barn starting at 7 p.m. on April 13. Those with tickets need to be in line no later than 7 a.m. Friday for the signing. The signing will feature players from the 1996 UK championship team, such as; Cameron Mills, Derek Anderson, Jeff Sheppard, and Jared Pickett. Bill Samuels, Jr. and Rob Samuels from Maker's Mark will also be in attendance, as well as Keeneland President and CEO Bill Thomason. For detailed information about the bottle signing event; click here.
Since 2015, Maker's Mark has issued a limited-edition bottle to coincide with the Keeneland spring meet and the Maker's Mark Mile race.
Some people may think people are just crazy standing in line just for a bottle, but it is so much more than that. Proceeds from sales of the bottle will go towards expanding UK's Center for Academic and Tutorial Services (CATS). This is a first-of-its-kind program in the nation supporting student athletes. In 2016, an expansion of the center was completed and it was assisted by a fundraising effort still underway by Maker's Mark and Keeneland. The plan is to raise $2 million over five years through the sale of the commemorative bottles, as well as contributions from both Maker's Mark and Keeneland.
Something that people may or may not know, which really shouldn't come be a surprise to Kentuckians… These commemorative bottles have been produced since 1997, depicting well-known members of the Thoroughbred industry or the University of Kentucky athletics world.
Did you get lucky and snag a bottle?