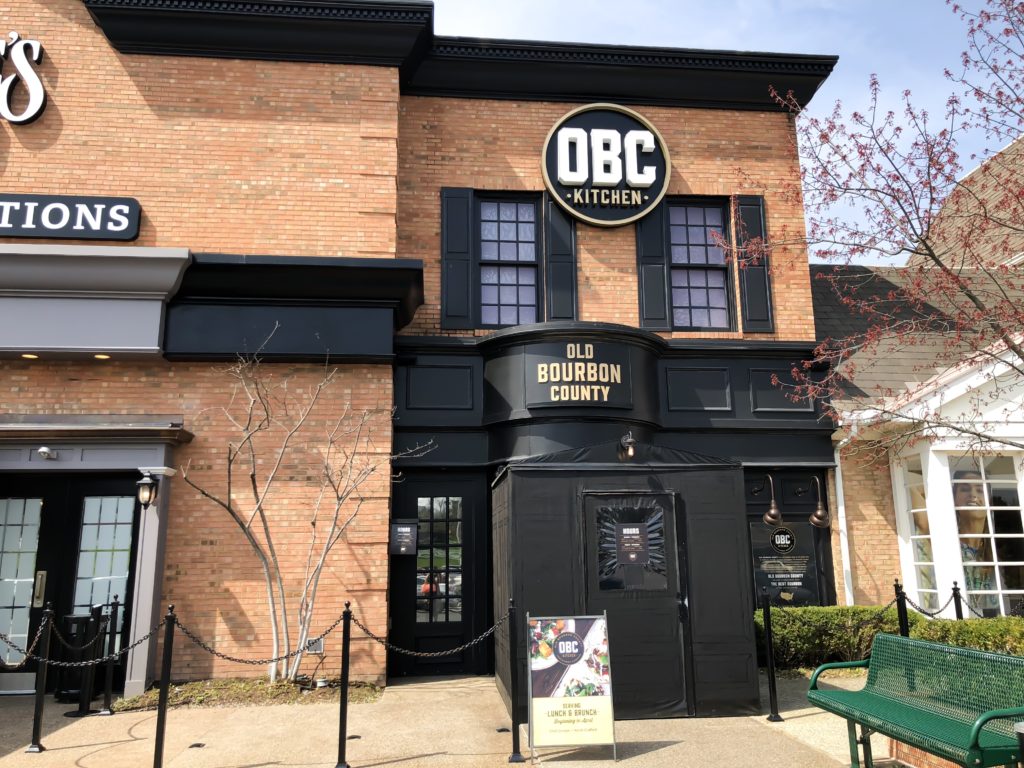 This post is in collaboration with OBC Kitchen. All of these opinions are entirely my own. Thank you for supporting brands and businesses that support Fabulous in Fayette!
One of my favorite restaurants in Lexington is OBC Kitchen, which is located in Landsdowne Shoppes off of Tates Creek Road, and they have just launched a new lunch and brunch menu. They are home to one of the best meals I've ever eaten. My husband and I usually eat there for both of our birthdays, along with our anniversary or anytime we have something to celebrate.
OBC Kitchen (Old Bourbon County) is part of the Bluegrass Hospitality Group (They own Malone's and other top-notch restaurants. Malone's is one of the top steakhouses in North America). OBC Kitchen is a local, chef-driven restaurant that houses an extremely rare bourbon collection, eclectic craft beer selection and extensive wine list. They have over 300 bourbons to choose from.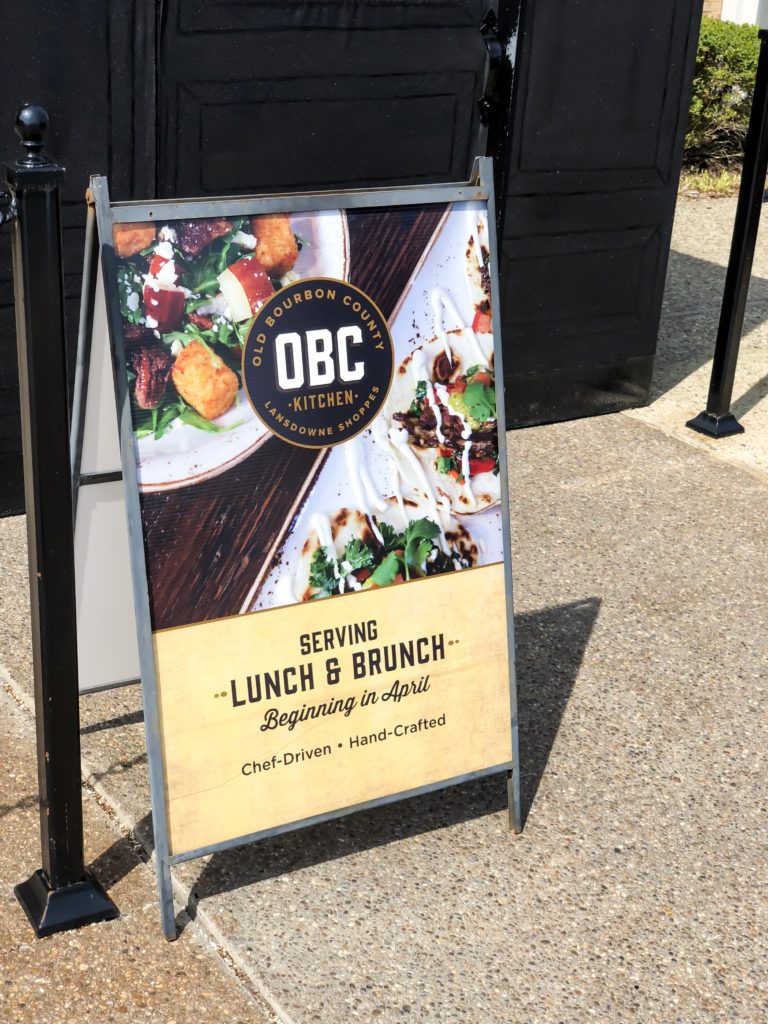 OBC has a cozy, intimate atmosphere that is perfect for date night. Recently, they just announced that they are open for brunch and lunch hours – perfect for enjoying a meal during the work week or with your best friend. I was super excited that they invited me to come in and try out their new lunch menu! The brunch menu features traditional items such as shrimp and grits, chicken and biscuits, and crab cake Benedict, as well as OBC signature items such as the Bacon in a Glass. Lunch includes a variety of sandwiches and burgers, plus lunch plates such as the maple pork belly taco and short rib mac and cheese. The new lunch menu also includes Wagyu pimento cheese sliders. Lunch will be served Monday through Saturday at 11am and brunch will be served at 11am on Sundays.
Check out their lunch menu: HERE.
Check out their brunch menu: HERE.
Check out the dinner menu: HERE.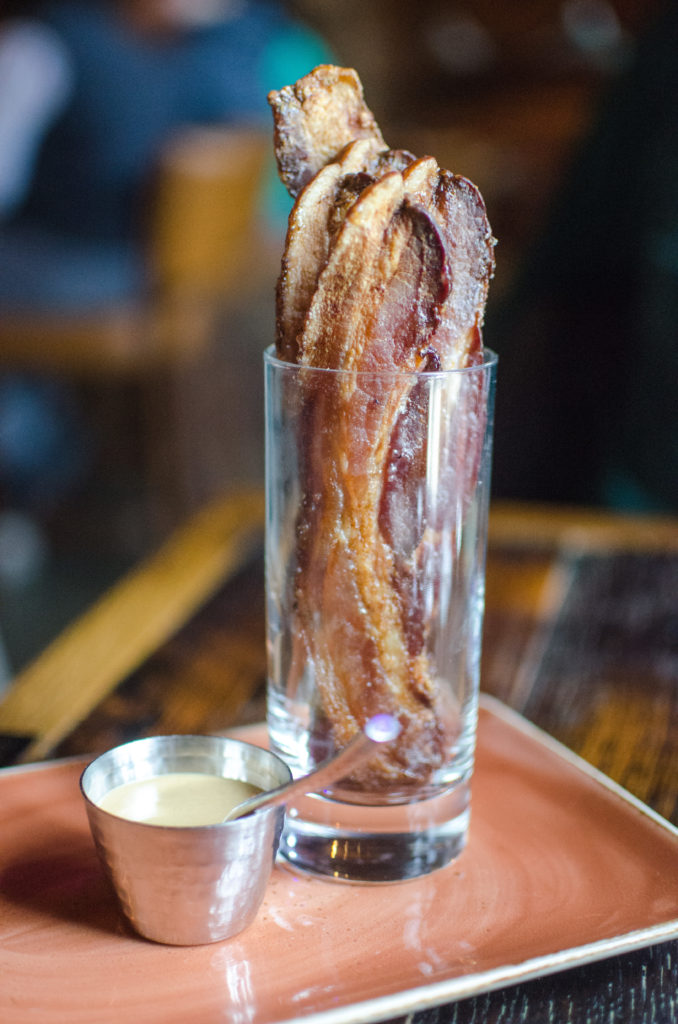 We started with our favorite appetizer – Bacon in a Glass. It's honey bourbon sugar glazed with a peanut butter accompaniment. It's just too good to pass up! There is something about the combination that is so delicious!
[RELATED: Celebrating 50 Years With Brand Ambassador Al Young]
One thing that OBC Kitchen is known for is their selection of bourbon. They have over 300 different bourbons to choose from, so there is bound to be one you haven't tried. Just check out their menu: HERE! It's pretty extensive! If bourbon isn't your thing, then they have a wide selection of beer and wine.
Mark Your Calendars:
Every Friday at OBC Kitchen for Happy Hour (4pm to 6pm), they offer a few different selections of bourbon. This is perfect chance to try the more expensive and rarer bourbons without the high dollar price tag. Some past happy hours: Pinhook Rye, Weller Special Reserve, E.H. Taylor, Stagg Jr. & Sazerac Rye, Pappy Van Winkle, and much more. See more of their past happy hours and the bourbons they featured: HERE. At all of their happy hours, the bourbon is $5 and craft cocktails are $5.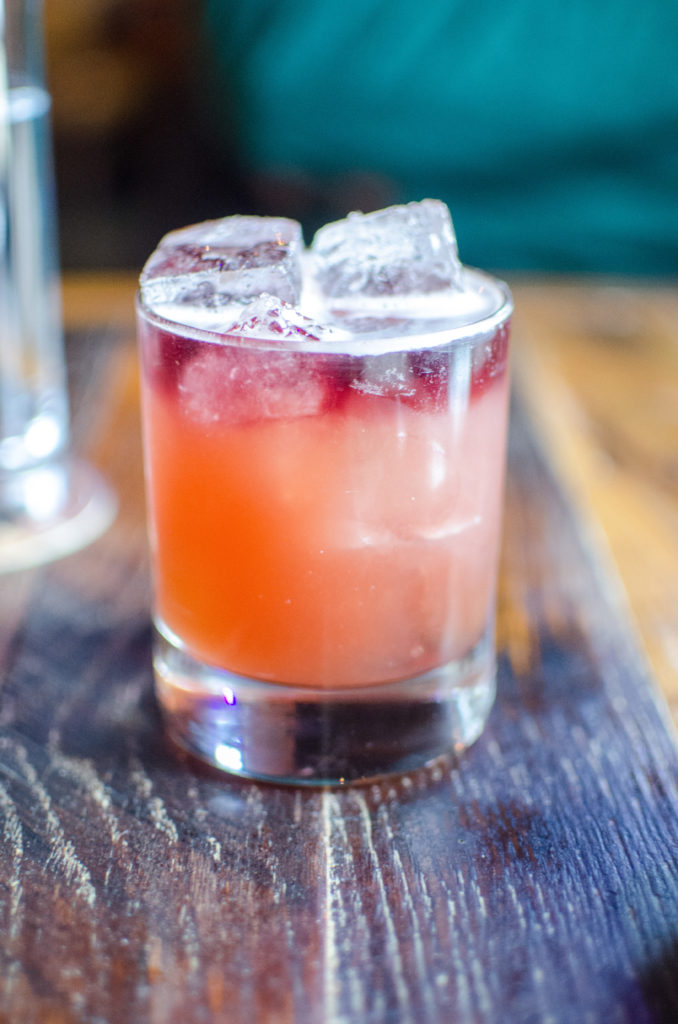 Going along with their selection of bourbon, they have some of the most creative craft cocktails, which they change every few months or so. Currently, the craft cocktails are Dr. Seuss themed. Dr. Seuss, a writer and cartoonist with over 60 published books, has some of the top selling children's books of all time. This cocktail list plays homage to the fun and artistic styling with the naming, ingredients, and colors within this list.
"From there to here, and here to there funny things are everywhere." "Think left and think right and think low and think high. Oh, the things you can think up if you only try." – Dr. Seuss
You can find creative concoctions, such as:
The Cat in the Hat: A New York style whiskey sour is crafted with house infused peach bourbon, fresh squeezed lemon juice, homemade pomegranate syrup, hopped grapefruit bitters with a Lillet Rouge float
Dahoo Dores: This juniper mule features organic gin, fresh squeezed lime, Green Chatreuse, Aztec chocolate bitters, fresh mint, topped with ginger beer
Fox and Socks: Your choice of green tea gin or house made citrus vodka, strawberry citrus tonic, Aperol, fresh squeezed lime juice, and hopped grapefruit bitters
Green Eggs & Ham: This smoked bloody mary is topped with OBC Bacon, smoked cheddar and smoked shrimp
The Grinch: An improved Ramos Gin Fizz includes egg white, fresh squeezed citrus, cream, Yellow and Green Charteuse
Hop on Pop: OBC rum blend, fresh squeezed lemon juice, raw sugar syrup, pomegranate syrup, and egg white
The Lorax: Organic gin, creme de violette, herbal shrub, fresh squeezed lemon juice, and boston bittah's
Mulberry Street: Riesling, Lillet Blanc, strawberry citrus tonic, herbal shrub, St. Germaine, and fresh squeezed citrus
One Fish Two Fish Red Fish Blue Fish: A flight of Irish, Japanese, and Kentucky whiskies
Blue Moon of Kentucky: Green tea infused, fresh squeezed lime juice, black pepper syrup, and Yellow Chartreuse
Yurtle the King Turtle: This is a riff on a barrel rested Martinex featuring organic gin botanicals, Italian sweet vermouth, Luxardo, orange cream bitters, and angostura bitters
Yooks & Zooks: Strawberry Old Dashioend made with high rye bourbon, strawberry citrus tonic, angostura bitters, and amargo chuncho bitters
[RELATED: Bluegrass Hospitality Group's 50th Barrel Pick]
Bonus: OBC Kitchen is celebrating Mint Julep Month with Garden and Gun. Why not try OBC's take on the classic julep, the Ryu Hayabusa. The Ryu Hayabusa is a fun twist on the classic mint julep cocktail, combining bourbon, honey syrup, cherry and orange bitters, and fresh mint.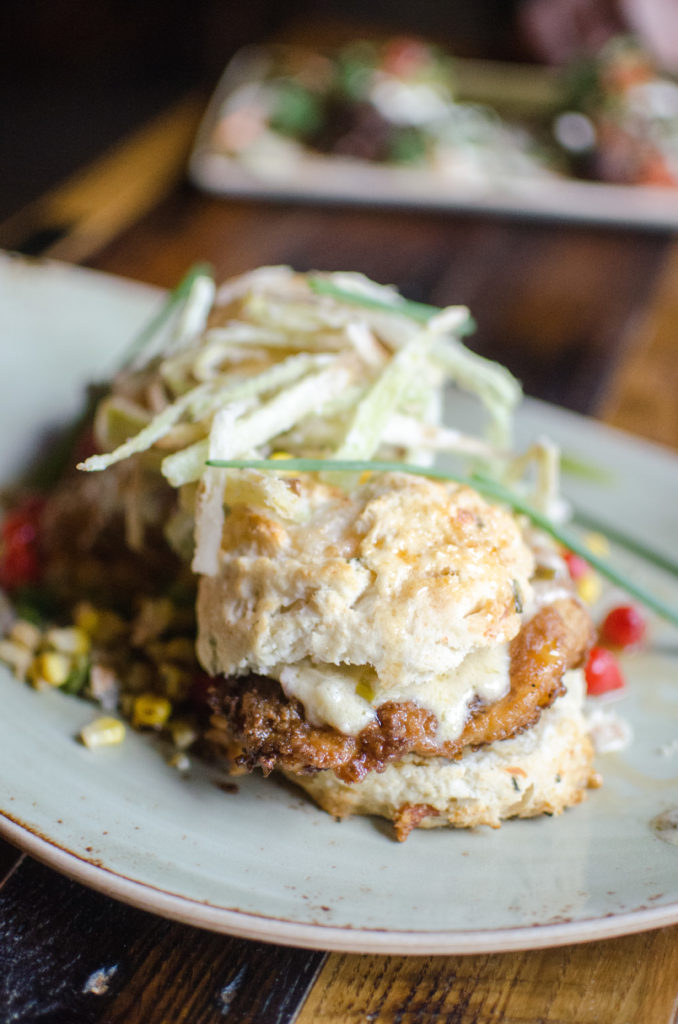 I was in the mood for my favorite – Chicken 'N Biscuits. It is crispy-fried chicken cutlets, buttermilk cheddar biscuits, tasso cream, roasted corn salsa, hot honey, and crispy leeks. It's definitely an elevated take on a very classic dish.
Next time, we go, I'm definitely looking forward to trying:
Blackhawk Farm Wagyu Pimento Cheese Sliders (Wood-grilled, premium American wagyu beef, 1000 island, house pickles, lettuce, tomato, and butter-toasted mini brioche buns)
Breakfast Sandwich (Country ham, cheddar, over-easy egg, jalapeno mayo, butter-grilled sourdough)
Short Rib Mac 'N Cheese (Kentucky artisanal cheeses, corkscrew macaroni, cola-braised beef, smoked tomato, and parmesan crumbs)
Wagyu Steak Burgers (Two wood-grilled, chopped premium beef patties, bernaise butter smoked tomatoes, crispy onions, and brioche croutons)
Pimento Cheese and Bacon Omelet (Candied bacon, pimento cheese, and creamy cheese sauce)
[RELATED: A Tasting With Brent Elliott at OBC Kitchen]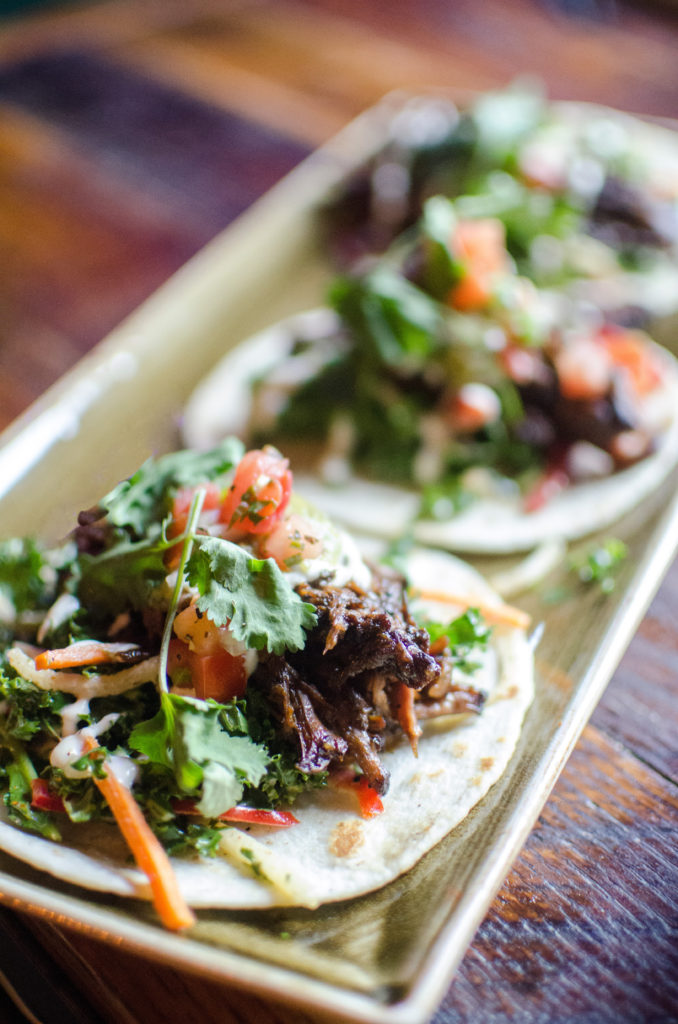 My husband got the Short Rib Tacos, which have cola-braised beef, flour tortillas, salsa verde, pico de gallo, kale-jicama salw, and horseradish crema. He said it was packed with a lot of flavor and very well-balanced, and it made for the perfect lunch portion.
With their new lunch and brunch hours, it gives you more time to eat at this amazing Lexington gem!
Address:
3373 Tates Creek Road, Lexington, KY 40502 (Located in the Landsdowne Shoppes)
Hours of Operation:
Sunday through Thursday: 11am to 11pm
Friday and Saturday: 11 am to 12am
Be sure to check them out and support a local business!