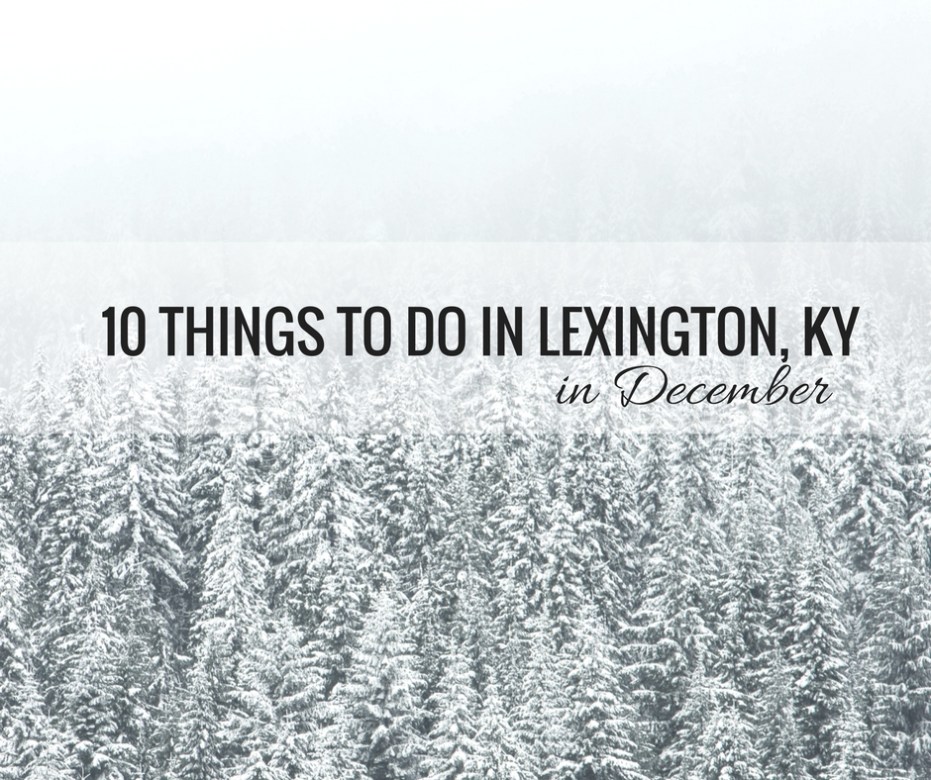 Just because it is winter and cold outside, doesn't mean the fun has to stop. In fact, there are tons of activities to do in Lexington, Kentucky during the winter; both indoors and outdoors. I think the problem is that people don't know about the activities and events, until after they are over or they may not know where to look to find out.
I've composed a list of "Christmasy" activities that you can do in Lexington (and surrounding areas) during the month of December. Obviously, there are many more things to do than ten (including and excluding Christmas), but it would be impossible to list them all, and a lot have already happened, considering it is the middle of December.
1. Ice Skating in Triangle Park: The ice rink in Triangle Park opens each year in mid-November until mid-January of the following year. You can bring your own skates, but they are included in the price to skate, which is $12. You'll also be able to skate for 60 minutes. There is also hot chocolate available at the cafe beside the rink. The rink will be closed on Christmas Day. Hours of operation: Monday through Thursday 4 p.m. to 10 p.m. and Friday 4 p.m. to 11 p.m. When Fayette County Schools are closed, the hours of operation are: Monday through Thursday 10 a.m. to 10 p.m., Friday and Saturday 10 a m. to 11 p.m., and Sunday 1:30 p.m. to 9 p.m.
2. Go see the Southern Lights at the Lexington Horse Park: This has personally been a yearly tradition for my husband and myself, and we have gone every year since 2009. Admission is $15 per car and $25 on Fridays and Saturdays). It is $30 per extended van, $50 per mini-bus, $75 per school bus, and $125 per motorcoach. You can see the 23rd Annual Southern Lights nightly from 5:30 p.m. to 10 p.m. It started on November 18 and will go through December 31. The indoor attractions are closed on Thanksgiving Day and December 24-31, but you can still drive-through every night through the 31st.
3. Visit the Hillenmeyer Christmas Shop: Experience the magic of an old-fashioned Christmas (see: here) by visiting this shop located at the Landsdowne Shoppes off Tates Creek Road. Santa will be there on December 17 and December 18 from 12 p.m. to 6 p.m.
4. Holiday Lights at Buffalo Trace Distillery: Take a drive to Frankfort, Kentucky and see all of the lights illuminated at the distillery. I think Buffalo Trace is one of the most beautiful distilleries. I've never been during Christmas, but you can see when I visited there during the fall; here, here, and here. You can see the lights nightly from December 1 through January 2 from dusk until 11:00 p.m. Santa will also be at the distillery from 6 p.m. to 8 p.m. on December 16 and 17.
5. The Nutcracker at the Lexington Opera House: The Lexington Ballet will perform The Nutcracker on December 17 at 2 p.m. and 8 p.m. and December 18 at 2 p.m. The Sugar Plum Teas will follow the Saturday matinee performance (The Nutcracker was also performed on December 10 at 2 p.m. and 8 p.m. and December 11 at 2 p.m.).
6. Ride the Bluegrass Scenic Railway's Santa Claus Train: You'll be able to go past holiday scenes, elves, and the countryside. The train ride lasts 45 minutes and departs from Woodford County Park on December 17 and 18. The departure time is 2 p.m. on Saturdays and Sundays with an additional time of 11 a.m. on December 17. Tickets are from $12 t0 $19. You can purchase tickets from: www.bgrm.org (Past dates: November 26, December 10, and December 11). 
7. Visit Shaker Village and take a very special workshop: Go to Holiday Reed Stars and learn how to weave the intricate star pattern using reed, which can be replicated in a variety of sizes and materials. Each participant in the workshop will take home two reeds, and all necessary materials are provided. The workshop will take place on Saturday, December 31. It costs $35 per person and includes Village admission. The fee also includes 20% off dining voucher to the Village.
8. Cut down your Christmas tree at one of the local tree farms: Both Nieman's Christmas Tree Farm and Barker's Christmas Tree Farm are closed for the season, but check out this list (or here or here) for tree farms in the surrounding area. If you are planning on getting one next year, go as early as you can. Barker's closed on December 2 and Nieman's closed on December 4 of this year.
9. Take a carriage ride through downtown Lexington: It can be pricey at $100 per hour, but it is definitely something to experience. Back in 2009, my husband and I went on one of the free 15 minute rides that they were offering, and it was such a cool experience. Be sure to bundle up, because it can be extremely cold!
10. Visit one of the many markets that features local shops: There are many opportunities to shop local; Market 301, the Distillery Market, Castle Post's Mistletoe Market, Castle Post's Winter Market, and more.
Things that have already happened, but something to keep in mind for next year:
1. Visit the Henry Clay Estate for A Kentucky Christmas: Visit the Henry Clay Estate on Saturday, December 3 from 10 a.m. to 7:00 p.m, to see the illumination, which will begin at 5:15 p.m. and is free and open to the public. There will also be candlelight tours after the illumination of the mansion for $5. Vendors will also be in attendance.
2. Visit Waveland to see what the holidays were like on a Bluegrass plantation: In 2016, you can relieve Christmas of the past from the Dicken's classic, "A Christmas Carol." The drama will play right out in front of you, right before your very eyes. For those interested in Santa, he will be in the barn each performance before the first scheduled performances for both photos and story time. Dates: December 2 through 4 and December 9 through 11. Admission for adults is $10 and children over 6 is $5. Reservations required: (859) 272-3611.
3. Visit six Harrodsburg homes from the 19th and early 20th century: Six homes in Harrodsburg and a historic Mercer County church will hold the 26th Annual "Come Home to Christmas" holiday homes tour. This is sponsored by the Harrodsburg Historical Society, and will be held on December 3 from 1 p.m. to 6 p.m. Tickets are $15 and $11 for seniors.
4. See the Lexington Christmas Parade: The parade begins at 7 p.m. on December 6 and starts at Main and Midland and proceeds along Main Street to Mill Street.
5. The Lighting of the Christmas Tree in Triangle Park: Lexington will light its city tree on Saturday, November 26 in Triangle Park. It's a local tradition that dates to 1913. Festivities begin at 2:00 p.m. and will continue throughout the afternoon. There will be food vendors, arts and crafts vendors, live music and more. At 6:30 p.m., the tree lighting will take place with Santa Claus flipping the switch.
What are you most looking forward to doing this December?